Patriots
Don't forget to marvel at the Patriots today. What they've done is unprecedented.
The Patriots didn't just survive the gauntlet to get to Atlanta, they seemed to gain strength along the way.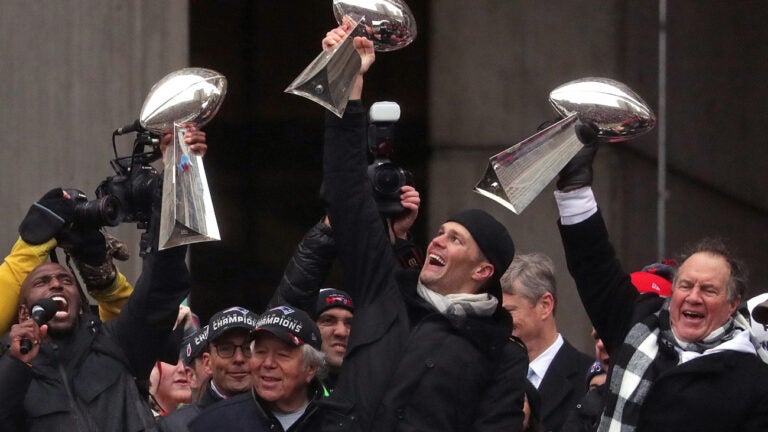 COMMENTARY
ATLANTA — The Patriots never went anywhere. They never do in this era of extended excellence. And yet this season, it's remarkable how far they came.
The accounting is utterly ridiculous. In this 18-years-and-counting Tom Brady/Bill Belichick generation of dominance, the Patriots have made the playoffs 16 times (with one absence coming when Brady blew out his knee in the '08 opener), won 16 AFC East titles (including the last 10), reached 13 conference championship games, advanced to 9 Super Bowls, and seek their sixth victory Sunday.
The level of achievement isn't just high. It's unprecedented in the history of the NFL, and I'm willing to bet it will remain so until the league is no more. The Bill Russell-era Celtics are my standard for a sports dynasty, but I'll hear your arguments that this Patriots run might be the most impressive in professional sports given that the league is designed for something close to parity. (I'd love to have seen how Red Auerbach would have dealt with a smirking ninny like Roger Goodell.)
The 2018 Patriots have been superb by any other franchise's measure. But by their own? Let's just say the degree of difficulty was higher than it usually has been in Brady's heyday.
That is not a gripe, or a putdown, or a snooty they-should-have-dominated-more whine. It's an acknowledgment of the truth, and a nudge to appreciate where they are today, before the final season's final scenes are projected on the screen. Getting here, to the edge of glory and that sixth Lombardi, wasn't easy, and sure as heck was not a certainty.
Brady's standard line, going back to when the Patriots won three Super Bowls in four years from 2001-04, is that his favorite championship is – say it in unison – the next one. Few, if any of us, know how hard it is, how much commitment is required and sacrifice must be made, just to get into position for that next one.
For Brady, sometimes this season seemed a particularly grueling grind. During the team's unusual December slump, he did not appear to be an ageless, pliable wonder, but someone who was suddenly running a few strides behind Father Time. Turns out that was probably the effects of a knee injury, because Father Time has been eating Brady's dust in the playoffs.
The questions about Malcolm Butler's benching in Super Bowl LII lingered deep into training camp. The essential Julian Edelman missed the first four games for violating the league's performance-enhancing drug policy after missing all of last season with a knee injury. Rob Gronkowski, whose goofy effervescence and horse-escaping-the-barn dominance made him one of the most likable athletes in the Boston sports annals, was often glum as he hobbled around like Nick Nolte in North Dallas Forty. Josh Gordon arrived, flashed, and succumbed. The defense looked slow and talent-thin.
There was a lot to deal with. It was a good year, a winning year, but that's not the mission. The mission is to get to Super Bowls and win them, and there were times when it looked like they would not make it here, that the end might come in Pittsburgh or Kansas City or Los Angeles.
Instead, the Patriots didn't just survive the gauntlet to get to Atlanta, they seemed to gain strength along the way. The overtime victory over a loaded Chiefs team stands as one of their more memorable playoff wins of the 29 Brady has orchestrated. They are favored over the young, talented Rams, and they should be. But it's also worth glancing back to December, when the usual successes seemed to escape them, and appreciating that the journey here might have been their most difficult since the improbable first one. The 2001 Patriots were 5-5 through 10 games. They did not lose again, bringing the Greatest Show on Turf Rams back to earth 17 years ago today.
The anniversary and the opponent today bring an obvious symmetry to Super Bowl LIII, one Belichick seemed to acknowledge himself by having Lawyer Milloy talk to the team Sunday. Milloy, the feisty safety, was the first player to embrace Belichick after Adam Vinatieri's winning field goal sailed over the goal post in Super Bowl XXXVI .
That symmetry makes it easy to suggest this is full circle for the Patriots. I don't believe it is. Bill James once wrote that you could divide Rickey Henderson's career in two and you'd have two Hall of Famers. The same can be said for Brady, with his '08 absence the dividing line. He's not going anywhere, and it would be staggering if Belichick did. There is a core of ascending talent, though it's imperative to keep free-agent-to-be Trey Flowers. Barring catastrophe, the Patriots will be a contender next year, too. The circle remains open no matter Sunday's outcome.
The best part of Super Bowl Sunday when you're team is in it is … well, the game, of course, presuming it does in the direction you dreamed. But the anticipation is pretty great too – the knowing nod to the couple in the matching Edelman jerseys as you load up on snacks at the grocery store, devouring every last word of pregame coverage, going over and over in your head what the Patriots should and might do to win, feeling those butterflies in the stomach growing bigger as kickoff gets closer.
Patriots fans are so blessed that Brady, Belichick and friends have given them so many of these days. Do not forget to marvel at that Sunday. Not because the Patriots might not get here again. But because it's so hard to get here just once, and bless them, they just keep doing it over and over and over again.