Patriots
Rams running back C.J. Anderson shares message about Tom Brady on eve of Super Bowl
"Man I have a lot of respect for you."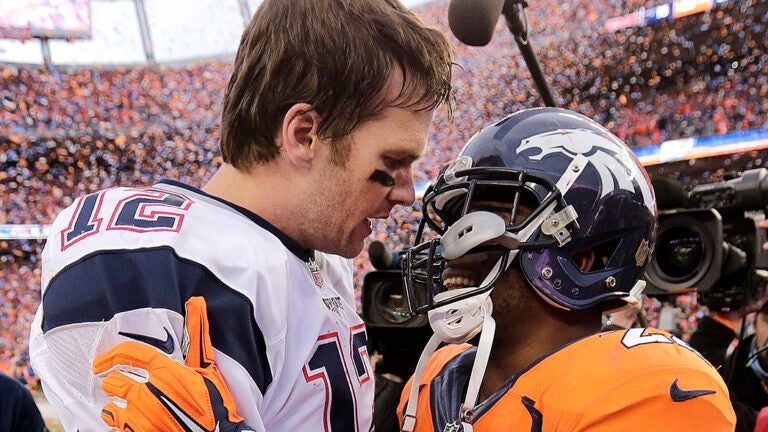 Ahead of Sunday's Super Bowl matchup between the Patriots and Los Angeles Rams, at least one Rams player is crossing the battle lines and reaching out to his opponents.
Rams running back C.J. Anderson wished Patriots quarterback Tom Brady well on Twitter Saturday afternoon in the buildup to the game.
"Man I have a lot of respect for you," Anderson tweeted, along with a photo of him and Brady. "It seem like once again I'm playing you for another big game. We have exchange words after games in the past and It mean a lot to me. I've took that attitude that bravery and kept pushing. Let compete. See you tomorrow TB12."
[fragment number=0]
Anderson's reference to big games reflects the Patriots' short but contentious rivalry with his previous team, Denver Broncos. During Anderson's five-season tenure in Denver, the Patriots and Broncos met seven times, including twice in the AFC Championship.
Anderson posted a similar note of kindness on Instagram when the Broncos topped the Patriots in the AFC Championship, a postseason that ended with Anderson securing a Super Bowl ring.
"I know a lot of people hate this man, but, man, when he was pick 199 and was [overlooked], he inspired me," Anderson wrote. "I was undrafted and overcame all the odds so bless what he told me at the end of this game. He said, 'CJ way to fight and prove everybody wrong, you belong in this league, and [you're] one hell of a player. I love the way you run, keep climbing to be great.' Those words meant so much. Growing up, watching Tom overcame, I'm proud to say I'm 3-2 vs his teams and proud to say I get to battle him every year. Thanks Tom for telling me those words they will stick, and I know a lot of people don't like you, but I have MAD RESPECT. Thanks I see you overcome as others in this league and now it's my turn."
[fragment number=1]
The best photos from the Super Bowl:
[bdc-gallery id="11672801″]