Patriots
Everything you need to know for the Patriots' Super Bowl victory parade
What you need to know about the latest celebration.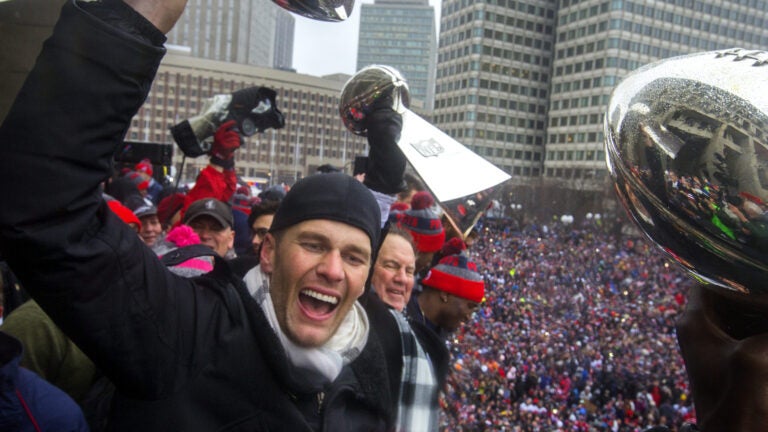 Within moments of the New England Patriots' 13-3 victory over the Los Angeles Rams in the 2019 Super Bowl, Pats fans everywhere began asking the same question: When is the Patriots' victory parade?
Luckily, Boston Mayor Marty Walsh announced the news quite quickly, tweeting that it is once again time to "fire up the duck boats" for a parade on Tuesday, Feb. 5 at 11 a.m.
LET'S GO!!!!

Congratulations on another Super Bowl championship @Patriots!!

Fire up the duck boats @CityOfBoston! We will see you at the #SBLIII parade Tuesday at 11:00am!

Check here for updates: https://t.co/CFTRtQrh4l

— Mayor Marty Walsh (@marty_walsh) February 4, 2019
Here's everything you need to know for this year's parade.
Where is the parade?
This year's parade will follow the same route as 2017's Patriots parade. The parade will begin at Hynes Convention Center, then head down Boylston Street past the Public Garden and Boston Common to Tremont Street. There, the parade will turn left and head up Tremont (opposite the flow of traffic), make a final turn onto Cambridge Street, and finish on Cambridge Street in front of City Hall. Note that there will be no rally this year, Mayor Marty Walsh said during a Monday afternoon press conference ahead of the parade.
The city has set up viewing areas for people with disabilities at Copley Square next to the Copley MBTA station elevator and at City Hall Plaza next to the Government Center MBTA station.
How should I get there?
Walsh said during the press conference that past parades have drawn anywhere from 500,000 to one million spectators.
"We're anticipating the biggest turnout you could possibly have when we think about public safety," Walsh said.
With that amount of people in mind, you should strongly consider alternatives to driving. Parking restrictions will make getting a spot near the route very tough, and the city will begin towing cars parked in restricted areas starting at 6 a.m. For a full list of parking restrictions near the parade route, visit the City of Boston website.
You should also note that the following streets will close to traffic around 9 a.m.: Boylston Street from Massachusetts Avenue to Tremont Street, Tremont Street from Boylston Street to Court Street, and Cambridge Street from Court Street to New Chardon Street. What time the city will reopen traffic will depend on the size of the crowd, according to the city.
For those parade-goers who do take public transportation, know that the MBTA says subway trains will run every 5-6 minutes between 6 a.m. and 7 p.m., and that more cars will be added to the commuter rail lines anticipated to become the busiest. Several bus routes that travel across or near the parade route will be detoured, and the MBTA warns that delays can occur with all routes. You can stay up-to-date by visiting mbta.com/alerts and by following @MBTA and @MBTA_CR on Twitter.
What will the weather be like?
The current forecast for Tuesday calls for highs in the high 50s, perfect for a celebration of New England's sixth Super Bowl championship and Boston's second major sports victory parade in fewer than 100 days. WBZ-TV meteorologist Eric Fisher was even more optimistic, calling for a high of 61 on Tuesday and telling parade attendees to bring their flip-flops.
Tuesday. Duck boats. Bring your flip flops. #wbz #Patriots pic.twitter.com/8dQft80rzI

— Eric Fisher (@ericfisher) February 4, 2019
Anything else?
One of the things for which the 2018 Red Sox World Series parade will be remembered is flying beers. Walsh said during the press conference that spectators should not throw beers or anything else at the duck boats during Tuesday's parade.
"I want to be very clear that on those duck boats are going to be families, kids. The Patriots are going to bring their families with them and young people with them. Watching the parade are going to be kids and families," Walsh said. "So we're asking you, do not throw things. Do not throw beers, do not throw anything at those boats. We don't want to see anyone get hurt while they're in town celebrating and watching a parade."
Walsh said that there's to be no public drinking on Tuesday.
"If you're public drinking, you're potentially going to be arrested," he said.
The best photos from the 2019 Super Bowl:
[bdc-gallery id="11672801″]