Patriots
13 thoughts on the Patriots' Super Bowl victory
There will never be anything like this again. The Patriots have won six Super Bowls. Six.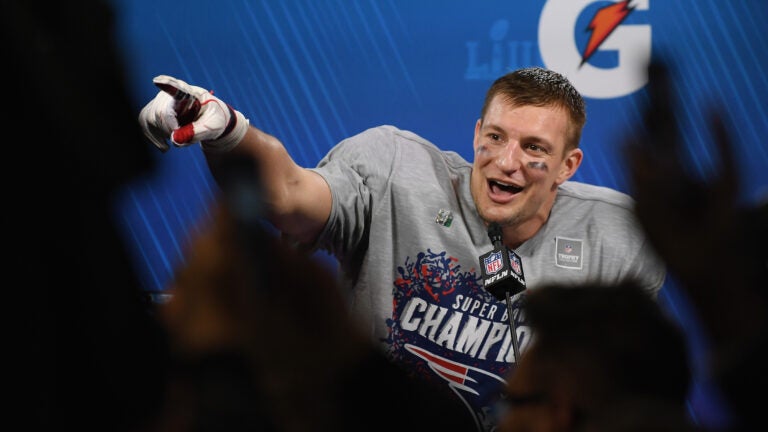 ATLANTA — Thirteen thoughts on the Patriots' 13-3 victory over the Rams to win their sixth Super Bowl . . .
1. The exact time the Patriots' offense showed up at Mercedes-Benz Stadium was 9:26 p.m. Sunday night, in the fourth quarter of Super Bowl 53, with the score tied at 3, and 9 minutes and 26 seconds remaining. It was a late arrival for Tom Brady and the other 10 men in the huddle, stunningly and unexpectedly late, but it was not too late.
2. Taking the ball at their own 31, Brady got out his scalpel. He found Rob Gronkowski for 18 yards, then Julian Edelman for 13, then Rex Burkhead for 7, then Gronk again on a picturesque, vintage throw and catch for 29 down to the Rams 2. Four plays, four completions, without a run, an incompletion, or much time for the Rams defense to ponder what was happening.
3. One 2-yard Sony Michel burst later, and the Patriots had the first touchdown of the game, 6 points that went a long way to delivering their sixth championship. The points were a long time coming in a game that had been an unexpected defensive battle, with the Patriots' and Rams' high-octane offenses managing just a field goal each heading into the fourth quarter.
4. We expected it to be close, because Patriots Super Bowls always are — they had won their previous five by a combined 19 points. But not in this particular way, in a low-scoring game between teams that had combined for 963 points in the regular season. And yet in the end, it was their largest margin of victory than in any of their previous five Super Bowl wins. Who said sports were predictable?
5. The championship, however, was not a long time coming — it is the Patriots' third in five years, sixth overall, 12th among New England's four major professional sports teams since 2001, and first for the region's sports fans in all of 98 days, since the Red Sox beat another Los Angeles team in the World Series in October. Twelve championships. Six for the Patriots. Count them all, and count your blessings.
6. No, it did not go according to plan, at least any plan you, me, and anyone who watched these two football teams might have expected. While Michel's touchdown felt like the game-winner at the time and eventually would prove so, the tension never waned until Greg Zuerlein missed a field goal attempt with 5 seconds left.
7. The Patriots forced an overdue turnover by not-ready-for-prime-time Rams quarterback Jared Goff with 4 minutes and 24 seconds left, Stephon Gilmore plucking a lofted and ill-advised throw that was forced by a Jonathan Jones blitz. On a weekend in which Ty Law, who came through in so many big games when this all began, was elected to the Pro Football Hall of Fame, it was appropriate that the new No. 24, the unassuming All-Pro Gilmore would make a Law-like play.
8. Still, there was plenty of time left, and the Patriots were deep in Rams territory at the 4. If anyone exhaled then, their rooting interest could not have been sincere. But the Patriots, who morphed into a running-and-defense team so often after their late-season bye, blasted their way down field, with Michel and Rex Burkhead both contributing 26-yard runs.
9. Still, tension and uncertainty: With 1 minute and 47 seconds left, the Patriots faced a fourth and 1 at the Rams 24. What do you do? I'll ask again: WHAT DO YOU DO? Kick the field goal with Stephen Gostkowski, who had missed a 47-yarder earlier but later sneaked one through from the42 for the first half's only points? Or try to get those last few inches for a first down and effectively end it right there?
10. Belichick trusted his kicker, even if you didn't. Gostkowski is the second-best kicker in Patriots history, the franchise's all-time leading scorer, but Adam Vinatieri's legacy casts a long shadow. Gostkowski has had some notable misses in his postseason career (he missed an extra-point and a field goal in last year's Super Bowl), and we tend to forget his big kicks since they don't always come late in the game.
11. This one, we will not forget. It wasn't in the final seconds, but it was as clutch as can be. It wasn't right down the middle like Vinatieri's pair of Super Bowl winners, but it counted for the same. Any notion that Gostkowski hasn't made a big kick when they desperately needed it is gone forever.
12. It takes an extraordinary effort for someone other than a quarterback to win the Super Bowl MVP. Julian Edelman delivered an extraordinary effort, and maybe even a little beyond extraordinary. He finished with 10 catches for 141 yards. Edelman was the only receiver who seemed on Brady's wavelength in the first half. He had seven catches (on eight targets) for 93 yards and six first downs. He had more yards than the entire Rams offense (57 yards).
13. Edelman missed the entire 2017 season with a knee injury, thus missing the Super Bowl LII loss to the Eagles. In the last three Super Bowls in which he has played — the wins over the Seahawks, Falcons, and now the Rams — he has 24 catches for 337 yards and a touchdown. Those who dismiss him as a Hall of Fame candidate have some reconsidering to do.
Oh, like I'm stopping at 13 thoughts after that game. I was ready for 40, maybe 45, so let's at least knock out 10 more bonus thoughts . . .
14. Greatest satisfaction from the game itself? It has to be watching Rob Gronkowski be such an enormous factor, doesn't it? He finished with six catches for 87 yards, including the 29-yarder to set up the game's touchdown. He blocked like a menace to society, and seemed genuinely overjoyed afterward. It was a long season for Gronk, who has dealt with back and ankle/heel injuries and he's feeling the effects of the vicious hits he's taken over the years. Gronk is one of the most appealing athletes Boston has had in my lifetime. If he does prove those retirement rumors valid, this was a wonderful and deserved way to go out.
15. Brian Flores, who becomes the Dolphins head coach Monday, gets some credit for this. The Patriots held Sean McVay's electrifying, innovative offense to 229 passing yards, 62 rushing yards, and not a single touchdown. I suspect, however, that much of the credit will go to Bill Belichick, with the game plan from this victory being nearly as storied as the one he cooked up as Giants defensive coordinator to thwart the "K-Gun'' Buffalo Bills in Super Bowl 25.
16. I cannot wait to learn what the Patriots did to stall the sports car engine in the Rams' offense in the coming days. This much we do know: They belted and bewildered Goff repeatedly, forcing the Rams to punt on their first six possessions, with Dont'a Hightower having perhaps his best game since the Super Bowl win over the Falcons. Hightower dropped an interception that might have changed the tenor of the game earlier, and it felt like a lost opportunity for a long time. But there would be no ghosts to emerge from this one.
17. Two plays after Hightower's drop, Patrick Chung, perhaps as unheralded as an essential Patriots defensive player can be, was when his left arm got crushed between Todd Gurley's helmet and Jonathan Jones's shoulder pad. Chung refused to be carted off, but had an aircast on his arm. It was reminiscent of Rodney Harrison breaking his arm in Super Bowl XXXVIII against the Panthers and the Patriots having to hang on with the likes of Shawn Mayer playing safety. Again, the Patriots overcame.
18. The Rams missed a golden chance to take the lead with a little more than 3 minutes left in the third quarter. Brandin Cooks got open in the end zone on what looked like a blown coverage, but Goff either took too long to spot him or hesitated to the throw the ball. That gave Jason McCourty enough time to bolt over and bust up the pass. The Rams tied it on that drive on Greg Zuerlein's 53-yard field goal, but it felt like a small victory for the Patriots.
19. Brady was jarringly sloppy in the first quarter. Tony Romo speculated on CBS's broadcast that he was having a hard time determining whether the Rams were in man or zone. One sequence on their third possession, Brady nearly threw a pick to Marcus Peters, completed a strike to Julian Edelman, got hit and fumbled (David Andrews recovered), hit Gronk for his second catch of the first quarter, then got thrown down by Donald on third down.
20. There was just no consistency or pace. The Patriots' first three possessions reached the Rams 34, 28, and 40. The drives ended with an interception, a missed field goal, and a Ryan Allen punt that was covered by Matthew Slater at the 6.
21. The Patriots' first-quarter offensive struggles in their Super Bowl history are just plain bizarre. They've now scored a total of 3 points in the first quarter of their nine Brady-era Super Bowls. Again: A total of 3 points. Gostkowski's 26-yard field goal against the Eagles last season was the only time they've scored in the first quarter.
22. The game was such a grind that at a time it seemed like the MVP debate would be among Patriots special teams ace Matthew Slater (those skeptical of his Hall of Fame case need to watch a replay of this one), Rams punter Johnny Hekker, and Edelman. Brady was never really in consideration for MVP — he threw an interception on his first pass of the game and struggled to solve what the Rams were throwing at him. He finished 21 of 35 for 262 yards and that interception. Kid has something to prove next year if you ask me.
23. I'm not saying this felt like a Patriots home game, but it's a mild surprise a lighthouse didn't rise up beyond one of the end zones. Good heavens, you travel well. Then again, you'd better. There will never be anything like this again. The Patriots have won six Super Bowls. Six. You're going to have to set aside a whole weekend now to watch their championship films.