Patriots
'They said it wasn't fun here': Jason McCourty won his first Super Bowl with his twin — and celebrated with their mom
"Looks like fun to me!"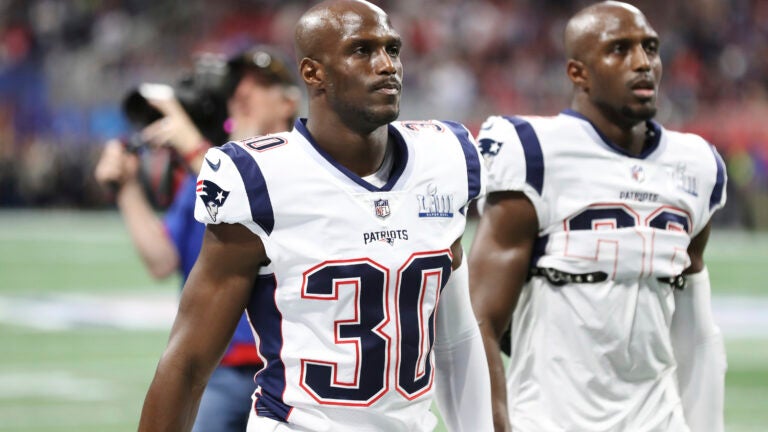 Jason McCourty appears to disagree with the likes of Danny Amendola and Cassius Marsh.
"They said it wasn't fun here," McCourty, who joined the Patriots this past offseason, said during a WBZ interview Sunday night after winning Super Bowl LIII.
Surrounded by friends and confetti, the 31-year-old cornerback appeared to be alluding to the ever-lingering reports and accounts by former Patriots players — like Amendola and Marsh — describing a gloomy workplace culture in Foxborough.
Watching his twin brother, Devin, play in four Super Bowls since being drafted by the Patriots, Jason spent his first eight seasons in the NFL with the Tennessee Titans and his ninth on the 0-16 Cleveland Browns, before being traded to New England last March. Following the 13-3 win Sunday night, he reveled in his career's 180-degree turn with his twin brother and family.
"They said it wasn't fun here," he repeated. "Looks like fun to me!"
The McCourty brothers — the first twins to ever win a Super Bowl together — were joined in the postgame celebration by their mother, Phyllis Harrell.
"I can't put it into words," Harrell said.
Wearing a stitched-together, half-Devin-half-Jason, navy-and-white Patriots jersey, she said she was especially proud to see Jason win his first Super Bowl.
"So happy," Harrell said.
Fulfilling a pledge she made in an ESPN profile last week, Harrell celebrated the dual achievement of her two youngest sons — whom she raised herself since they were 3 years old — with snow angels in the confetti on the Mercedes-Benz Dome turf with her grandchildren.
In an @Ian_OConnor profile on @ESPN, Phyllis Harrell — the mother of Jason and Devin McCourty — said she would do a snow angel in the confetti if the Patriots won. Here she goes … with two of her grandchildren. pic.twitter.com/28WCB9exPR

— Mike Reiss (@MikeReiss) February 4, 2019
While Devin has been the Patriots' longtime defensive captain, it was his younger brother — younger by 27 minutes — who made one of the Super Bowl's most pivotal plays.
"Just running," Jason explained after the game.
With less than 4 minutes left in the third quarter and down 3-0, the Los Angeles Rams had driven to the New England 29-yard line when Jared Goff spotted Brandon Cooks, who had leaked behind the Patriots en route to the end zone.
McCourty, who was on the opposite side of the field, saw Cooks, too.
Covering a seemingly impossible amount of ground, the 31-year-old cornerback took off sprinting to reach the uncovered wide receiver in the back of the end zone just as the ball arrived to break up what would have been a go-ahead touchdown. On the live broadcast, CBS commentator Tony Romo called it an "unbelievable play."
"I saw Brandin wide open, and really wasn't sure if I was going to get there in time, but I was able to get the ball out of there and live to see another play," McCourty told reporters. "That was huge for us."
Devin said after the game that he was "ecstatic" for his brother, who barely played in the Patriots' first game this season, before going on to start every game since.
"He's played inside, he's played outside, he's played the tight ends, receivers," Devin said. "He's been that Patriot guy, he's been that all year."
The 31-year-old twins also shared the distinction of reaching the fastest speeds of any player in the game Sunday night.
Age is just a number. The 31-year old @McCourtyTwins have reached two of the fastest speeds this season by any player featured in Super Bowl LIII.#GoPats | #RamsHouse | #SuperBowl pic.twitter.com/2HOw0pSxbn

— Next Gen Stats (@NextGenStats) January 31, 2019
"Old man can still run, huh?" Devin said to his (slightly) younger brother after the game.
"o-16 last year, Super Bowl champion this year," Jason told reporters. "I couldn't have thought this up man. I texted Bill (Belichick) and told him that two McCourtys are better than one. I guess he believed that, and I know tonight he believes it."
Jason acknowledged that his first season with the Patriots had at times been a roller-coaster journey from the team as a whole, "from 1-2 to start the season, to losing in Miami on the last play of the game, to going to Pittsburgh and losing again on the road." However, he said the team's staff instilled confidence in the players that "this is the moment we are built for."
"I remember when I first came to this team in April, there was a whole media spectacle that it wouldn't be any fun here," Jason said. "It's my third organization and my 10th season, I haven't had more fun than this season."