Patriots
Inside the Patriots' postgame party, where the celebration rolled past 4 a.m.
The Pats celebrated into the early hours with Snoop Dogg, the Chainsmokers, and a pumped-up Robert Kraft.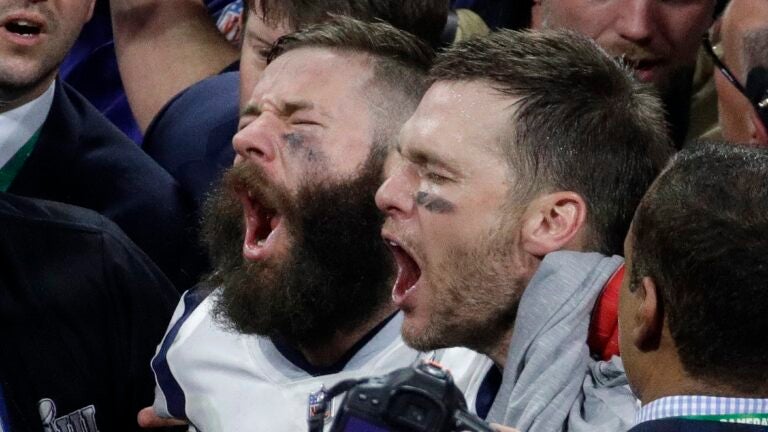 ATLANTA — The red, white, and blue confetti raining down at Mercedes-Benz Stadium marked just the beginning of the victory celebration for the Patriots Sunday evening.
After soaking in the special moment on the field with family and friends immediately following their 13-3 win over the Los Angeles Rams, the Super Bowl LIII champions brought the festivities to the team hotel, the Hyatt Regency Atlanta, where owner Robert Kraft had quite the lineup awaiting them.
Nashville country-rock band Old Dominion kicked things off for the early arrivals — none of which were players — while guests nibbled on a variety of small bites like sushi, chicken wings, and presumably TB12-approved "sweet potato and kale salad, roasted peppers in a cup." As more and more revelers began to flood the space, which was decked out with six Lombardi Trophy banners, Kraft took a few minutes to address the masses.
"How about that stadium tonight?" he said. "We had a home crowd. It was unbelievable, and we're finally bringing home No. 6. It's thanks to all of you. You've been there right from the beginning for us."
His remarks were met with roaring applause — which only got louder when he introduced the next act: The Chainsmokers. Playing two of their more popular hits, "Closer" and "This Feeling," the DJ duo kept the mob energized as Patriots gradually made their way into the celebration.
Among those to make an appearance were center David Andrews, who wore a black "Still Here" shirt; safety Patrick Chung, who rocked a sling for the broken arm he suffered in the third quarter; twin defensive backs Devin McCourty and Jason McCourty, who wore matching "Mama, we made it!" T-shirts; and defensive end Trey Flowers, who sported lensless frames and a black fedora.
Other players present included defensive tackle Adam Butler, cornerback Keion Crossen, wide receiver Phillip Dorsett, cornerback Stephon Gilmore, safety Duron Harmon, tight end Jacob Hollister, linebacker Dont'a Hightower, running back Sony Michel, wide receiver Cordarrelle Patterson, defensive end Derek Rivers, cornerback Eric Rowe, linebacker Kyle Van Noy, running back James White, and de facto defensive coordinator Brian Flores.
To welcome the first wave of players, the crowd serenaded them to Queen's "We Are the Champions," which was followed by the speakers blasting The White Stripes' "Seven Nation Army."
Kraft later returned to the stage with rapper Snoop Dogg, who performed several tracks, including "P.I.M.P." and "Swivel." The latter contains quite the relevant line: "Hand full of rings, I'm shady like Brady." Flaunting his ring from Super Bowl LI, along with a diamond "Championships" necklace that he said came courtesy of rapper Meek Mill, Kraft noted that the Patriots are "big fans" of Snoop Dogg.
"Yeah, the champs are here," Snoop Dogg shouted. "The champs are here. Shoutout to motherf****** Julian Edelman the MVP!"
At that point, wide receiver Julian Edelman, who recently was photographed with Snoop in Boston, joined the rapper on stage and saluted the crowd to the tune of "M-V-P" chants. The 32-year-old was awarded his first-ever Super Bowl MVP for his 10-catch, 141-yard outing against the Rams.
"That's my dog right there," Snoop Dogg said. "I've been wearing your jersey all week. Seven days this week, man."
There was plenty of love to go around, as Kraft and Mill spent time together throughout the night, along with their mutual friend, Philadelphia 76ers owner Michael Rubin. Kraft also was spotted cuddling up with his longtime girlfriend, Ricki Noel Lander.
So, where were quarterback Tom Brady and tight end Rob Gronkowski? The duo was stationed on an upper balcony overlooking the horde of people on the main level. Brady was joined by his wife, Gisele Bündchen, 11-year-old son Jack, and other family members, while Gronkowski — still wearing his AFC Championship hat and T-shirt — was coupled with girlfriend Camille Kostek.
Though he was a bit removed, Brady certainly wasn't forgotten. The crowd, unsurprisingly, started a "Bra-dy" chant and also erupted in screams when he and Bündchen shared a brief kiss. And though Gronkowski was up above the chaos, that didn't stop his brothers from getting down on the dance floor.
The evening perhaps reached its peak volume when Mill had the crowd on its feet jumping to "Dreams and Nightmares." Several players joined Mill on stage for his performance, but none seemed more pumped than Flowers, who enthusiastically danced and sang along.
Atlanta native Ludacris and Gucci Mane, who also has Atlanta ties, kept the party alive in the wee hours of the night, as the party showed no signs of stopping when the clock hit 4 a.m.
The best photos from the 2019 Super Bowl:
[bdc-gallery id="11672801″]