Patriots
5 takeaways from the Patriots' history-making Super Bowl win over the Rams
One Patriots player showed he was always ready for the moment.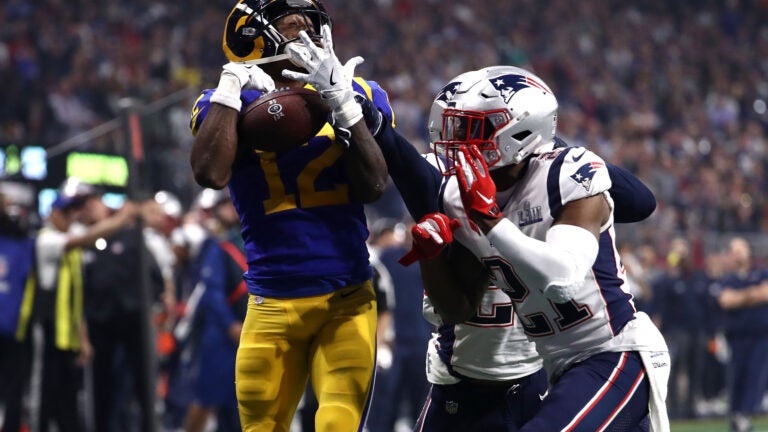 COMMENTARY
Five takeaways from Super Bowl LIII, a 13-3 win over the Rams that gives the Patriots six championships since 2001, three in the past five seasons, and gives Boston cause for its 12th pro sports title parade in the past 17 years…
BELICHICK GETS HIS REDEMPTION
When he walked off the field 364 nights earlier, not wanting to watch the victor's confetti fall on the other guys, Bill Belichick strode into uncharted territory. His team seemed to be in turmoil, with dissension at the highest level of the ranks, and maybe the greatest defensive mind in football history had just given up 40 points to a backup quarterback in the Super Bowl. Compounding that disappointment was the as-yet unexplained decision to bench cornerback Malcolm Butler. For the first time in this historic run, questions had arisen about whether Belichick had lost something. Lost the team, lost control of the operation, lost his step-ahead command of the game.
Sunday night he answered every last doubt.
The popular consensus will remember Super Bowl LIII as an ugly one, but in reality this game — and the run to a sixth title — is Belichick's latest masterpiece. After pressing all the right buttons to get his team in the proper mental and emotional headspace to handle business in the AFC portion of the playoffs, he and his staff assembled a near-perfect game plan to combat Los Angeles's wunderkind coach Sean McVay and a Rams offense that scored 527 points in the regular season.
Thirteen times in 18 games, the Rams topped 30 points; Sunday they scored three. Seventeen times they scored at least two offensive touchdowns; Sunday they didn't get to the end zone. (Heck, they didn't even get to the red zone.) A dozen times they gained at least 400 yards of offense; Sunday they managed just 260.
After shutting out the NFL's No. 1 offense in the first half of the AFC championship, the Pats followed it up by shutting out the NFL's No. 2 offense in the first half of the Super Bowl, and perfectly punctuated a postseason in which Belichick's coaches pushed all the right buttons. They overwhelmed Philip Rivers and a Chargers team that some considered the most balanced in the conference. They kept the ball away from league MVP Patrick Mahomes by commanding the pace of a road game against the Chiefs. Then, given two weeks to prep their Pats, they outgained Los Angeles 195-57 in the first half, and forced eight consecutive punts from an offense many around football are trying to emulate because they consider it, and McVay, to be the NFL's future.
The future will have to wait, though. Because Belichick, and the Patriots, are still here.
EDELMAN THE MVP
After Wes Welker tore up his knee in the regular season finale of the 2009 season, it became apparent that rookie Julian Edelman — just months into the transformation from mid-major college quarterback to pro receiver — would be pressed into a big role in the Patriots' forthcoming playoff game.
His Kent State coach wasn't concerned.
"The bigger the game, the higher the stakes – the more he loves it," Doug Martin said during a January 2010 phone conversation. "He is the most competitive football player I have ever been around."
That comment could be considered prescient — except that nobody could've seen coming what Edelman has done on football's biggest stage, even after he scored a couple of touchdowns as Welker's replacement in his postseason debut. Last month he moved into second place all-time in playoff catches, and that was near the start of a playoff run during which he totaled 26 catches for 388 yards, the capper being Sunday's 10-catch, 141-yard exhibition that seized him honors as the most valuable player of Super Bowl LII.
Unless the voters could find one player to recognize for the defense's collective domination, Edelman was an obvious and deserving choice. As usual, the numbers were there — he's now had at least eight catches and/or 87 yards in 10 of his last 12 postseason games — and also typical was the timing and importance of those numbers. The Pats didn't score more than a field goal in the first half, but were able to possess the ball for 19:52 of the first 30 minutes played in no small part because of Edelman's seven first-half grabs. He had a 25-yard third-down conversion on New England's initial scoring drive. Then his final catch of the contest was a big 13-yard connection on the possession that produced the game-winning touchdown. The Patriots passed for 12 first downs in the game, with Edelman the receiver on eight of those.
It was a triumphant end to a tough year-plus for the player, who missed all of last season after tearing his ACL in a preseason game, then saw his return delayed four games because of a suspension for performance-enhancing drugs. Based on that, when he did come back there was legitimate doubt about what a 32-year-old slot receiver who relies so much on his quickness and footwork would look like.
But Edelman lives for those moments when he's forced to prove his character. Consider that his junior year at his California high school, football season was canceled after eight games because of a controversy that cost the coach his job. There were questions raised about the players, but Edelman assumed a leadership role, got the program restored, and guided his team to a 13-0 record and sectional title as a senior.
"They had a chip on their shoulder," Woodside High coach Steve Nicolopulos said back in 2010. "He was a leader. He was one of the main characters. Kids looked up to him; he set the tone by example. He knew how to take care of business – and he took care of business."
That ability has followed him to Foxborough. To the podium amid his third Super Bowl celebration. And someday, perhaps, to Canton, Ohio.
ALWAYS READY FOR THE MOMENT
"Malcolm, go!" will forever be the signature moment for the Patriots' mantra that players must be ready for their number to be called at any moment. It came when Brian Flores sent Butler onto the field for his fateful interception of Russell Wilson at the end of Super Bowl XLIX, and will live in the annals of New England sports history forever. It also can't be forgotten that Butler, then an undrafted rookie, was ready to take a prominent role from Kyle Arrington after the veteran corner struggled in the first half of that game against the Seahawks.
Duron Harmon won't be remembered with quite that legacy. But he nevertheless deserves credit for being ready when his number was called, and for quickly transitioning from big-game bystander to a critical playmaker.
His story begins in the AFC title tilt, at Kansas City. Throughout the regular season, Harmon played nearly 61 percent of the team's defensive snaps. In three games, including the regular-season finale, he was on the field more than 80 percent of the defensive game. At KC, he was on the field for two snaps.
According to ESPN, Harmon was on the field for one snap in the first half of the Super Bowl. However, when Patrick Chung was injured on the third play of the third quarter, and forced to spend the rest of the game standing on the sideline a la Rodney Harrison with his arm in a sling, Harmon was pressed into duty at safety.
And he elevated to the occasion.
Officially, Harmon didn't even make the box score. No tackles, no measurable statistics, at least at the statistician's first assessment. But he was absolutely there, as the final score can attest.
Harmon's contributions came on back-to-back plays in the fourth quarter, the first coming when he provided deep support to Stephon Gilmore in his coverage of Brandin Cooks. Jared Goff threw what might've been his best ball of the day, dropping it into Cooks's arms from 27 yards out. Gilmore was there, but the throw was so good it would've been a touchdown had the receiver held on — except Harmon crashed the party, knocked Cooks down before he could corral the pigskin, and kept the Patriots' lead at seven.
On the very next play, the Rams tried going back to that well again. This time, though, Harmon wasn't hanging back. He launched in on a blitz, timing his rush just as the blocker picked up the also-attacking Devin McCourty, and bearing down on Goff quickly. The quarterback saw the threat, and as a result he rushed his throw without fully stepping into it. The result was a floater that hovered for a while before coming down in the hands of Gilmore, who was much nearer to the throw than Cooks, its intended receiver.
The interception gave the Patriots a chance to kill the clock and close the win. They did just that, giving Harmon his third ring.
GILMORE SIGNING ONE OF THE BEST
The Patriots broke stride in the spring of 2017, moving quickly to make a big-money signing at the start of free agency. It came as a surprise, not only because it violated the Pats' typical business practices, but also because of the expectation of many that if New England was going to pay a cornerback it would be Butler.
Later that same offseason, they traded a first-round pick for Cooks, again going against their own grain by acquiring a flashy talent at a skill position. They changed course on that choice about a year later, though, when the market for good, young receivers progressed beyond their budget and they decided they wouldn't be willing to give Cooks the contract he could get elsewhere.
So Butler is a Titan. Cooks is a Ram. Meanwhile, it's Gilmore who the Patriots decided to invest in.
And that's a decision that ranks among the best free-agent acquisitions of this unmatched dynasty.
Some experts have said he was the best cornerback in the NFL this season, and he finished his first-team All-Pro campaign with an excellent performance in the Super Bowl, which he finished with the interception, three pass breakups, and a forced fumble. He finished this postseason with two picks and five breakups, after closing the second half of last year with a preview of what was to come in 2018.
The presence of a legitimate No. 1 corner can change everything for a defense, and Gilmore's emergence and maintenance of an elite level of play had to be a factor in the increasingly aggressive nature of the Patriots defense after the team's bye week. They came after opposing quarterbacks with more frequency, and weren't afraid to send their linebackers and safeties because the rest of the secondary could handle its business.
Harmon's pressure helped cause the pick Sunday. Jonathan Jones, a cornerback, had a sack. Dont'a Hightower held to his annual tradition of showing up big in the Super Bowl, registering two sacks. Kyle Van Noy had a critical 14-yard sack, too.
It's hard to single out any one performance when a defense limits a premier offense to just three points, forces its opponent into nine punts, and holds that foe to 4.3 yards per play. The Dolphins will get a good one when they name Flores their new head coach on Monday — but his job will be more difficult there, in part because there aren't many defensive anchors like Stephon Gilmores out there. And the Patriots made the right call in committing to him ahead of some others.
THIS WAS IMPORTANT TO THE LEGACY
Exactly what Super Bowl LIII means from a legacy perspective will be hashed out over the coming days and weeks and years. But this one mattered.
Nine Super Bowl appearances are never going to be topped, nor is an 18-year (and counting) run of success like the Patriots have enjoyed. But for Brady and Belichick, a 6-3 record in title games just seems like a significant difference as compared to 5-4. That's not fair, given that they'd already won more than any other coach or quarterback in the NFL's Super Bowl-era history. Further, Brady has now led a go-ahead, fourth-quarter scoring drive in eight of those Super Bowls. (In the ninth he erased a 28-3 deficit and won in overtime.) Their reputations should logically be beyond reproach — but if they were 5-4 and had lost four of the last six title games, the detractors would've at least started chirping.
The importance of legacy goes beyond just Brady and Belichick, however, because now there's a whole new cast of Patriots who've won three championships with the team. That had been a status reserved for iconic names the likes of Law, Brown, Bruschi, Vrabel, McGinest, Faulk, Light, Seymour, and Vinatieri, but now the list includes guys like Edelman and McCourty. Stephen Gostkowski, Ryan Allen, and Matt Slater (the latter two being immense parts of Sunday's field-position battle). Hightower and Marcus Cannon. James White and James Develin. Harmon and Chung.
And, of course, Gronkowski — who made six catches for 87 yards Sunday, including a diving grab between three defenders that set up the Patriots for Michel's scoring plunge from the two. If that was the final catch of the tight end's career, it was a beauty. And he'll take particular joy knowing it was the biggest play on a 69-yard scoring drive — a drive that etched his legacy, once and for all.
[bdc-gallery id="11672801″]