Patriots
What's Rob Gronkowski's legacy if this is truly the end?
Gronk was always an open book of authenticity.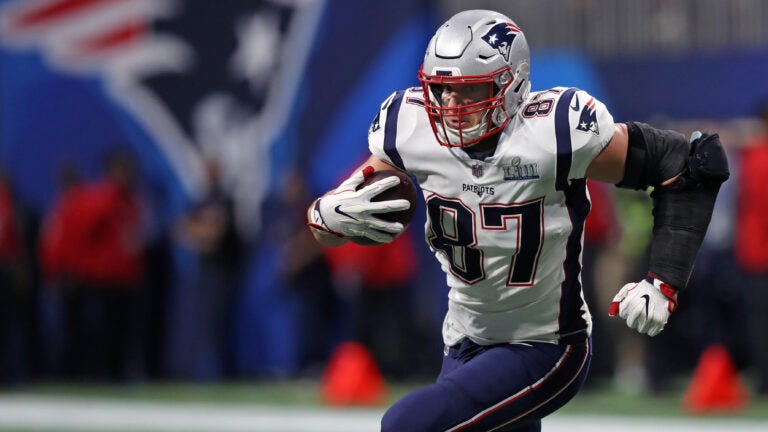 COMMENTARY
My favorite Rob Gronkowski moment from this past season had nothing to do with a Gronk spike, Yo Soy Fiesta, or inverted numerals of passion.
It wasn't either of his ultra-timely, clutch grabs in the AFC Championship game or the Super Bowl, nor the unparalleled blocking he delivered as part of the Super Bowl champion New England Patriots' pivotal running attack.
It was instead a snippet as to why Gronkowski is one of the two most entertaining athletes to ever grace New England, a pedestal he shares only with Pedro Martinez for all the same, and very different reasons.
The week before the Patriots headed to Atlanta to prepare for the since-overmatched Los Angeles Rams, Gronkowski strolled out to a press conference at Gillette Stadium, deep in concentration on his phone while making his way to the podium.
A reporter asked him what might be so much more important than telling the media banal observations about the opposition.
"I was reading this group chat, you want to see what it was?" Gronkowski asked. "Ah, you'll lose your mind."
Was it Belichick and Brady on the receiving end, one writer asked.
"No, different group chat. It was pretty crazy," he said.
Based on some of the frat-style images we've been known to catch Gronkowski in, one could only imagine the contents of the exchange.
Then he grinned. "I kind of want to show you.
"I'll probably be in trouble."
We've had plenty of these authentic moments of Gronk Being Gronk over the years, but they never overshadowed the dominance he was able to deliver on the football field. It is in these sorts of exchanges that we discover a more mature Gronkowski, the one who adheres to the play-it-straight rules under Bill Belichick, but always with a wink and a grin that what bubbles underneath the surface is a hell of a lot more fun.
So, if this is, indeed, the end for Rob Gronkowski, he'll obviously go down as the best tight end to ever play in the NFL, but he'll also grab the spotlight with Martinez and be remembered as one of the most genuine and engaging presences with whom we've only seen glimpses of otherwise.
Like Martinez, Gronkowski was always an open book of authenticity. Unlike Martinez's cocky surety, Gronkowski's persona was bit parts dumb jock and party boy humor. It was a role he played to perfection, all perhaps with the inner genius that it would be these characteristics that would bank him later in life, when his football career ultimately came to an end.
Nobody wanted that to occur at the age of 29.
There have been whispers of Gronkowski's retirement ever since the Patriots lost to the Philadelphia Eagles in Super Bowl LII, a possibility that didn't quiet down after a regular season that saw Gronkowski go from powerhouse receiving threat to being a guy that plays the same position as Dwayne Allen.
Gronkowski amassed three touchdowns and 682 yards during the 2018 season, his lowest numbers in any mostly-healthy campaign. He played 13 games, but more than any other year, was never really, truly, healthy, bothered by back and ankle issues that even Alex Guerrero couldn't make disappear from behind the mysterious, darkened studio at Patriot Place.
Yet he was pivotal in the AFC Championship win at Kansas City. He was on the receiving end of the most important pass from Brady in the Super Bowl, setting up Sony Michel's two-yard run which would ultimately seal a sixth Lombardi Trophy for the NFL franchise once headed to St. Louis with Jimmy Orthwein before the Rams ultimately took their own, brief sabbatical there.
And that might be it.
The "Will you retire?" line of questioning with this current crop of Patriot veterans has become like repeatedly asking a wall of sheetrock when it's going to buckle. There's never a "yes" or a "no," but instead a general shrug of the shoulders that pretty much guarantees nothing but its inevitability at some point down the line.
"You know, I haven't thought about that decision at all," Gronkowski said Sunday night after hauling in six catches for 87 yards in New England's 13-3 victory. "Tonight's the night to celebrate with my team and in the future, that will … you know, that will be decided in a few weeks or so."
It's hard to imagine that this would be the end for a guy only turning 30 in a couple weeks, but what else is there really? The guy has three Super Bowl rings, is a slam-dunk choice for Canton, and will leave possibly being known as Boston's most transitional athletic superstar.
He's one-upped Ben Coates as the best tight end to ever play in Foxborough. He's hand-in-hand with Martinez for the lead in delivering (sometimes too) honest and generational responses. He's going to make Kyrie Irving's wanting attempt at tinkering with Hollywood look like nothing more than a vanity project when his call finally comes.
In a league that prides itself on its corporate banality, Rob Gronkowski has always made the NFL more fun.
But now we wait and try to read into Brady's most recent Instagram post with his best tight end, a clip that shows the two of them trolling all the repeated inquiries about this — maybe? finally? — being the end.
If this is it, Gronkowski leaves behind a legacy of greatness on the field, a lighthearted approach in a sports landscape only breathing in order to eat its own, and a bullish dedication to charity that always seems to take a backseat in the public eye to off-color jokes in the party bro lifestyle.
No other two athletes in this ridiculous stretch of 12 professional sports titles in 17 years have ever been more entertaining than Pedro Martinez and Rob Gronkowski. On the field. Off the field.
"I'm really satisfied with how my whole career has been, super satisfied. There's ups and downs, but the thing is always coming back," Gronkowski said last week in the days before the Super Bowl. "Try to imagine getting hit all the time and trying to be where you want to be every day in life. It's tough. It's difficult. To take hits to the thigh, to take hits to your head, abusing your body, isn't what your brain wants. When your body is abused, it can bring down your mood. You have to be able to deal with that, too, throughout the season."
He's probably finished.
I can only imagine the group chat planning the retirement party.