Patriots
6 unforgettably Boston moments from the Patriots' sixth Super Bowl victory parade
"Boston. You are insane."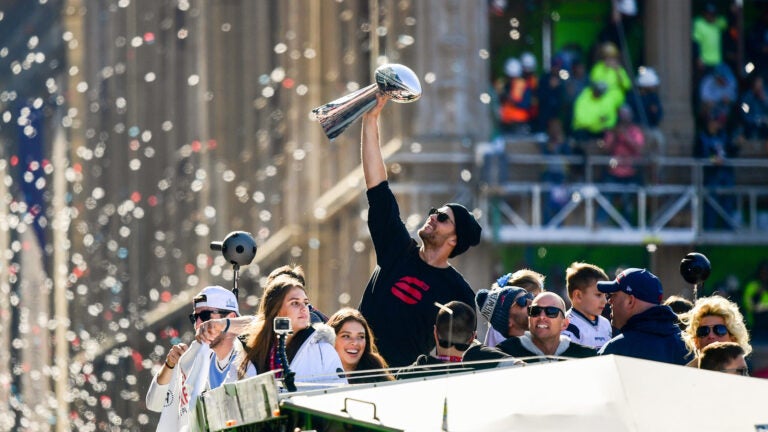 Barely three months after the confetti was swept up from the Red Sox World Series parade, the New England Patriots boarded duck boats and headed up Boylston Street themselves.
The Super Bowl LIII victory parade Tuesday was the 12th time in 17 years that Boston has hosted a rolling championship celebration for one of its four major sports teams. And the Patriots, who have now made the two-mile trip six times since 2002, are the team fans are most used to seeing.
But like a snowflake falling on the field in Foxborough, every victory parade in Boston is unique. Here are the moments that made this one special.
1. The crowds were insane
If Boston fans are feeling any sort of fatigue from all the winning, they certainly didn't show it Tuesday.
Police estimated "well over a million" fans would line up along the parade route from Back Bay to Government Center, and the photos seemed to back that up (though no official numbers have been reported). MBTA commuter rail operator said the parade attracted what was "almost certainly the highest ridership ever seen on the network" and city officials said they thought it was the biggest-ever parade crowd as well.
"Boston. You are insane," tweeted Patriots wide receiver and Super Bowl MVP Julian Edelman.
Boston. You are insane. #LFG pic.twitter.com/JuMtknSNQY

— Julian Edelman (@Edelman11) February 5, 2019
The view from the duck boats only provided further evidence.
If it's us against the world… I feel bad for the world! Everyone in New England is ride or die!!! #GoPats #WorldChamps ?????? pic.twitter.com/BKr0ENuqMk

— Nate Ebner (@NateEbner) February 5, 2019
You all are nuts pic.twitter.com/lZ7v2yUGAE

— Mark Daniels (@MarkDanielsPJ) February 5, 2019
Roaring crowd. Gorgeous day for a parade. Patriots fans showed up. pic.twitter.com/UL72p3DWTu

— Henry McKenna (@McKennAnalysis) February 5, 2019
2. The scene on board the duck boats was no less of a party
Rob Gronkowski was in peak parade form.
The party is on #Gronk's Duck Boat #PatriotsParade #WBZ pic.twitter.com/zhGn4dzhL1

— WBZ | CBS Boston News (@wbz) February 5, 2019
Gronk showing off those off-season hands https://t.co/4zxbIIKXLU pic.twitter.com/GN75K61xnj

— Boston 25 News (@boston25) February 5, 2019
And while the Patriots tight end took full advantage of the balmy, 60-degree February day to slug beers (and fancy wine), don a number of different outfits, and eventually go shirtless, he was hardly the only one this time.
Nobody is wearing shirts anymore pic.twitter.com/MVQXVfYi6Y

— Pete Blackburn (@PeteBlackburn) February 5, 2019
Perhaps most notably, it wasn't long before Patriots offensive lineman David Andrews found himself a spot to catch some sun.
DAVID ANDREWS JUST ROCKED the #Patriots rally with this phenomenal look! #EverythingWeGot #SuperBowl pic.twitter.com/swTvu7Hq1g

— Mike Petraglia (@Trags) February 5, 2019
#Patriots O-Linemen really enjoyed the #PatriotsParade – love it!!!!! #wbz pic.twitter.com/C9cDWT9hnn

— Dan Roche (@RochieWBZ) February 5, 2019
Starting center David Andrews, his hands full, with starting guards Joe Thuney and Shaq Mason. This screenshot, via @wbzsports broadcast, perhaps best captures the fun players had at today's parade. pic.twitter.com/N6ZxTj78W7

— Mike Reiss (@MikeReiss) February 5, 2019
3. Boston police even had some fun
The people responsible for ensuring that the mass of Patriots fans flocking the streets Tuesday remained by-and-large orderly also got to partake in the celebration. Cheered by the crowds as they led the parade downtown, Boston police at times revealed their inner-football fans.
#PatriotsParade has officially BEGUN!!! Duck Boats are leaving the Hynes!!! #BPD motorcycles leading the way. Let's have fun and celebrate like champions. pic.twitter.com/1H7FHmw2wn

— Boston Police Dept. (@bostonpolice) February 5, 2019
A member of the Boston Police walk along the parade route with a goat #PatriotsParade pic.twitter.com/AjTRmCrox9

— Patriots on NBCSB (@NBCSPatriots) February 5, 2019
A few officers even showed off their kicking skills in the street.
It doesn't look like Stephen Gostkowski has much to worry about.
4. Parade-goers helped push an ambulance out of the mud
The swarms of rowdy Patriots fans also turned out to be of productive use.
After an ambulance got stuck in the mud on Boston Common, several dozen parade-goers assembled to free it. Christopher Marino, an eyewitness who captured the moment from a building across the street, posted video of crowd pushed successfully pushing the vehicle onto firmer ground — to raucous cheers.
"Reason #1,486 why I love this city," Marino wrote.
5. The parade surprised at least one visitor
The Patriots parade was crazy enough for those who were expecting it. Imagine if you had no idea what you were getting into.
English actor and writer Stephen Merchant says he ended up right in the middle of the madness while in Boston promoting his new film.
"I was in Chicago for the crazy polar vortex, and now I'm in Boston for the post-Super Bowl parade" Merchant said in a video posted on Twitter, before being interrupted by an enthusiastic Patriots fan who wrapped his arm around him.
My @FightingWMyFam promo tour continues to take me into the heart of the action. #Boston #PatriotsParade pic.twitter.com/1Cyx9Y5AHP

— Stephen Merchant (@StephenMerchant) February 5, 2019
His expression back to the camera says it all.
6. Tom Brady and Julian Edelman soaked in the moment
Tom Brady has said Edelman is almost like his "little brother." On Tuesday, the 32-year-old wide receiver got to share the spotlight with his older football sibling.
Wearing a very Bill Belichick-esque cut-off sweatshirt, the Super Bowl LIII MVP was the No. 1 attraction on this duck boat. And he reciprocated the enthusiasm.
#SuperBowl MVP Julian Edelman is amping up the crowd in Copley Square #PatriotsParade pic.twitter.com/9N6F0UngWe

— WBZ | CBS Boston News (@wbz) February 5, 2019
Flashing six fingers to fans, Brady took in the celebration on his own respective duck boat with his children. His daughter Vivian waved a sign with some simple animal math: Goat (see G.O.A.T.) is greater than Ram.
Brady has a trophy and his daughter has a goat sign pic.twitter.com/YVK4CN0Ou4

— Mark Daniels (@MarkDanielsPJ) February 5, 2019
Tom Brady wearing a TB-12 designed "6" shirt today, informing the crowd that he has indeed won six Super Bowls. pic.twitter.com/0OpZLl0C2W

— Michael Hurley (@michaelFhurley) February 5, 2019
Between triumphantly raising one of the team's Lombardi trophies and playing catch with fans, the smiling 41-year-old quarterback — like the crowd– showed no signs of fatigue either.
Brady raises his 6th Lombardi! ??????

?: #SBLIII Championship Parade on @nflnetwork pic.twitter.com/12Jjg5m6bM

— NFL (@NFL) February 5, 2019