Patriots
'It makes me cringe.' Tom Brady is no fan of being called the greatest ever
'I wish you would say you're trash. You're too old. You're too slow.'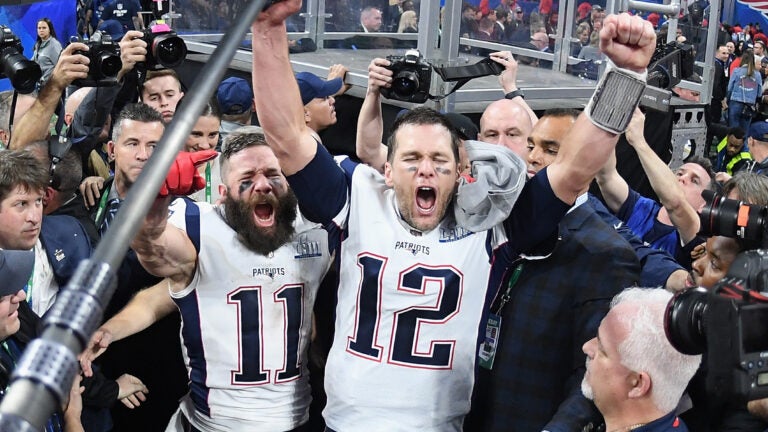 It's been said that the key to beating Tom Brady is to disrupt the Patriots quarterback in the pocket. Perhaps if opposing teams really want to make him uncomfortable, they should just start paying him compliments in between plays.
In an interview with Michael Strahan on "Good Morning America'', Brady reacted to being called the Greatest Of All Time.
"I don't even like that,'' said Brady. "It makes me cringe. It makes me cringe.
"I wish you would say you're trash. You're too old. You're too slow. You can't get it done no more, and I'll say 'Thank you very much. I'll prove you wrong'.''
Brady reflected on winning a Super Bowl for the sixth time in his career.
"I don't know what to think, other than I'm just blessed. I know I'll be giving back for the rest of my life,'' said Brady. "I know how hard it is to play in the NFL. I have so much respect for the players.
"The way the Rams played last night. They played so good on defense. I'm so proud of our guys for fighting, and just glad to come away with a Super Bowl win.''
The interview took place while Brady and Super Bowl LIII MVP Julian Edelman were celebrated at Walt Disney World. Brady talked about his relationship with Edelman.
"We grew up in the same area. We grew up five miles apart,'' he said. "Naturally a quarterback-receiver relationship is so important. I've had that with all the receivers I've played with. We've been together for so long. So I've shared a lot of life moments with him, not just on the football field, but off. He's obviously one of my best friends.''
Strahan asked Brady how he stays grounded with all of the success he's had.
"I was a late bloomer. I struggled in college,'' he said. "I struggled at the early part of my career. Like, I was never the first guy chosen.
"So that part is in me. It's deep. It's there, and it'not going anywhere.''
After the win Sunday night, Brady brought his daughter Vivian up to the podium to accept the Lombardi Trophy. He talked about being able to share the experience with his family.
"To be an older player, you know, I love bringing my kids to training camp,'' he said. "I love bringing them in the locker room after the game, carrying my pads.''
"Football success is one thing, you know? Being a good dad, being a good husband, being a good friend, that's really important to me, too,'' Brady said. "I'm someone that cares about people.''
Before the game, his wife, Gisele Bundchen, posted a photo on Instagram with the caption, "I got your back!''
[fragment number=0]
Brady talked about their relationship.
"She's my rock. I married someone that I know is my life partner,'' he said. "She's just one of the most caring, nurturing people in the world.
"The way she takes care of our family when I'm working, sacrificing a lot of her dreams,'' he added. "I can only tell her I love her so much.''
"She's got my back. I have no doubt about that. And she knows I have hers.''