Patriots
Bill Belichick was mic'd up for Super Bowl LIII
"We're champs, man, we're champs.''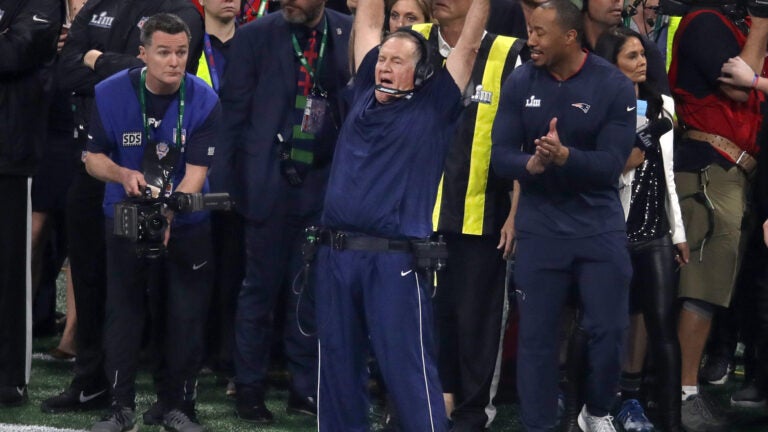 It's not often Patriots coach Bill Belichick shows emotion on the sideline.
But a sixth Super Bowl title will have even the most stoic of coaches giddy with excitement. Belichick couldn't help but raise his arms in elation after quarterback Tom Brady kneeled down to run out final five seconds on the clock and seal New England's 13-3 win over the Los Angeles Rams Sunday evening at Mercedes-Benz Stadium.
"We're champions!'' he proclaimed. "We're champs, man, we're champs.''
Hugging several of his assistant coaches before getting doused in Gatorade, Belichick kept repeating, "We're champs,'' as he made his way down the sideline after the game. Others to greet and congratulate the jubilant coach included his daughter, Amanda, who is head coach of the Holy Cross women's lacrosse team; his longtime girlfriend, Linda Holliday; and his three-year-old granddaughter, Blakely.
"Grandpa! Er… Coach,'' wide receiver Julian Edelman called out as he passed Blakely into the arms of Belichick.
[fragment number=0]
As the lowest-scoring Super Bowl in NFL history, the victory was certainly a grind for two of the highest-performing offenses the league saw this season. But both teams remained confident they could pull off the victory.
"Believe it, man?'' Rams coach Sean McVay asked his locker room, trailing 3-0 at halftime.
"No doubt,'' the team responded.
"Me too, man,'' McVay said. "Let's get it done.''
After Los Angeles tied things up at three apiece midway through the third quarter, the squads exchanged punts before Patriots running back Sony Michel punched the ball in for the game's only touchdown. With seven minutes left in the one-possession game, Belichick took some time to give the defense a pep talk.
"OK, look, we got maybe 15 calls left in this game,'' he told de facto defensive coordinator Brian Flores, who was announced as head coach of the Miami Dolphins on Monday. "Let's go through and get 'em right here. Let's just know what we're going to call here and make sure we got the right personnel in the game and we know what we're doing.''
"We don't have much time left here now,'' he then told a group of defensive ends. "We got to get it right. Let's make sure we're straight on the doubles. Let's make sure we're straight on the calls, OK? They really can't beat us, we just can't screw it up now. If we're on it, they don't got anything. Let's make sure we get it right.''
Sure enough, the defense came through. Quarterback Jared Goff and the Rams moved the ball 48 yards and into New England territory, but their drive stopped short of the red zone thanks to an interception by cornerback Stephon Gilmore — a play at least one Patriot saw coming.
"Goff's going to give us one,'' running back James White said on the bench. "Watch. He's trying to make a home run right now.''
Belichick, too, had a good feeling about the play.
"Intercept it!'' he said, upon seeing the high-arcing heave from Goff. "Right there!''
Here are other mic'd up moments from the game, as captured by Showtime's "Inside the NFL'' season finale:
"I can't wait to see what their plan is,'' McVay said before kick-off.
McVay and Belichick exchanged praises before the game.
"Like you know man, so much respect for you,'' McVay said. "You're the best.''
"Likewise, you've done a great job,'' Belichick replied.
"You always do though,'' McVay continued. "You've been doing it, you know, you're the best, man. The way that you guys are able to shift your identity and really still be able to figure it out week in and week out, it's unbelievable, man. Really, so much respect for you and the way you do it, man. You're what's right about coaching.''
At one point during the game, Belichick couldn't spot McVay on the sideline, so he asked offensive coordinator Josh McDaniels for some help: "Josh, where's McVay? I can't find him.''
Special teams captain Matthew Slater and Edelman, who lived together for four years in an apartment in Foxborough, shared a long embrace when Edelman revealed he was the MVP.
When the Patriots were stopped short on 3rd-and-1 with just over a minute remaining in the fourth quarter, Brady had strong feelings about whether they should go for it on fourth down or attempt a 41-yard field goal: "Why don't we just kick the field goal? It's a 40-yarder. 40-yarder and the game's over.''
https://twitter.com/NFLFilms/status/1092881401781911552