Patriots
Patriots will name Greg Schiano as their new defensive coordinator
Schiano recently left his position after a two-year stint as Ohio State's defensive coordinator/associate head coach.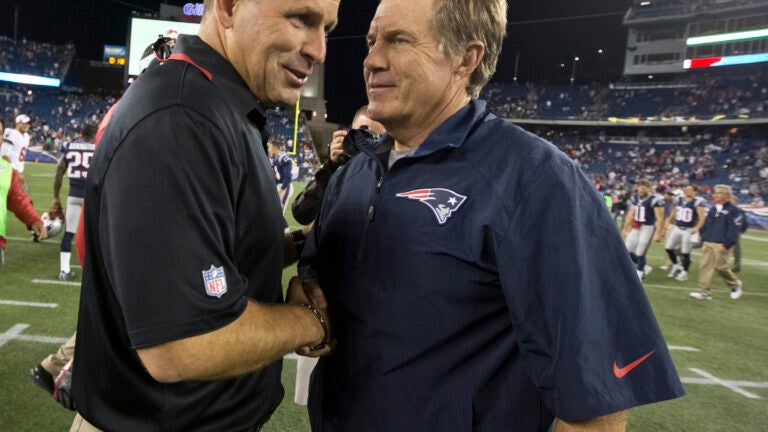 The Patriots will name Greg Schiano as their new defensive coordinator imminently, a league source confirmed Wednesday.
Schiano replaces Brian Flores, the team's defensive play caller for the 2018 season, who left the day after New England's 13-3 victory over the Rams in Super Bowl LIII, to take the Dolphins' head coaching job. Schiano will be coach Bill Belichick's third defensive coordinator in three seasons after Matt Patricia took the Lions top job following the 2017 season.
With experience at both the college and NFL level, a close relationship with Belichick, and a solid rapport with several Patriots players, Schiano figures to have a smooth transition to Foxborough. Defensive backs Devin and Jason McCourty and Duron Harmon all played for Schiano at Rutgers, as did safeties coach Steve Belichick. Logan Ryan and Kenny Britt are among a handful of other former Rutgers standouts that have also played in New England.
Belichick has often talked about the respect he has for Schiano and the similarities philosophies the two have.
"I think Coach Schiano is a great defensive coach and he's really coached all the positions — line, linebacker, DBs,'' Belichick said in 2015. "He's had a lot of extensive work with defensive backs and I think he does a great job with them, but I'd say the overall way that he presents his program, the way he runs his program, runs his defense, teaches and so forth, that that's all a great part of preparing players either in a similar way that we do it or when he was in college prepared them to come into our program with some changes but minimal maybe compared to other teams.''
Schiano recently left his position after a two-year stint as Ohio State's defensive coordinator/associate head coach.
He is best known for his 11-year run at Rutgers, where help turn a perennial moribund program into respectability. The Scarlet Knights were ranked as high as No. 7 in the AP poll in 2006.
Schiano, who was 68-67 overall with the Scarlet Knights, posted six winning seasons and five bowl game victories in his final seven years in Piscataway.
Following the 2011 season Schiano was hired to coach the Tampa Bay Buccaneers. It was his first NFL job since 1998, when he completed his third season as a Bears defensive assistant.
He was fired after two seasons and an 11-21 record in Tampa. After two years coaching at Berkeley Prep in Tampa, he took the Ohio State post.