Patriots
Julian Edelman let Ellen DeGeneres shave his beard
"I look like a different person."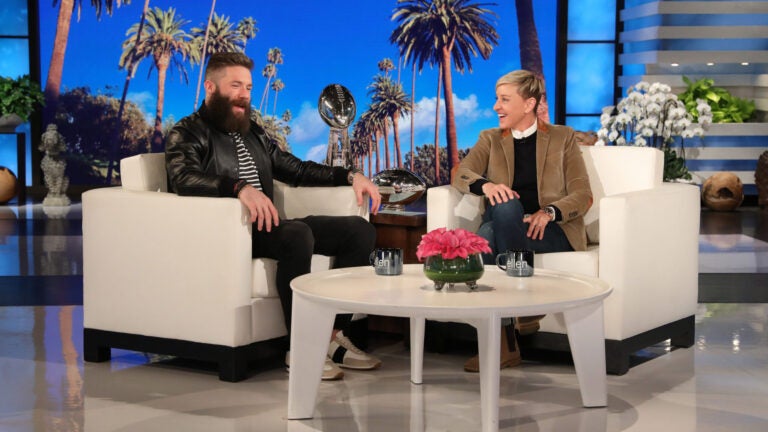 Say goodbye to Julian Edelman's beard.
The Patriots wide receiver recently paid a visit to "The Ellen DeGeneres Show" in Los Angeles, where he was talked into ditching his bushy, mountain-man facial hair for charity. In the segment that airs Friday, host Ellen DeGeneres said she would donate $10,000 to the Boys & Girls Club of Boston if Edelman would let her do the honors.
Though he's certainly grown fond of his beard — "It's like a child. It grows on you." — Edelman not only agreed but also offered to match the donation. Electric razor in hand, DeGeneres proceeded to shave off the "nine months of hard work" in a makeshift barbershop on set.
"I love you, beard," Edelman said. "It's been a hell of a year."
Two-and-a-half minutes later, his face was clean shaven.
"I look like a different person," Edelman said.
DeGeneres also delivered the Pete Rozelle Trophy to Edelman, who earned his first-ever Super Bowl MVP honors for his 10-catch, 141-yard performance against the Los Angeles Rams on Sunday.
"Just winning the game is what you want," Edelman said. "But getting the MVP is kind of a win for me and my other team, and that's my family. Getting to experience this with them because they've been in my corner and they've made me who I am. My father was a tough, hard-nosed guy who, you know, didn't have a father and pushed me to limits I never thought I'd get to. And my mother, being the loving little lady that she is, I was never late to a practice. She was always there."
https://www.youtube.com/watch?v=QMYpVHi2xLg