Patriots
50 years ago, an electric shock almost killed a Patriots coach during a press conference
"It could have been fatal."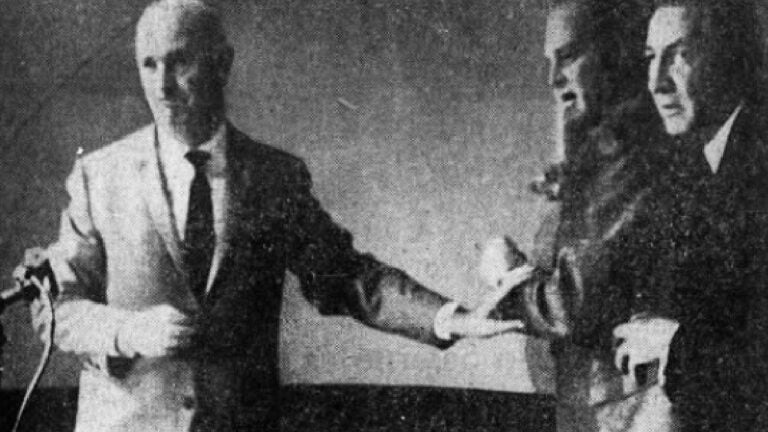 The Patriots have come a long way from where the team was half a century ago. The current Super Bowl champions were in a very different place in early 1969.
Nothing epitomized that more than a bizarre press conference on Feb. 12 of that year, when newly installed coach Clive Rush had to receive medical attention after gripping an electrified microphone.
It was supposed to be a moment for welcoming another new hire: General manager George Sauer. But very quickly, it was clear that something was wrong.
As soon as he touched the microphone, Rush was unable to let go and began screaming. According to the Boston Globe's Will McDonough, only the quick actions of Patriots board member Dan Marr Jr. saved him.
"While Rush was screaming in anguish and staggering into a corner, unable to free himself from the microphone which could have electrocuted him," wrote McDonough, "Marr jumped from his seat and ripped all the wiring running along the floor out of the wall sockets, shutting off the current."
Exactly why the equipment was dangerously electrified wasn't clear.
"A spokesman for the Patriots said he didn't know what happened to the microphone," wrote Associated Press writer Ted Meier.
When he was finally able to let go of the microphone, Rush was helped away from the podium and was immediately attended to.
"The shock went up one arm — across the shoulders — and down the other," said Dr. John Knight, who examined Rush shortly afterward. "If it had gone to his heart, it would have been very serious."
Dr. Carl Walter, a Harvard Medical School professor, offered a jarring analysis.
"It could have been fatal," Walter bluntly assessed. "He was one of the lucky ones who got away without very serious damage."
Rush did his best to shrug off the brush with a potentially fatal press conference.
"I heard about the Boston press being tough," he joked after being seated in a nearby chair, "but I didn't think they were going to be this tough."
"George," Rush said turning to the new general manager, "you just got through saying that we were going to do everything together. Why didn't you take your share of this?"
It was an inauspicious start for Rush and Sauer's tandem leadership of the Patriots. And things didn't improve for the duo, as the then-Boston Patriots lost the first seven games of the 1969 season, finishing a disappointing 4-10. Rush began 1970 1-6 before resigning; the team finished 2-12.
The Rush tenure — and electrified press conference episode — has often been maligned as the epitome of the old failings of the Patriots. The 1969-1970 seasons fell in the middle of a nine-year run in which the Patriots finished without one winning record, simply an inconceivable notion to current fans of the six-time Super Bowl champions.
And Rush, who joined the Patriots after orchestrating Joe Namath's Jets offense to an upset win in Super Bowl III, was hired over another notable candidate that year: Chuck Noll.