Patriots
Patriots owner Robert Kraft charged with soliciting prostitution in Florida
"The video that we obtained, it shows the act that took place on every gentleman that you have a list of, the act that took place is recorded on that video."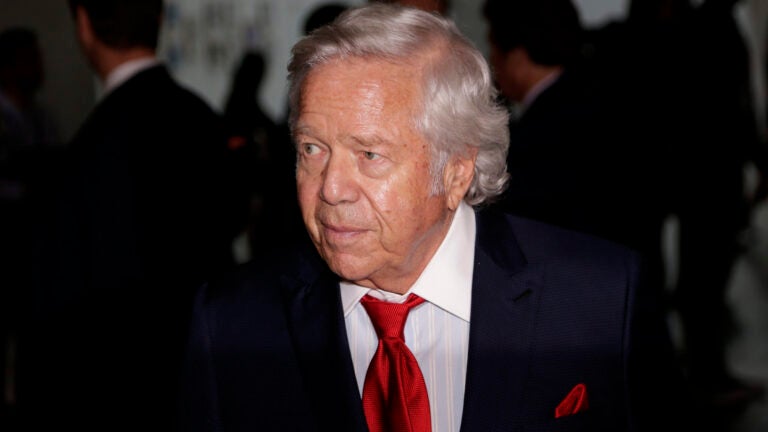 New England Patriots owner Robert Kraft is being charged with two counts of soliciting prostitution in Florida, a result of a multi-agency investigation into an alleged human trafficking ring, police said Friday.
The Massachusetts billionaire is facing two misdemeanor counts of soliciting another to commit prostitution related to two different visits to the Orchids of Asia Day Spa in Jupiter, Florida. Kraft, 77, is one of 25 individuals being charged in Jupiter with soliciting prostitution in connection with the law enforcement sting, police said.
"Our concern in this investigation centers around the possibility of victims of human trafficking, the appearance maybe of that," Jupiter Police Chief Daniel J. Kerr said Friday during a press conference. "We're working with advocacy groups and interpreters and getting as much support for them as we possibly can."
"If there are customers, then these types of businesses can flourish," he added.
A spokesperson for Kraft issued a statement Friday denying the allegations.
"We categorically deny that Mr. Kraft engaged in any illegal activity. Because it is a judicial matter, we will not be commenting further," the statement read.
The NFL also issued a statement Friday afternoon.
"The NFL is aware of the ongoing law enforcement matter and will continue to monitor developments," the league said.
Massachusetts Gov. Charlie Baker, in a statement provided to CBS Boston reacting to news of the charges, called the allegations "deeply disturbing."
"Governor Baker finds these allegations deeply disturbing and condemns all acts of sexual exploitation," his spokeswoman said in a statement.
President Donald Trump, a longtime friend of the Patriots owner, said he was "surprised" to learn of the allegations.
#BREAKING: President Trump comments on the charges against Patriots owner Robert Kraft pic.twitter.com/q9rZjuGMjh

— WBZ | CBS Boston News (@wbz) February 22, 2019
Police arrested two individuals at the business on Tuesday, when they also served two search warrants on businesses and five search warrants on residences. The Orchids of Asia Day Spa is one of 10 spas shut down in the area of Orlando, Palm Beach, and Treasure Coast, Treasure Coast Newspapers reports.
At a Tuesday press conference, Martin County Sheriff William Snyder said the overall investigation began last July, when detectives responded to a complaint from the county's health department reporting signs of potential human trafficking at a local massage parlor.
"The tentacles of this go from here to New York to China," Snyder said. "In Florida, from here to Orange County."
The ensuing investigation involved agencies and police departments in Martin, Orange, and Palm Beach counties, as well as Homeland Security and the Internal Revenue Service.
Jupiter, where Kraft is facing charges, is in Palm Beach County.
"It was clear that multiple women were living and working inside the spas," Snyder said. "They were cooking on the back steps of the business, they were sleeping in the massage parlor on the massage tables. They had no access to transportation. They were moved from location to location. They were averaging eight clients a day, and, if you can do the math, that's approximately 1,500 men a year, with no days off. They were working late hours, oftentimes long after legitimate businesses were closed."
The women, he said, are being treated as victims — not as paid sex workers.
"They've been seduced to come here, ostensibly for some kind of legitimate work, and then they find themselves in this trade and can't get out," Snyder said.
Much of the evidence in the Jupiter cases comes from the business, body cameras worn by officers, and surveillance that had been conducted over the last "several months," Kerr said Friday.
"[Kraft] is being charged with the same offenses as the others, and that is soliciting another to commit prostitution," the chief said.
Police said there is video of Kraft receiving the alleged acts.
"The video that we obtained, it shows the act that took place on every gentleman that you have a list of, the act that took place is recorded on that video," Jupiter Police Det. Andrew Sharp said Friday.
Both times Kraft visited the spa, he was driven there, Sharp said.
When asked if it appeared Kraft was "familiar" with the business, the detective responded, "going through the evidence, yes."
Because Kraft is not a resident of the state, an arrest warrant will be issued for him in Florida related to the charges, police said. Kraft's was the only "notable" name on the list of alleged customers, Kerr said.
"We're as equally stunned as everybody else," he said.
According to WPTV, Kraft was in Florida last weekend attending a fundraiser for The Breakers for the Everglades Foundation. However, police did not provide the dates Kraft visited the spa.
The Martin County sheriff said he expects the overall investigation to continue for the "foreseeable future," calling the arrests and warrants served so far the "tip of the tip of the iceberg."
"What we found here on the Treasure Coast is not outlier behavior," Snyder said Tuesday. "Establishments such as these that derive their gains from the backs of coerced women thrive in communities throughout the United States."
In Martin County, he said authorities have identified about 100 "johns" during the investigation and that they were in the process of seizing between $2 million and $3 million in assets.
"None of this would happen if those men were not availing themselves and participating in this human misery," Snyder said.
"Those are the monsters, those are the ones that make this work," he added later. "It's their money that's traveling back and forth to China, and so, if there's anyway anybody watching this knows somebody who's doing this, ask them to stop. Get them to stop. They are the ones that have imprisoned these women. They are the ones that hold the key to their freedom. Because if they weren't going in there this entire entire paradigm would stop. It would stop tomorrow if men weren't going in there and taking advantage of these desperate women."