Patriots
What could come next for Robert Kraft
Prosecutors announced Monday they had filed charges in the case.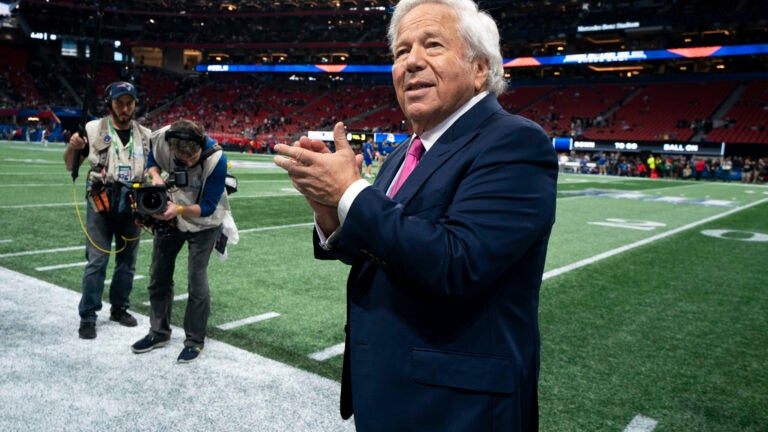 Patriots owner Robert Kraft is among 25 individuals charged for allegedly soliciting prostitution at the Orchids of Asia Day Spa in Jupiter, Florida.
Authorities say there is video evidence of the alleged acts for all of the individuals charged. A spokesman for Kraft issued a statement Friday categorically denying that he "engaged in any illegal activity." In his first sighting since news of the charges Friday, the 77-year-old billionaire was reportedly spotted in California at two pre-Oscar parties this past weekend.
Here's what could come next:
Legal ramifications
Palm Beach County State Attorney Dave Aronberg announced in a news conference Monday that prosecutors are charging Kraft with two first-degree misdemeanor counts, which each carry a maximum penalty of one year in jail, a mandatory $5,000 fine, 100 mandatory hours of community service, and a mandatory "class on the dangers of prostitution and human trafficking."
"The charges begin the court process with local defendants being mailed a summons to appear in court," Aronberg said. "Out-of-county defendants will have a capias issued, which is essentially a low-level warrant, and will have to either surrender or have an attorney contact law enforcement to satisfy the warrant."
Because Kraft has a Palm Beach residence in addition to his Brookline home, Aronberg said he will be treated as a local defendant. Aronberg said Kraft's attorney had already been provided with the summons, and, via the clerk's office, Kraft's court date is scheduled for April 24. Kraft, however, will not be required to make a public court appearance and can send an attorney on his behalf.
Upon being charged, defendants can either plead guilty or go to trial. For misdemeanor charges, defendants are not required to register as sex offenders if they accept a plea deal or are convicted, Aronberg's spokesman, Michael Edmondson, told The Boston Globe on Sunday.
"First-time offenders are unlikely to get significant jail time," Aronberg said.
Aronberg also reiterated that Kraft will not receive special treatment due to his status or wealth.
"Our office will treat everyone the same," he said. "No one gets any special justice in Palm Beach County."
League ramifications
Under the league's personal conduct policy, which prohibits "conduct detrimental to the integrity of and public confidence in the NFL," Kraft could face discipline from Commissioner Roger Goodell. Per the policy, "ownership and club or league management have traditionally been held to a higher standard and will be subject to more significant discipline when violations of the Personal Conduct Policy occur."
The NFL issued a statement Friday, saying the league is "aware of the ongoing law enforcement matter and will continue to monitor developments."
Three days later, the NFL issued a second statement Monday morning: "Our Personal Conduct Policy applies equally to everyone in the NFL. We will handle this allegation in the same way we would handle any issue under the Policy. We are seeking a full understanding of the facts, while ensuring that we do not interfere with an ongoing law enforcement investigation. We will take appropriate action as warranted based on the facts."
Potential punishment for Kraft includes a fine — the maximum allowable amount is $500,000 — and/or a suspension, which would bar him from Gillette Stadium and prevent him from contacting any team personnel. Kraft may also not be allowed to attend the owners' meetings held in March and May.
"It is not enough simply to avoid being found guilty of a crime," the personal conduct policy reads. "We are all held to a higher standard and must conduct ourselves in a way that is responsible, promotes the values of the NFL, and is lawful."
The charges could also impact Kraft's reputation across the league. He is a member of five committees: the Media Committee, the Finance Committee, the Compensation Committee, the NFL Network Committee, and the Management Council Executive Committee.