Patriots
The trailer for the Patriots' Super Bowl championship film is here
"Super Bowl LIII Champions: New England Patriots" will be available on March 5.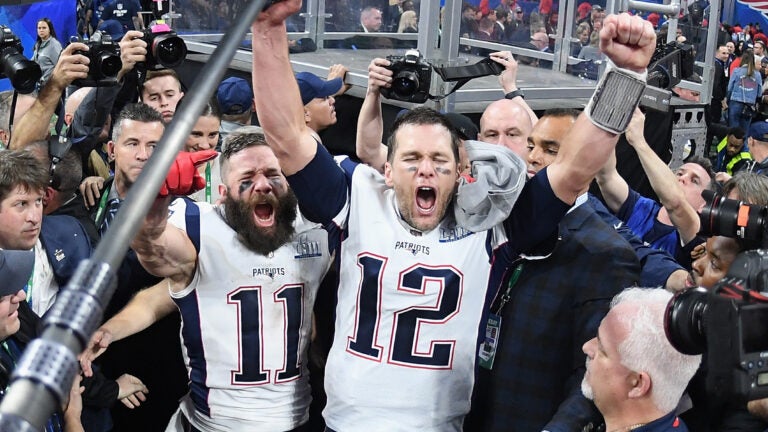 Patriots fans will soon be able to relive the team's 13-3 Super Bowl LIII victory over the Los Angeles Rams, as well as the rest of the championship season, any time they want.
NFL Films and entertainment company Cinedigm will release Super Bowl LIII Champions: New England Patriots on Blu-Ray Combo Pack, DVD, and digitally on March 5.
The film will cover the entirety of the Patriots' 2018 season, from Week 1's win against the Houston Texans to the most dramatic moments of the playoff run and sixth Super Bowl victory.
The trailer's highlights include Julian Edelman's Week 16 touchdown reception against the Buffalo Bills, Devin McCourty screaming "Welcome to the Super Bowl!" at his brother Jason after the Patriots defeated the Chiefs in the AFC Championship, and a cinematic, wide-angle shot of Sony Michel's Super Bowl-winning touchdown.
Fans can pre-order the film on the NFL Shop and iTunes. The Blu-Ray and DVD versions of the film will be sold in stores throughout New England.
Bonus features available in the film will include Super Bowl Opening Night, post-game ceremonies, and various 2018 NFL shots and sounds of the year.
Exclusive bonus features will be available only on the Blu-Ray version of the film, including focuses on Bill Belichick, Tom Brady's legacy, Julian Edelman, Patrick Chung, Chris Hogan, and Rob Gronkowski.