Patriots
How might the NFL handle the Robert Kraft allegations?
"Shame is what they have on their side," ESPN's Bomani Jones said.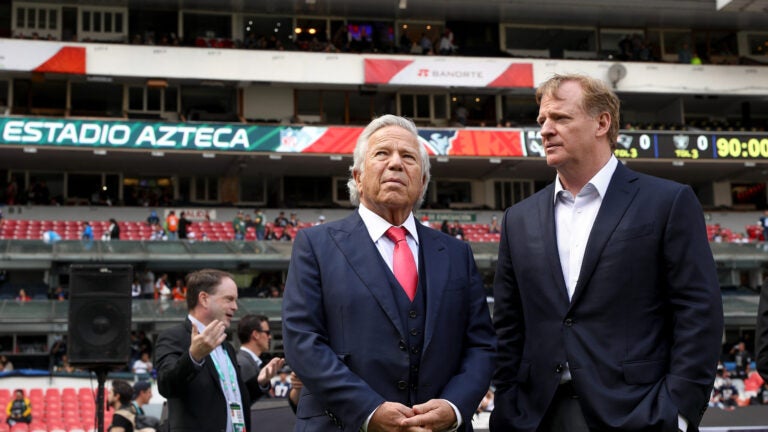 Patriots owner Robert Kraft has been charged with two first-degree misdemeanor counts for allegedly soliciting prostitution at the Orchids of Asia Day Spa in Jupiter, Florida, State Attorney Dave Aronberg announced in a news conference Monday.
Authorities say they have video of the alleged acts on Jan. 19 and 20. A spokesman for Kraft issued a statement Friday categorically denying that the 77-year-old billionaire "engaged in any illegal activity."
Kraft's first court date is scheduled for March 27, and, for each count, he faces a maximum penalty of one year in jail, a mandatory $5,000 fine, 100 mandatory hours of community service, and a mandatory "class on the dangers of prostitution and human trafficking."
In addition to the potential legal repercussions, Kraft could receive a punishment from the NFL, whether he's convicted or not. In fact, The Boston Globe's Ben Volin said on WGBH Tuesday he thinks "Kraft is in more trouble with the NFL than he is legally." The league's personal conduct policy prohibits "conduct detrimental to the integrity of and public confidence in the NFL."
"It is not enough simply to avoid being found guilty of a crime," the policy reads. "We are all held to a higher standard and must conduct ourselves in a way that is responsible, promotes the values of the NFL, and is lawful."
In its most recent statement, the NFL said it is "seeking a full understanding of the facts" and "will take appropriate action as warranted based on the facts."
Commissioner Roger Goodell is unlikely to levy discipline until the matter is adjudicated, but the consensus among NFL reporters seems to be that Kraft will face both a suspension and a fine. As NBC Sports' Peter King wrote in his weekly "Football Morning in America" column, Goodell likely wouldn't impose "a hefty fine alone" because the NFL's maximum allowable fine is $500,000, which represents just a fraction of Kraft's over $6 billion net worth.
"That sort of fine, on its own, would be the ultimate slap on the wrist," wrote King.
Instead, King anticipates Goodell will issue "a multi-week (or longer) suspension" for Kraft, barring him from Gillette Stadium as well as team and league activities. He would also not be permitted to contact any Patriots personnel during that time. In terms of how long Kraft's suspension could last, several reporters have referenced how the league disciplined Indianapolis Colts owner Jim Irsay after he pleaded guilty to a misdemeanor count of operating a vehicle while intoxicated in 2014. Irsay was suspended six games and fined $500,000. As The Ringer's Kevin Clark noted, however, Kraft's punishment could be unprecedented because "no NFL owner as famous as Kraft has been charged with such a crime."
Jane McManus of the New York Daily News went as far to suggest that the league should ban Kraft entirely. But in order to force an owner to sell his or her team, 23 of the 31 other principal owners must vote in favor of the termination. That outcome is "extremely unlikely," according to Sports Illustrated's Michael McCann.
Others have also floated out the idea of docking the Patriots multiple draft picks, although that scenario — along with others that penalize the organization as a whole — is not a possibility because Kraft's actions did not involve gaining a competitive advantage.
In addition to a suspension, Kraft could lose standing in one of the five league committees he is a member of: the Media Committee, the Finance Committee, the Compensation Committee, the NFL Network Committee, and the Management Council Executive Committee.
Even if Kraft is suspended, the biggest impact will likely be felt off the field. Owners are not typically involved with the daily football operations of the team, and Kraft's presumed fill-in, club president Jonathan Kraft (his son), is well-versed with the organization. NBC Sports Boston's Tom Curran said on Pro Football Talk Monday that he doesn't think a suspension will "register at all" on the field, or "even in the upper reaches."
"This team navigates those things because they ignore them," Curran said, citing Spygate, Deflategate, "the unbelievable controversy and tragedy" of former tight end Aaron Hernandez, wide receiver Josh Gordon's indefinite suspension, and wide receiver Julian Edelman's four-game suspension as past examples.
"If there's any team out there that's best suited to shrug at something like this, it is the Patriots," added PFT's Mike Florio.
The damage to Kraft's reputation could potentially become unignorable, though.
On ESPN's "High Noon" Monday, co-hosts Bomani Jones and Pablo Torre speculated whether there is a way for the league to "trigger some level of shame" because, as Torre mentioned, Kraft will likely avoid the legal procedures (e.g. "perp walk" and "mug shot") that do so.
"Shame is what they have on their side," Jones said.
As far as whether the situation could be dismissed by the league completely, Curran notes the police's video evidence makes that outcome "a hell of a lot more difficult."