Patriots
Robert Kraft, through attorney, pleads not guilty, demands nonjury trial in prostitution case
According to state and court records, Kraft has hired veteran Florida criminal defense lawyer Jack A. Goldberger.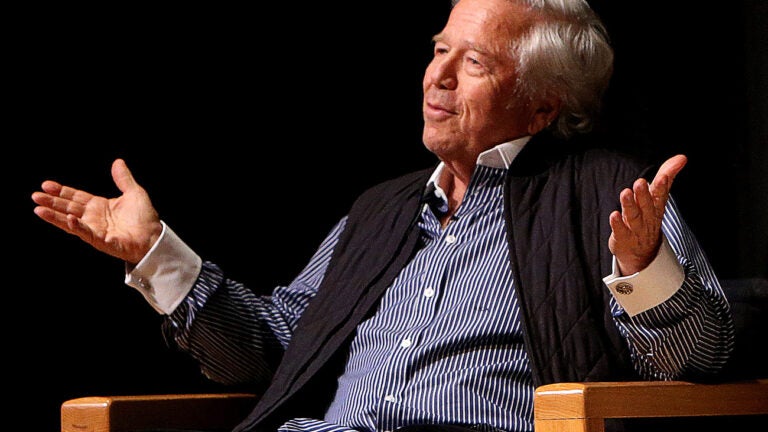 Through his attorney, New England Patriots owner Robert K. Kraft has pleaded not guilty to two misdemeanor charges of soliciting prostitution at a spa that authorities allege was part of an international human trafficking ring with ties to China.
Kraft was allegedly captured on a camera hidden inside the Orchids of Asia Spa by Jupiter police paying for sex on Jan. 19 and Jan. 20. Florida authorities allege some of the women who worked at the spa were coerced into prostitution after arriving in the United States from China.
The case against Kraft, 77, is now set for March 27 at the North County Courthouse in Palm Beach Gardens about a month earlier than law enforcement officials had previously said. It was not immediately clear whether Kraft will have to appear personally or whether the arraignment can proceed with his attorney standing in for him.
Ian Goldstein, a West Palm Beach criminal defense lawyer who is not representing Kraft said that legal practice in Palm Beach does not require the defendant to appear at misdemeanor arraignments.
"Misdemeanor defendants in this jurisdiction who are represented by counsel typically do not make a physical appearance at arraignment,'' he wrote in an e-mail. "Attorneys can appear on their behalf, or file a written plea of not guilty and waive the arraignment altogether.''
According to state and court records, Kraft has hired Jack A. Goldberger, a veteran Florida criminal defense lawyer whose former clients include Jeffrey Epstein, a Palm Beach financier ultimately convicted of procuring underage girls for sex.
In court papers made public Thursday, Goldberger filed a standard form on behalf of Kraft. "The defendant, ROBERT KRAFT, hereby pleads not guilty to all charges and requests a non-jury trial,'' Goldberger wrote.
Goldberger was part of a team of lawyers who convinced then-US Attorney Alex Acosta to accept a plea deal to federal charges that has now come under judicial scrutiny for the prosecutor's failure to notify victims of the agreement. Acosta is now the US labor secretary in the Trump administration.
Goldberger did not respond to an e-mail and phone call from the Globe on Thursday. A Kraft spokesman, after the billionaire businessman was publicly linked to the prostitution ring by law enforcement, said, "We categorically deny that Mr. Kraft engaged in any illegal activity.''
Kraft and nearly 200 other men were swept up in a sprawling law enforcement investigation of Florida massage parlors that provided sexual services from women who were forced to live in the spas and perform sex acts on eight or more men a day, the Globe has reported.
Kraft was driven to the spa in a white 2014 Bentley on Jan. 19 and was stopped and identified by Jupiter police that day. He returned the following day — arriving in a blue 2015 Bentley — around 11 a.m. and later that day was in Kansas City for the AFC championship game won by the Patriots.
Palm Beach County State Attorney Dave Aronberg said many of the women in sex trafficking rings are "themselves victims,'' and he called brothels populated by human trafficking victims an "evil in our midst.''
Kraft faces two first-degree misdemeanor charges that carry a maximum of a year in prison.
"This isn't about lonely old men and a victimless crime,'' Aronberg said. "This is about enabling a network of criminals to traffic women into our country for forced labor and sex.''
The court date for Kraft's case also falls on the final day of the NFL's Annual League Meeting in Phoenix, where owners meet to hash out possible rule changes and other key issues. The NFL website says this year's meeting is slated for March 24 through March 27.
The NFL has said it is tracking the Kraft criminal case and will conduct its own investigation. The NFL policy states that "it is not enough simply to avoid being found guilty of a crime. We are all held to a higher standard.''