Patriots
Miami Dolphins release former Patriot WR Danny Amendola
The Dolphins, 7-9 in 2018, are cutting payroll and veterans as they begin rebuilding.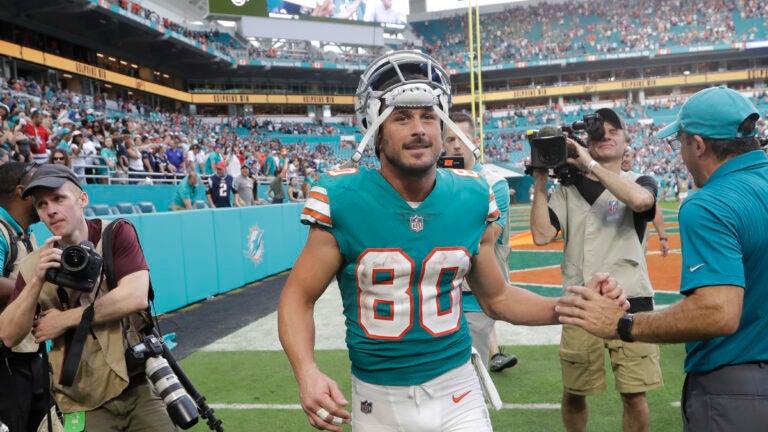 The Miami Dolphins released wide receiver Danny Amendola on Friday, creating $6 million in salary cap space.
The 33-year-old former Patriot had 59 receptions for 575 yards last year, both team highs, while making 15 starts in his first season with Miami. He has 485 career receptions.
The Dolphins, 7-9 in 2018, are cutting payroll and veterans as they begin rebuilding under new coach Brian Flores, who was the Patriots defensive play-caller last season.
Thanks Miami! All Love! pic.twitter.com/myMmPd3Lxj

— Danny Amendola (@DannyAmendola) March 8, 2019
Amendola played in New England from 2013-17, catching 230 passes for 2,383 yards and 12 touchdowns.
Browns to get Vernon
The Browns agreed to acquire defensive end Olivier Vernon from the Giants in exchange for guard Kevin Zeitler, according to a person familiar with the deal.
The teams are also swapping draft picks, with the Browns getting No. 132 for pick No. 155.
Vernon, 28, who spent his first four seasons with the Dolphins, has 51 sacks in seven seasons, including seven last year when he was named a Pro Bowler.
He is set to make $15.5 million in each of the two remaining years on his contract.
Jaguars clear $30m
The Jaguars cleared $30 million in salary cap space by cutting five veterans, including two former Pro Bowl defenders — defensive tackle Malik Jackson and safety Tashaun Gipson.
The team also released offensive lineman Jermey Parnell, running back Carlos Hyde, and long-snapper Carson Tinker.
The Jaguars are expected to use the much-needed cap room — they now have about $32 million to spend in 2019 — to sign a quarterback in free agency next week.
Rams add S Weddle
Veteran safety Eric Weddle agreed to a two-year deal with the Rams, who also released starting linebacker Mark Barron. Weddle, a six-time Pro Bowl selection, was released Tuesday after starting all 48 games over three seasons for the Ravens . . . The Cardinals released safety Antoine Bethea and quarterback Mike Glennon, and re-signed running back D.J. Foster to a one-year deal . . . The Packers released linebacker Antonio Morrison after one season, freeing some $2 million in salary cap space.
. . . The Detroit Lions cut offensive guard T.J. Lang with one season left on his three-year contract. Lang, who spent his first eight seasons with Green Bay, played a career-low six games last season and went on injured reserve in November with a neck injury.