Patriots
Here's everything we know Tom Brady has been up to this offseason
He's a busy man.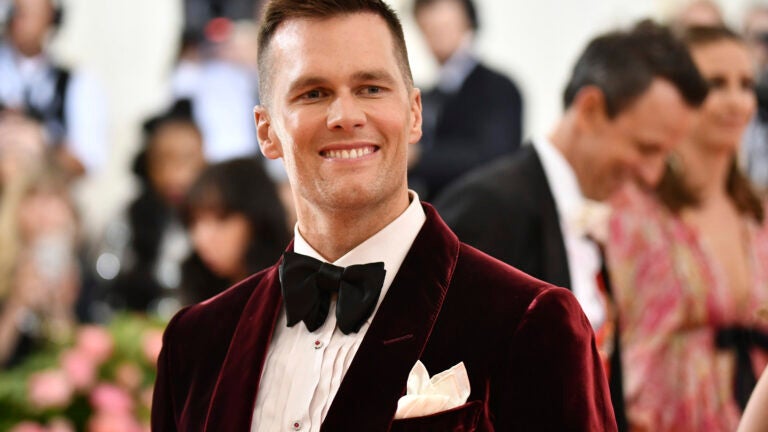 Patriots fans can expect Tom Brady to be under center when training camp ramps up this summer.
Until then, he has spent his offseason training on both coasts, sending his first tweets, and hitting the late-night television circuit.
Here is a look at everything we know Brady has been up to before he mounts a quest for his seventh Super Bowl title:
He kicked off the offseason by getting that playoff beard shaved off.
"This is actually the first morning I woke up, and I wasn't completely exhausted," Brady said at Gillette World Shaving Headquarters on Feb. 7, just four days after the Patriots won Super Bowl LIII over the LA Rams.
Shaving like a ?!

TB12 gets his #SuperBowl beard shaved at @Gillette Headquarters. pic.twitter.com/tSneTekT9m

— New England Patriots (@Patriots) February 7, 2019
Brady participated in a ceremonial face shave at Gillette to raise money for Boys & Girls Clubs of Boston, Dana Farber Cancer Institute, and Best Buddies, according to his Instagram post.
His company, TB12, announced a new performance center would open in Boston.
The second TB12 Sports Performance & Recovery Center is scheduled to open at 699 Boylston St. in the Back Bay on August 1. The center replaces a Boston Sports Club location that closed on March 1.
The TB12 location in Boston is the company's first venture outside its original location at Patriot Place in Foxborough. The Boston Globe reported in March that TB12 plans on opening as many as 12 new locations across the country in the coming years.
Brady went skiing and appeared ready to get airborne.
Before his March skiing trip, Brady posted a video to Instagram of him reviewing his failure to land a jump in 2017. He said he studied Lindsay Vonn's technique to develop a better form for the 2019 Brady family ski trip.
This time around, Brady cruised downhill at a high speed. He never revealed whether he made the jump, though.
He joined Twitter.
Brady's first tweets came on April 1, just in time for an April Fools' Day joke that he would retire and spend his free time tweeting instead.
Was this a bad joke?

— Tom Brady (@TomBrady) April 1, 2019
Brady's teammates past and present, as well as the Patriots' Twitter account itself, had a little fun at his expense once he joined the social media platform.
Brady has accumulated over 467,000 followers since joining Twitter.
He watched Tiger Woods win the Masters.
Brady said on Twitter the Sunday of the Masters tournament is his "only couch day of the year." He appeared to be glued to his television for every moment of Tiger Woods's 15th major tournament victory and offered Tiger congratulations for his historic performance. Brady's competitive mindset appeared to set in as he tweeted about what it might take to get to 15 championship wins of his own.
Running the numbers on how long it'll take me to get to 15… pic.twitter.com/PcNSF2oCzB

— Tom Brady (@TomBrady) April 14, 2019
He celebrated his parents' 50th wedding anniversary.
Brady took to social media on April 19 to praise his parents' "trust, love, and dedication" as parents to him and his sisters on their wedding anniversary.
He and Gisele brought the kids to Disneyland for Easter weekend.
Page Six reported in April that the star couple and their children visited Disneyland in Anaheim, California, for Easter. Brady visited Disney World in Florida with Julian Edelman in Feb. 2018  after Edelman was named Super Bowl LIII MVP.
https://www.instagram.com/p/Bwhm9FZgwMT/
Brady and Edelman worked out and practiced together.
Though Brady opted to skip the Patriots' offseason conditioning programs for the second year in a row, it did not mean he avoided his teammates.
Brady posted a video on Instagram of him throwing passes to Edelman at Boston College's practice facilities in late April.
As always, Brady appeared to be looking for improvement, this time with his deep throws. Just days later, he was spotted working out at UCLA, this time throwing passes to players from the school's team.
Brady appeared on "Jimmy Kimmel Live!" and made a mess out of Matt Damon's window.
Brady appeared on Jimmy Kimmel's late night talk show on May 2 and participated in a sketch in which he, Kimmel, and sidekick Guillermo Rodriguez travel around Los Angeles looking for an appropriate place to test the 41-year-old quarterback's arm strength. Kimmel and Brady unwittingly break windows at Matt Damon's home, opening opportunities for a confrontation between Kimmel and his long-time frenemy as well as a chance for Damon to meet his favorite quarterback.
In a sit-down interview, Brady told Kimmel why he does not mind not being the highest-paid NFL player.
"Actually it's a salary cap, you can only spend so much, and the more that one guy gets is less for others," Brady said. "I think [from] a competitive advantage standpoint, I'd like to get a lot of good players around me."
He assembled a Pro Bowl-level squad for the Kentucky Derby and offered Jimmy Garropolo some advice.
Brady took in the Kentucky Derby with Patriots teammates past and present. Edelman, former backups Garropolo and Jacoby Brissett, former wide receivers Deion Branch and Danny Amendola, and even Bill Belichick himself were present throughout the day. Brady made time to hang out with Cleveland Browns quarterback Baker Mayfield, too.
At the Kentucky Derby, Brady reportedly gave Garropolo advice on how to approach his comeback from ACL surgery last fall.
"I've got to keep that confidential," Garoppolo told the Mercury News on May 8 regarding what Brady told him. "but I did actually talk to him about it for a little bit. He's been through everything, seen everything, so whenever I can pick his brain, it's a good thing."
Brady was also spotted making $100,000 bets with Amendola at Churchill Downs.
Brady and Gisele attended the 2019 Met Gala.
The couple was decked out in red and pink at the Metropolitan Museum of Art's Costume Institute benefit gala on May 6 in New York.
He wished Gisele and his mother, Galynn, a happy Mother's Day on Sunday.
The Patriots' star has devoted Sundays each fall and winter to his football career for almost 20 years now. Fortunately for his wife and his mother, Mother's Day falls on a Sunday in the spring, which leaves Brady open to devote a day to his loved ones.
Brady posted two Instagram photos Sunday to commemorate Giselle and his own mother, who he wrote is "the most loving and selfless person I have ever met, and has been there for me every step of the way!"
The team behind Brady's documentary web series "Tom vs. Time" won a Sports Emmy.
The show, which premiered on Facebook Watch in Jan. 2018, won the award for Outstanding Serialized Sports Documentary. Brady expanded on his experience working with series creator Gotham Chopra on Instagram:
He made a bet over whether or not Jeopardy! prodigy James Holzhauer would lose.
Brady, who keeps a particular diet, told Twitter he would eat a strawberry (he claims to have never eaten one in his life) if Holzhauer lost during his 32-game winning streak this spring.
If James loses on Jeopardy tonight I'll eat a strawberry on IG live tomorrow.

— Tom Brady (@TomBrady) May 20, 2019
Holzhauer won that night's episode, and Brady took to Twitter again to brag.
James doesn't lose and I don't eat strawberries… keep it moving.

— Tom Brady (@TomBrady) May 20, 2019
 

He worked out with and threw passes to Patriots rookie N'Keal Harry and Julian Edelman privately during optional training activities.

Brady, Edelman, and Harry all shared photos from the workout session on social media.
It's a family affair. pic.twitter.com/klcWi6Wdcf

— Tom Brady (@TomBrady) May 25, 2019
He lent his voice to a hype video for the Bruins ahead of the Stanley Cup Final.
Brady has garnered something of a reputation for narrating hype videos for all sorts of sporting events, but this time, he appeared in a video Zdeno Chara posted to his Instagram account before Game 1 of the Cup Final against the St. Louis Blues.
The Bruins won Game 1 by a score of 4-2 but ultimately lost the series in seven games.
Brady played in the 20th annual Best Buddies Challenge flag football game.
Brady, who wrote on Instagram that he first participated in the charity game in 2002, played quarterback for both teams and threw passes to young children, current and former Patriots such as Julian Edelman and Troy Brown, as well as Massachusetts governor Charlie Baker.
"I want my kids to grow up in a world where people are recognized and celebrated for the characteristics that make them uniquely themselves because we're all better when we include everyone," Brady wrote in the caption.
Brady cleared up what he said was a misunderstanding after his company trademarked the phrase "Tom Terrific," which some New Yorkers took as a slight against former Mets pitcher Tom Seaver.
When the news broke in late May that Brady's TEB Capital Management company filed applications to trademark the nickname, fans and columnists alike in New York blasted the Patriots quarterback for what they thought was an attempt to steal the nickname from Seaver, who became known as "Tom Terrific" during his 19 year MLB career that started in 1967.
Our @tomecurran asks
Tom Brady about the
"Tom Terrific" flak! pic.twitter.com/vamdYtffEb

— The Camera Guys (@NBCSCameraGuys) June 6, 2019
At Patriots minicamp June 6, Brady downplayed the incident as a misunderstanding. He said he does not like the nickname and had wished to prevent others from using it without his consent.
He briefly freaked out Patriots fans after an Instagram caption made some think he might retire after the 2019 season.
Brady posted four photos on Instagram during minicamp practices with the caption "Treat my first like my last, and my last like my first!"
While the specific wording made some fans wary, Brady was simply quoting a lyric from Jay-Z's 2003 song "My 1st Song."
During an interview at minicamp, Brady continued to repeat his desire to play until age 45.
"You have to set goals for yourself, and you have short term and long term, and the reality is that this year is the most important one, and that's the one that I'm focused on," Brady said. "I hope there's a lot of football beyond this, but it's a contact sport. I've said that for a long time, too. I don't think you can take those things for granted."
He put his beer-chugging abilities to the test once more as the Patriots celebrated their Super Bowl LIII championship and received their rings during a party at Robert Kraft's house.
Brady does not drink often – particular diet, remember? – but when he does, well, you notice. He has displayed his skill at beer-chugging before on The Late Show with Stephen Colbert, and backup quarterback Brian Hoyer has a story about Brady beating his teammates in a competition years ago.
Tom Brady vs David Andrews beer chug (via @mackdemp26) pic.twitter.com/NRR830Diq9

— TooAthletic Takes (@TooAthletic) June 7, 2019
When the Patriots partied after receiving their newest set of Super Bowl rings, he went glass-to-glass with David Andrews and beat the 300-pound center.
Brady joined a chorus of well-wishers after David Ortiz was shot in the Dominican Republic on June 9.
While the sports world waited with bated breath for news on Ortiz's condition the next morning, Brady praised Big Papi on Twitter and wished him a quick recovery from the attack.
Papi defines Boston Strong… get well soon my friend!!! pic.twitter.com/QFFJ4nvQnU

— Tom Brady (@TomBrady) June 10, 2019
Brady poked fun at his slow running speed on Instagram.
On Wednesday, the NFL posted a highlight on Instagram of Patriots backup quarterback Danny Etling's 86-yard touchdown run during an August 2018 preseason game to mark 86 days until the 2019 NFL season starts.
"That's not @tombrady… it's @dannyphantom08 taking OFF!! ?‍♂️?," the account wrote.
"Definitely not Tom Brady ??,"  Brady wrote in the post's comment section.
He worked out with Josh Gordon.
Brady got some extra work in with another Patriots wide receiver, Josh Gordon, and posted it on his Instagram.
He caught up with an old rival.
Brady visited Costa Rica with his family.
Brady spent his last few days before training camp in Costa Rica with his family, where he spent his time horseback riding …
My manager: Don't do it man, that song is dead, we can do better.

Me: pic.twitter.com/v5EKPLlJSS

— Tom Brady (@TomBrady) July 18, 2019
… and went cliff diving with his daughter.