Patriots
Q&A: 6 questions with Rob Gronkowski after his big announcement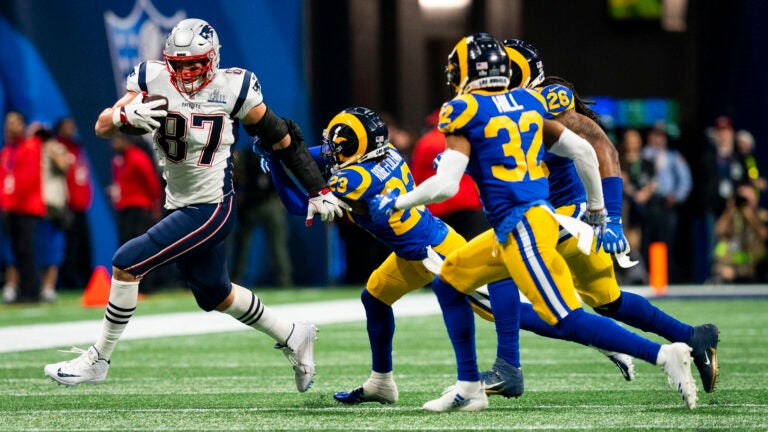 A few weeks ago, it was announced that Rob Gronkowski, the recently retired tight end of the New England Patriots, would be disclosing his "next chapter." Notable in the social media age, a secret actually stayed secret until he walked into a conference room at the Andaz hotel in midtown Manhattan to a room of reporters who had no idea why they were there.
Gronkowski, who retired a few weeks shy of his 30th birthday as a result of years of chronic pain, was — fairly predictably — there to pitch a product. But in an NFL increasingly defined by the abuse its players endure, and the methods by which they try to recover, the product he was pitching was, in itself, noteworthy: a cannabidiol-infused lotion for pain relief called CBDMedic.
He did not rule out a return to the NFL, but Gronkowski acknowledged that he had not been "in a good place" and teared up while discussing how football had caused him to lose joy in life, though he retired just after winning his third Super Bowl title. He danced around whether he was certain he was done with football for good, but offered a firm answer on the likelihood of a comeback, saying he didn't "see it in the foreseeable future, in like a week or a month."
Gronkowski also did not rule out a cameo in the WWE, an appearance on "Dancing With The Stars," letting his theoretical son play football some day, or even that he might already have a son.
Gronkowski tried to stay on topic but through the 45-minute pitch and an interview afterward, he went off-script, joking, flexing and even, at one point, choking up. He was, as ever, unmistakably Gronk.
This conversation has been edited and condensed.
Q: How weird was it for you when the Patriots went back to training camp without you?
A: It wasn't weird at all because I was very solid with my choice. I was very happy where I was at with my choice. You know, I was waiting for that too, and when that would happen. But it just feels good to be where I'm at and I didn't even think about it.
That's the feeling I had right when I retired, that I knew that it was the right decision.
Q: As you approach life away from the game for the first time, how does that change things like your diet and exercise?
A: If I really knew what I know now, I would have started this diet that I'm on now when I was 18 years old. It would have been fantastic. But you have to pass through life and you have to learn. It's not like everything's going to be handed to you like, 'here's all the ingredients to life.' You've got to learn yourself.
And so over the last like year or two, I was learning about stuff like the foods that are good for me and how I react to them. But I just felt like I was a little behind already, you know what I mean? So that's why I had to leave the game of football to catch back up.
Q: You seem trimmer.
A: I hadn't been under 260 since I was 18 years old, so I needed to find a new way. I needed to find ways to get rid of the pain and maybe some of the pain was just extra weight. I had to try different techniques. So I lost about 20 pounds and I feel quicker, faster, lighter, more flexible.
But I also feel like I lost a good 20 pounds. I lost the bad crap on my body. I still feel as strong as before, but I just feel like I lost like the bad toxins from all my past.
Q: Speaking of toxins, does this good lifestyle change things like drinking?
A: Oh yeah, definitely. In my 20s, I used to go out all the time and go hard. I mean — come on — I'm not hiding it. And I never hid it, because I always felt like I was invincible.
But there were definitely times I paid my price and there's definitely times where I felt like it was affecting me. During the season I rarely did it because I always knew it was too much, but during the offseason I could tell that it was affecting me.
I have nothing against drinking and I believe that there's times for celebration — 100% — after good days of hard work, or you win a championship. But I've definitely cut hugely back on that, which I knew I needed to. I'm still really figuring out how bad it was to do it the way I was doing it. I took the hard route to find that.
Q: You've said that you won't do a party cruise again, but a fascinating thing about your career was the lack of distance between you and your fans. Can you go get a slice of pizza without getting mobbed?
A: You know something? Ever since I lost 20 pounds, I can get around way easier. People don't recognize me. I have this technique down to where I wear a baggy shirt and I swear people think I'm one of my brothers or they just say 'that guy looks like Gronk,' and I go, 'I know!' and I keep going. I got tricks.
Q: You played your last game at 29. Calvin Johnson was 30, Andrew Luck was 29 and Patrick Willis and some other stars retired in that age range as well. Every time one of these guys steps away from the game, people seem shocked. Do you think they were shocked by your decision?
A: I feel like people weren't really surprised with my decision because they all saw what I've been through. People saw it coming. Like, last year, when my numbers were down and I was struggling a little bit, people could see that I wasn't as fast as I normally was and wasn't making plays like I normally would. So I feel like it wasn't a surprise. I feel like people were just sad about it.
Q: What do you think about the people that were calling Andrew Luck soft for walking away?
A: You know, that's a tough situation. I feel for Andrew Luck. Anyone that plays the game of football isn't soft, I can tell you that right now. He played for seven years in the NFL, and even though he's just a quarterback, I can tell you, you're still taking massive hits. The wreckage that you've absorbed from the hits is just second to none. No one really understands what it is unless you play football. So no, anyone in the NFL is not soft.