Patriots
4 things to know about new Patriots lineman Jermaine Eluemunor
The offensive lineman grew up in England and discovered American football while searching for the Arsenal game on television.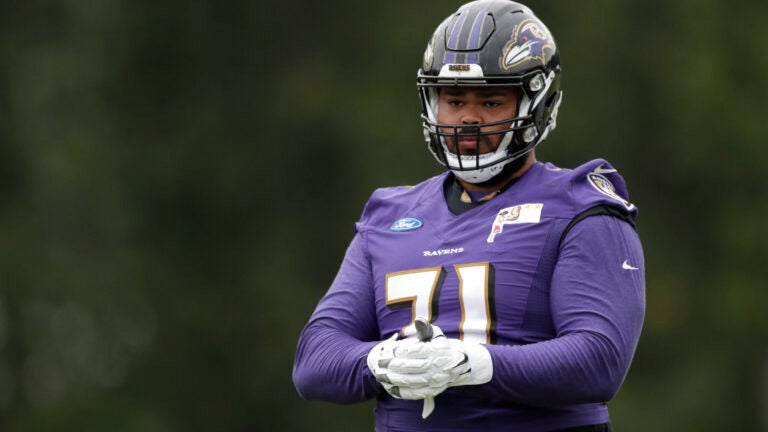 The Patriots added to the team's offensive line depth on Wednesday with a pair of trades. One was for Cardinals tackle Korey Cunningham, the other being for Ravens guard Jermaine Eluemunor.
Exactly where either player fits into the New England roster remains to be seen. In Eluemunor's case, it's another chapter in what's been an unlikely journey spanning multiple continents.
Eluemunor played at Texas A&M following a transfer from a junior college, and was picked by the Ravens in the fifth round of the 2017 draft.
Here are a few other things to know about Eluemunor's story:
He grew up in England.
Eluemunor was born in London, England, the son of an English mother and a father who had immigrated from Nigeria at the age of 14. He grew up in a London borough called Camden.
"See I think of my accent as more London/Jersey/Texas," Eluemunor would say during an interview with British publication The Independent in 2017, "but when I hear you guys speak it kinda reminds me! It makes me realize how American I sound."
From an early age, Eluemunor had the size to play football, but was initially involved with rugby. He was introduced to other sports too, but didn't take an interest.
"They would have us playing cricket," Eluemunor told Gridiron magazine. "I do not like that sport."
It took lucky timing and interest in another sport to bring Eluemunor face to face with the game of football.
His introduction to football came because of…football.
As a London native, Eluemunor is a fan of local soccer club Arsenal. He still follows the team passionately, buying the latest team "kits" and retweeting their team account on his Twitter.
In 2007, he was casually flipping through channels on television looking for the Arsenal game when he stumbled on something he'd never seen before: an NFL game. Eluemunor had found the Giants playing the Dolphins as part of the NFL International Series, as the game was played at London's Wembley Stadium.
"Everyone was blowing each other up," Eluemunor told Sports Illustrated in 2017. "I'm like, 'Oh, what is this?'"
From watching @ArsenalFC to being on the @Ravens…

The story of @TheMainShow_'s introduction to the NFL is amazing!

What was your introduction to ??? ?

(via @NFLAcademy) pic.twitter.com/Nkl1aVmxN9

— NFL UK (@NFLUK) June 17, 2019
From there, he slowly became fascinated by the game.
"You have so many different pieces to the puzzle and that's what I found interesting," Eluemunor told Gridiron. "The more I researched it, the more I fell in love."
It spurred Eluemunor on a path that would lead him to moving to New Jersey for high school, and a college career that culminated with a starting job at Texas A&M.
He was once the presumptive Ravens starter at left guard.
After the Ravens traded fellow guard Alex Lewis to the Jets, it appeared that the path was clear for Eluemunor to start in Baltimore's line.
He played with the starting group through minicamp and was the team's starting left guard in the first two preseason games. Yet he failed to deliver on a promise he'd made after Ravens coach John Harbaugh said he needed to get into better shape.
"I'm going to go back to Texas, work my butt off and come back in the best shape I can," Eluemunor told reporters at the end of minicamp. He failed to do this, however. Upon showing up for training camp, Eluemunor promptly failed his conditioning test.
Injuries have also limited his participation, including the team's third preseason game.
He hated the Game of Thrones finale as much as everyone else.
Eluemunor is a Game of Thrones fan, and enjoyed the show for its first seven seasons. But just like many others, he found the final episode to be not what he wanted:
This is gotta be the worst ending to a show I've ever watched…Season finale of Game of Thrones was Trash ?

— Jermaine Eluemunor (@TheMainShow_) May 20, 2019
He echoed a common critique that the final season was rushed:
https://twitter.com/TheMainShow_/status/1130299932894728193