Patriots
Rob Gronkowski says he first used CBD after getting hurt playing soccer against his girlfriend
"It was getting competitive."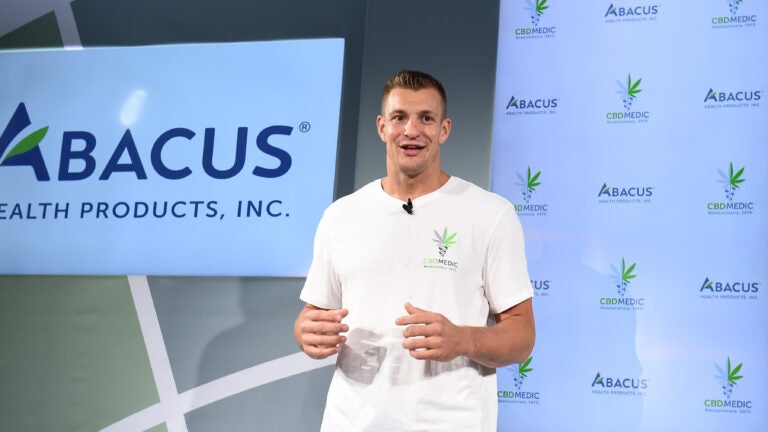 Rob Gronkowski says he first turned to CBD not to treat the pain that pushed him to retire from football, but because of an injury from another sport: Soccer.
Over this summer's Fourth of July holiday, Gronkowski was up on Lake Winnipesaukee in New Hampshire with family and friends, including his girlfriend Camille Kostek. And apparently the vacation wasn't all as picturesque as Kostek's photos on Instagram made it out to be.
In a podcast interview released Sunday with ESPN's Adam Schefter, the retired New England Patriots tight end said a heated barefoot soccer match resulted in three badly stubbed toes.
"We had a couple friends," he told Schefter. "I was with my girl. I was actually facing her; she was on the other team, so it was getting competitive. We were going full speed. That was my first time playing soccer, too. I never played soccer before."
Making matters worse, according to Gronkowski, was that they were using turned-over containers from the frisbee yard game KanJam as goals.
"You had to kick the soccer ball in the KanJam, and, literally, the soccer ball was half the size of the KanJam, so like, to get in the net, you would just be jamming each other right in the front," he said.
Gronkowski apparently ended up on the wrong end of a kick. Fortunately, he says his father, Gordon, had some CBD cream on hand.
"You know, it kills," Gronkowsi said of his jammed toes. "They're black and blue, totally killing me. My dad was like, 'Hey Rob, try this cream out. Use this cream I've been using for my back pain.' So I put it on my toes and instantly I got the relief that I was looking for."
From there, Gronkowski said he was able to go on with the rest of the day — and even continue the soccer game.
Last week, the three-time Super Bowl champion announced he was partnering with Abacus Health Products to promote their line of CBD products as a pain management alternative for athletes. CBD, which stands for cannabidiol, a non-psychoactive chemical derived from cannabis plants, has become increasingly popular as a treatment for a variety for ailments, from epilepsy to anxiety. However, experts say further research is needed on the effectiveness of most of its applications.
Gronkowski wouldn't say if he thought using CBD could have prolonged his NFL career, though he said it could have helped "the pain that you just deal with week in and week out." The five-time Pro Bowler, who only turned 30 this year, retired in March due to the accumulation of aches and pains of nine seasons in the NFL, which doesn't have a CBD-specific policy.
"I'm not saying [CBD] would help me make like five more spectacular one-handed catches, but it could have helped me out big time with some of the hits that you take," he told Schefter.
Gronkowski told Schefter that — with the exception of some remaining scar tissue in his thigh from a hit during the Super Bowl — he now feels virtually pain-free and healthy. He played coy about his plans for the Patriots season opener Sunday night against the Pittsburgh Steelers, hinting that he could make a surprise appearance.
"I don't know," Gronkowski said. "Maybe you'll see."
Gronkowski reiterated that he didn't foresee returning to the NFL anytime soon, though he playfully joked that he would consider it if Tom Brady rubbed CBD cream on him. Gronkowski said he was staying busy and "truly enjoying" his post-football endeavors.
The one condition under which Gronkowski said he would consider returning to the NFL was if he rediscovered his passion for football. And he seemed intrigued by the idea that he could make a comeback without going through the day-to-day rigors of the NFL and just play a few downs a game.
"Can you do that? Is that possible if I just showed up to a game, no practices, no nothing?" Gronkowski asked. "[If] I went over the script with Tom in my backyard on Saturday, showed up to a game on Sunday, and was ready to go, how crazy would that be?"