Patriots
The Patriots shut out the Dolphins, 43-0, Sunday in Antonio Brown's debut
All of the updates from Sunday's victory at Hard Rock Stadium.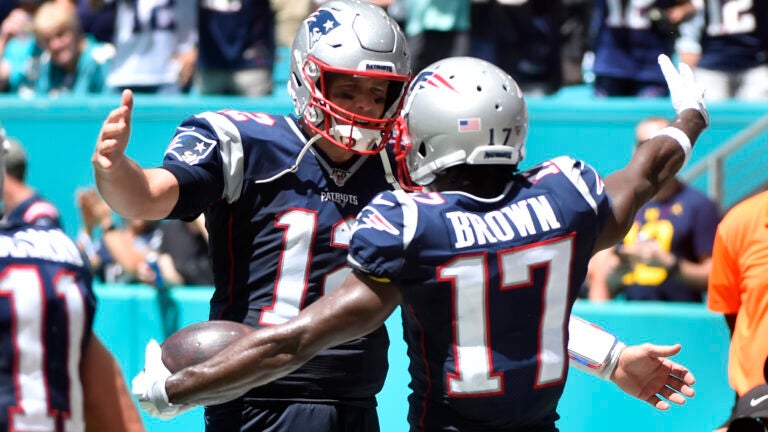 [Hit refresh to get the latest updates on this Sunday's showdown]
So much for a 2019 version of the Miami Miracle.
Perhaps haunted by the memory of what happened last December, the current Patriots left no doubt on Sunday in South Florida, crushing the Dolphins 43-0.
Tom Brady went 20-for-28 for 264 yards and a pair of touchdowns, while Antonio Brown (in his New England debut) had four catches on eight targets for 56 yards and a touchdown and Sony Michel had 21 carries for 85 yards. Jamie Collins had a pair of interceptions (including one pick six) and Adam Butler finished with two sacks in the victory.
New England was occasionally sloppy — the Patriots left some points on the field in the early going, including a missed field-goal attempt and a pair of missed extra points from Stephen Gostkowski — but really, they were in command all afternoon, finishing with the 10th shutout of Bill Belichick's coaching career in Nrw England.
The Patriots rallied to a 13-0 lead in the first half, a total that included the first touchdown of Brown's New England career. The Patriots piled on in the second half, with the highlights coming on a pair of pick-sixes from Stephon Gilmore and Collins, as well as a one-yard TD plunge from Brady and a 10-yard touchdown reception by James White.
But on an afternoon where there were so many offensive fireworks, the defense deserves plenty of kudos. It marked the third consecutive game — if you include the Super Bowl — that the New England defense didn't allow a touchdown. It marked the first time that's happened under Including last year's Super Bowl, it marks the third straight game where New England did not yield a touchdown. It's the first time that;'s happened under Belichick. (For what it's worth, Belichick's Browns turned the trick in 1992.)
4:04 p.m.: The Patriots scored 76 points the first two games of the 2007 season. They have now scored 76 points through the first two games of the 2019 season.
4:00 p.m.: James White rolls into the end zone, but there's another missed extra point. It's 43-0 with 2:10 left in rtegulation.
3:51 p.m.: If Bill Belichick is looking for material, he can use that Michel fumble and the fact Miami is dropping a bunch of passes in the second half. I mean, it's not much, but it is something.
3:49 p.m.: Brady is 17-for-25 for 205 yards and a touchdown as he takes over the New England offense with just under six minutes left.
3:41 p.m.: That pick-six for Collins was an artful play that was tipped up by Ballage, and corralled by Collins. Just a terrific play there for New England. It's 37-0 with just under nine minutes to go. The Patriots are just pouring it on here.
3:33 p.m.: Pick-six for Gilmore, and the extra point makes it 30-0 with 10:45 left in the game.
3:21 p.m.: The TV audience just saw it — the 38 yards allowed through three quarters is the best ever for a Bill Belichick-coached defense. (The Patriots play the Jets nexdt week, FWIW.) There have been legitimate momemts today where it looked like New England has had 12 and 13 guys on the field at the time.
3:20 p.m.: Getting a littkle sloppy here with those back-to-back flags on the Patriots. The offensive line has held up, for the most part, but here ijn the fourth quarter, it's starting to feel like a bit of a slog for New England. Looking to run as much clock as possible and not have anyone get hurt the rest of the way.
3:18 p.m.: Patriots defense continues to roll. Opponents are now 4-for-21 against the Patriots when it comes to third down. That's the end of the third quarter — New England is up, 23-0.
3:13 p.m.: Eventful trip inside the Miami red zone there, with a boatload of penalties. But Tom Brady ends things with a quarterback sneak — caops a drive that went eight plays and 65 yards. Btrady has thrown for one touchdown and run for another. It's 23-0 wioth 2:18 left in the third.
3:05 p.m.: That OPI was the first flag of the day on the Patriots.
2:46 p.m.: A 28-yard field goal from Stephen Gostkowski makes it 16-0 with just over eight miniutes left in the third quarter. A sloppy end to that New England drive — it looks like the heat and the health issues along the offensive line may be taking its toll. Frankly, the Patriots are leaving points on the field, as was the case in Week One. But it's OK because the defense is still playing very well.
2:41 p.m.: Gordon's first two catches of the afternoon have gotten the New England offense in the red zone.
2:38 p.m.: Perfect tip-ball play there for the Patriots, and Devin McCourty comes away with the ball to give the New England offense a short field. The Patriots could really use another seven here to slam the door shut on the Dolphins. It's starting to become a bit of a slog, especially with three backup offensive linemen in there, but a TD could effectively close this one out.
2:29 p.m.: Wynn out for the rest of the way. Playing the second half with your backup tackles.
2:20 p.m.: A few halftime thoughts…
-Good start to Antonio Brown's career with the Patriots — four catches on four targets for 56 yatrds and a touchdown. Looks like they are keeping it relatively easy for him when it comes to his route tree — nothing too exotic, at least at this poimt.
-Not sure it's going tp play a huge role today, but the New England offensive line is really struggling with health. Only regulars in there now at their regular positions are Thuney and Mason. It probably won't make a difference this week, but they need to get healthier sooner rather than later.
-That being said, the running game is a lot more effective this week than it was last week. Of course, you take that with a grain of salt when you consider the opponent, but still, improvement is improvement.
-The defense looks really sharp. Remember — the New England D hasn't allowed a touchdown simce the fourth quarter of the AFC title game.
-The kicking game is having a lousy day. Gostkowski with a missed FGA and missed extra point. Missed opportunities for New England.
2:06 p.m.: Brady to Brown makes it 14-0, pending the extra point. A laser to the receiver, who beats ex-Patriot Jomal Wiltz. Really nice play there for the New England offense at the end of a steady drive for the Patriots, who continue to find offensive traction, even with offensive linemen in and out of the lineup. The extra point is NO GOOD — 13-0 with 1:19 left in the first half.
1:56 p.m.: The Patriots offense is starting to get some momentum here, thanks in part to that third-down pickup by Phillip Dorsett. The uber-dependable receiver is now 6-for-6 this year when it comes to targets and catches.
1:47 p.m.: I'll say this — you have to consider context, but to this point on the afternoon, Miami has been just as competitive this week as Pittsburgh was last week.
1:34 p.m.: Isaiah Wynn is questionable to return with a foot injury. The Patriots are now without their two offensive tackles.
1:30 p.m.: Brady is 5 for 5 for 47 yards, Michel has eight carries for 31 yards, and Antonio Brown has three catches for 36 yards. They'll be facing a fourth down near midfield as the second quarter gets underway. New England holds a 7-0 lead, and has to feel pretty good about how the first quarter played out as a whole.
1:23 p.m.: Second straight drive that ends with a punt for the Dolphins. Great team defense on that last third down for New Engkand — excellent coverage forced Fitzpatrick to hold on to the ball, and the niimble Adam Butler got to him and brought him down. New England is up 7-0 with 2:59 left in the first quarter.
1:13 p.m.: A 10-play, 60-yard drive that was executed pretty much to perfection as the Patriots go up 7-0 with 7:46 left in the first. Three catches for Brown on that drive.
1:07 p.m.: Brown doesn't start, but is in on the second snap and catches an 18-yarder out of the slot for a first down.
1:03 p.m.: Dolphins have the ball to start, but will take the three-and-out to start the ballgame. Remember, if the Patriots hold Miami without a TD, that'd be three straight games, a first in the Belichick era.
12:58 p.m.: Patriots are 6-3 with Eagle/Fouts combo in the booth since the start of the 2017 season. (That includes regular season and postseason.)
12:53 p.m.: Official prediction time — Tom Brady will end up throwing for three touchdowns, the Patriots will add at least one more on the ground, and the defense will make it three consecutive games without allowing a touchdown, the first time a Bill Belichick defense will have turned the trick since he was with the Browns in 1992. The drama around Brown has at least partially obscured the fact this defense has a chance to be very, very good. We'll see that again today. I'll say New England 31, Miami 6
12:49 p.m.:
Official kickoff temperature of 87 degrees, with 69 percent humidity at Hard Rock Stadium

— Ben Volin (@BenVolin) September 15, 2019
12:33 p.m.: On Antonio Brown — the Patriots' previous track record when it comes to receivers' in similar situations (namely, Josh Gordon last year) was to get them up to speed relatively slowly in their first start, at least when it comes to total snaps. I'd look for him to play somewhere in the neighborhood of 30 snaps or so. His limited background in the New England apssing game and the South Florida heat could limit him, at least this week. But we shall see.
12:28 p.m.: This will be a position worth watching.
Patriots look like they will be giving newcomer Marshall Newhouse the start at right tackle today, with Joe Thuney staying at left guard. Newhouse is an 8-year veteran with 114 career games (72 starts)

— Ben Volin (@BenVolin) September 15, 2019
12:27 p.m.:
Bill Belichick during his 98.5 pregame interview on Antonio Brown: "We'll see how big his role is today. Not sure. He'll play." The coach said Brown's "worked hard and diligently" with Joe Judge, Troy Brown, and Tom Brady since arriving. #Patriots

— Jim McBride (@globejimmcbride) September 15, 2019
12:25 p.m.: Your pregame reading list.
12:10 p.m.: The inactives have been released, Antonio Brown is on the field, and we are ready for the first divisional game of the season, as the Patriots get set to take on Miami at the top of the hour. We'll ahve your pregame reading list along shortly, but in the meantime, feel free to jump into the comments and start a discussion as New England prepares to open the divisional slate.