Patriots
Morning sports update: Tom Brady and Joe Namath discussed how the media spotlight has changed
"It is a different world."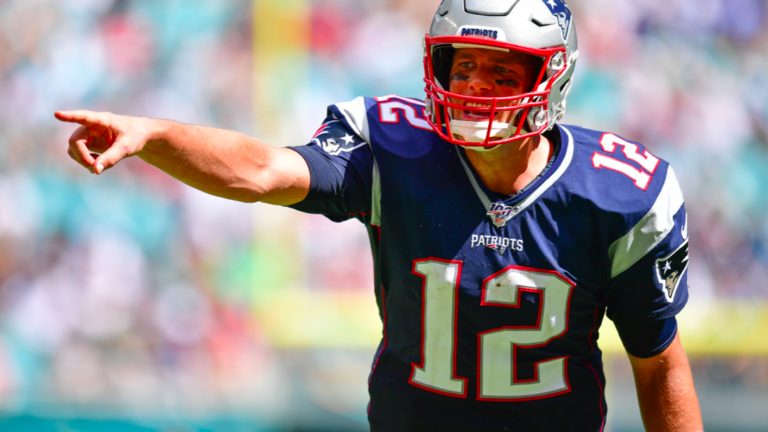 The Bruins got preseason started on Monday night in a 4-3 overtime loss to the Devils.
The Red Sox host the Giants at Fenway Park tonight at 7:10 p.m. The game will be notable for the expected lineup presence of San Francisco outfielder Mike Yastrzemski, grandson of Red Sox Hall of Famer Carl Yastrzemski.
And the UEFA Champions League returns today as well, with defending champions Liverpool in Italy to play Napoli among the slate of games.
The Patriots continue to prepare for the Jets this coming Sunday at 1 p.m.
Tom Brady and Joe Namath were interviewed together: Instead of doing his usual one-on-one interview with Jim Gray of Westwood One Sports, Tom Brady was joined by Jets Hall of Fame quarterback Joe Namath on Monday night.
The two traded stories about Super Bowls, and compared the "disciplinarian" style of coaches Bill Belichick and Paul "Bear" Bryant (who coached Namath in college).
An interesting line of conversation occurred when Brady asked Namath — known in his prime as "Broadway Joe" for his celebrity status — how he would deal with exponentially increased media coverage (as well as social media) in 2019.
"Well, I know I would be more involved," Namath explained. "Yesteryear of course there might be three or four reporters after a practice. I don't get into social media so much today. I do my little bit of tweeting now and then. But I tried FaceTime or Facebook, but that beat me up, man. Took too much of my time."
"It is a different world," Namath continued. "Everyone having a phone that you can take pictures with. Yesteryear, I really felt lucky in Manhattan being able to keep a low profile at times. I used to marvel at Willis Reed, for example, these basketball players that were 6-foot-9, 6-foot-8, and I'd wonder, 'Man, how do these guys ever keep a low profile? They can't!' So I was able to stay below the radar when I felt like it. Today, I don't think I'd feel that comfortable."
Brady contrasted it with how he approaches social media in 2019.
"Well I'd say the challenging part today is there are so many people seeking a headline," said Brady. "And if you say one thing that's taken out of context it becomes blown up in a way that takes on a life of its own. When they take the context out of what you say, it becomes very distracting or very distressing, especially in a team environment when you're trying not to cause distractions.
Given the increased platform that Brady's success has garnered, the 42-year-old quarterback has become increasingly cautious about what he's said.
"Unfortunately over the years, I think I've gotten more protective of what I'm saying because there is a lack of trust in speaking your mind because people aren't interested in context," said Brady. "They're going to take what they want to make their story, and they're going to use you to make a story."
One development that Brady thinks has benefited his profile is an increased usage of social media.
"I do think in the advent of social media, the one thing that's been really cool for me is I get to have my own voice and my own words," Brady noted. "I think that's a very empowering thing for an athlete. It's very different than when Joe played or certainly earlier in my career and it does take it up some discretionary amount of time, but you don't feel like when you say something it's going to be taken out of context when you're [saying] it yourself."
Trivia: The last time the Red Sox played the Giants at Fenway Park was in 2016. Boston hammered five home runs in an 11-7 win. One player totaled three home runs in the game. Who was it?
(Answer at the bottom).
Hint: He was a central component of multiple blockbuster Red Sox trades.
More from Boston.com:
Pedro Martinez sings what his walkup music would've been:
I really tried to put on a show with my vocals in this interview! ? What would your walk-on song be? #singing #yeahhh #mlb #baseball pic.twitter.com/1ske7xploq

— Pedro Martinez (@45PedroMartinez) September 15, 2019
Some offensive line updates for the Patriots:
Former #Bucs OT Caleb Benenoch is signing with the #Patriots today, source said. He had 9 teams request to work him out, but wanted to play for OL coach Dante Scarnecchia and now gets his wish.

— Ian Rapoport (@RapSheet) September 17, 2019
#Patriots LT Isaiah Wynn, who has impressed in early action this season, is considered week-to-week with turf toe, I'm told. The injury is not season-ending, though New England will be without him for the time being following tests on Monday.

— Ian Rapoport (@RapSheet) September 17, 2019
A possible blockbuster trade coming?
One league source said he believes Jaguars' CB Jalen Ramsey could be traded this week, that once there is a sideline confrontation between a head coach and a player, both sides have to move on.

— Adam Schefter (@AdamSchefter) September 16, 2019
On this day: In 2000, the Dolphins retired quarterback Dan Marino's No. 13 jersey. The Hall of Famer remains by far the most talented and prolific passer in the team's history. Yet since his departure from the NFL, the Dolphins have struggled for two decades to replace Marino.
Here's a list of quarterbacks who have started games for the Dolphins since Marino retired:
Damon Huard
Jay Fiedler
Ray Lucas
Sage Rosenfels
Brian Griese
A.J. Feeley
Gus Frerotte
Joey Harrington
Daunte Culpepper
Cleo Lemon
Trent Green
John Beck
Chad Pennington
Chad Henne
Tyler Thigpen
Matt Moore
Ryan Tannehill
Jay Cutler
Brock Osweiler
Ryan Fitzpatrick
The list of 20 different quarterbacks representing the 20 separate seasons is obviously indicative of the challenge a team can have replacing a franchise player like Marino. As it appears the Dolphins in the midst of another rebuilding effort, it's clear just how fortunate the Patriots are to have had one quarterback start the majority of the games in that time.
Daily highlight: Odell Beckham Jr. caught a slant against the Jets on Monday Night Football and sprinted away for an 89-yard touchdown in a Browns win.
.@obj GONE ?

This 89-yard Rec TD is the longest reception of his entire career! #CLEvsNYJ (via @thecheckdown) pic.twitter.com/TSY6RQOAFw

— SportsCenter (@SportsCenter) September 17, 2019
Trivia answer: Hanley Ramirez