Patriots
Antonio Brown is still here, and that speaks volumes about the Patriots organization
What Bill Belichick and the Patriots aren't saying about Antonio Brown.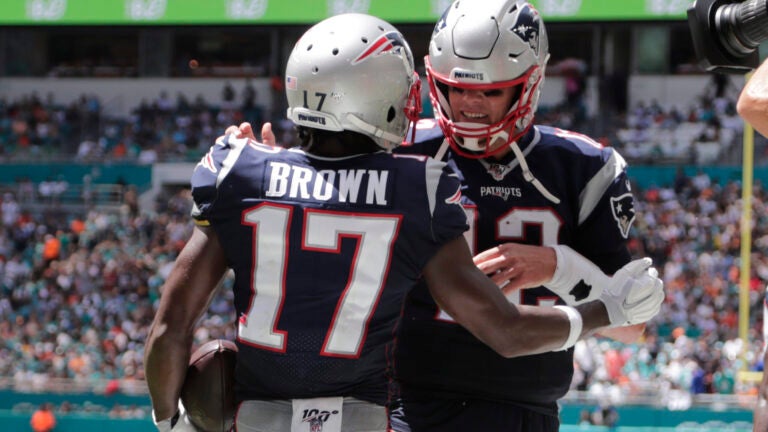 COMMENTARY
He's still here.
In fact, when Antonio Brown caught his first touchdown pass with the New England Patriots during the first half of last weekend's demolition of the Miami Dolphins, the wide receiver jumped into the stands in celebration.
In a Miami crowd populated mostly by Patriot fans, Brown made his first acquaintance with his new team's fan base, a handful of whom, seated in box seats at the rear of the end zone, greeted him with unbridled excitement.
Then, the chant began.
A-B. A-B. A-B.
If such a scene seemed an improbable proposition even two weeks ago, when Brown's month-long face-off with the Oakland Raiders was still at Defcon 2, the sudden reality spoke volumes. Antonio Brown wasn't only a New England Patriot, he instantly became an integral part of what was already a dangerous offense.
He's not going anywhere, as long as the Patriots have anything to say about it. That touchdown was the collective middle finger going up to all of the team's critics. And the fans, as they are wont to do in the ever-lingering paranoia of New England vs. Everybody, jumped aboard with little hesitation.
A-B. A-B. A-B.
Of course, there is another audible crowd of Patriot fans with an entirely different reaction to everything Brown-related. After news leaked last week about Britney Taylor's civil lawsuit filed against Brown, alleging sexual assault and rape, it seemed that Brown's career with the Patriots might end before even seeing a single snap. If head coach Bill Belichick figured he was taking on a diva headache that he could manage with some sense of Patriot Way control, this figured to be entirely different. Employing the most obnoxious, selfish, stubborn, and talented wide receiver in the NFL was one thing. Add the latest charges to the mix, and Brown's presence seemingly became a migraine the Patriots were better off doing without.
Just days after signing Brown to a one-year deal worth up to $15 million, the money lost would seem to be secondary to adding yet another controversy to the long laundry list of offenses in Foxborough. If only the Patriots had done their due diligence and looked into Brown's background, they probably would have stayed away.
The NFL Network even reported Sunday morning that Kraft would not have signed off on Brown had the team known about the Taylor allegations.
Except…the Patriots know about them now.
And he's still here.
The football folks around the Patriots just want to talk football; routes, patterns, and defensive alignments. Belichick wasn't wavering during his press conference last Wednesday when he walked away from the podium, and players, analysts, and other media members closest to the team have joined in with a "Hey, this is about FOOTBALL" refrain. Because anytime anything gets the least bit uncomfortable, it's easy to just fall in line and see no evil.
Brown hasn't met with the media yet in Foxborough to answer any football questions, nor has he faced anybody publicly about the Taylor accusations. There's also the soap opera of incidents as chronicled by Sports Illustrated earlier this week, a sequence of events that speaks to the nature of the Patriots newest star. Then again, accountability hasn't always been the strongest trait at Patriot Place over the years.
This wasn't necessarily the case more than two decades ago, when Kraft's late wife, Myra, served as some semblance of conscience in the aftermath of drafting Christian Peter, in the midst of his own sexual assault allegations when the team selected him in the fifth round in 1996. The Patriots, apparently, hadn't done their background check on Peter either. Which sounds familiar.
Myra demanded the team relinquish Peter, putting character above football talent, which, at one point, seemed to be the blueprint for the Patriot Way. One can only imagine what she would think about this situation, eight years after her death. Then again, she would have had to watch the team sign Albert Haynesworth, go through the whole Aaron Hernandez affair, and wonder just what Bob was thinking when he went in for a little muscle soothing that day in January.
The Patriots are going to pretend there's nothing wrong, at least until the NFL tells them otherwise. Taylor reportedly met with NFL brass for some 10 hours on Monday, outlining her civil suit. It remains to be seen if Brown could wind up on the commissioner's exempt list. It remains to be seen if he'll indeed suit up for the remainder of the 17 games that remain. Maybe Belichick will ultimately bench him in the Super Bowl. He's done that in the past, of course, for actions that we have to figure must be much worse than Brown's. Right?
Until then, Belichick is not going to talk about Brown's situation until he has more information, the same information he ignored when the prospect of having an elite talent like Brown to add to the Middle Finger Tour seemed too great a chance to pass. Bob Kraft has gone radio silent other than his disingenuous suggestion that the team might have passed on Brown if they knew then what they know now.
It's all gross enough that some Patriot fans seemed to have drawn the line. If adding Brown was already somewhat of a suspect move for a team that was already loaded, adding Brown in the midst of rape allegations doesn't exactly add any reason to root for a team looking blindly at the situation.
As Belichick said last week in his press conference, they won't be expanding on the situation. When they know more, they'll say more. What's been said has been said. We're working on New York.
Belichick wants you to put the blinders on and acknowledge that it's Jets Week. Let's talk FOOTBALL. Anything other than football, well, they're looking into it. Now, who wants to talk Jets kicking game?
It's not that the Patriots think you're stupid. It's just that this has become the norm in the face of winning. Us vs. Them. Hop on Board.
Antonio Brown is still here.
For some, that's tough to swallow.
It should be for the Patriots. The fact that it isn't says all we need to know about this season.
It says even more about the organization.