Patriots
Luke Falk's former teammates described Falk's obsession with his idol Tom Brady
"Oh my gosh, don't get me started with that. Everything Tom Brady."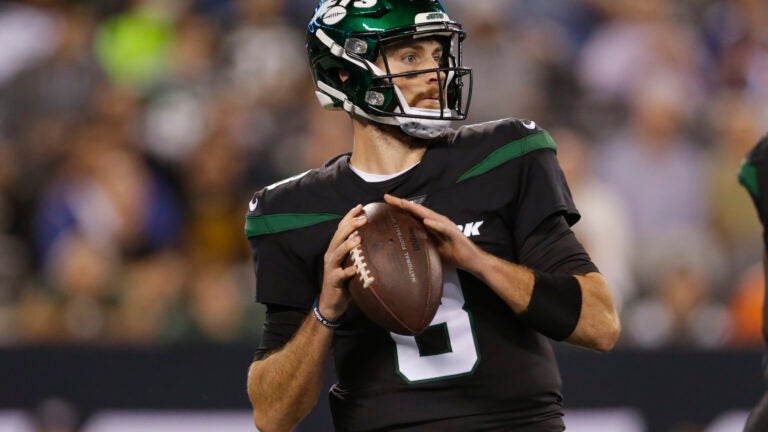 When the season started just two weeks ago, second-year quarterback Luke Falk was New York's third-string QB and a member of the Jets' practice squad. Fast forward a few weeks later, and Falk, a sixth-round draft pick out of Washington State University, is set to make his first career start in the NFL. 
Now, Falk has the chance to prove himself against his longtime idol Tom Brady in his very first NFL start. 
In an interview with WEEI's Ryan Hannable, Falk's former Washington State teammate Cole Madison talked about Falk's obsession with Brady. 
"Oh my gosh, don't get me started with that," Madison said. "Everything Tom Brady. 'Tom Brady this, Tom Brady that. Tom Brady does this, so this is what we should do.' He is ride or die Tom Brady, for sure."
Another former Washington State teammate, Tavares Martin, backed up Madison's claims and said, "he loves Tom Brady. Everything single thing about him, every little detail about him."
Falk's high school coach Mike Favero said that Brady was even a role model to Falk back in high school. 
"Luke is driven and strives for perfection. Luke knows, and I think Tom Brady has been the greatest role model of that of anybody in the history of football." 
The comparisons between the two don't stop there. Both Falk and Brady were the 199th picks in the NFL Draft, with Falk being selected in 2018 and Brady being selected 18 years before him in 2000.
Falk played four years at Washington State, racking up 14,481 yards passing to go along with 119 touchdowns, leaving the school as their all-time leader in passing yards and touchdowns.  
Falk replaced the injured Trevor Siemian in the second quarter of the Jets' Monday night game against the Cleveland Browns. Falk was solid in his debut game, throwing 25 passes and completing 20 of them for 198 yards in a 23-3 losing effort. 
The pair of 199th draft selections will face off Sunday afternoon in Gillette Stadium for Falk's first career start and Brady's 270th.