Patriots
Second accuser said Antonio Brown sent her intimidating text messages, report says
Brown's legal team released a statement after the lawsuit was made public denying the allegations.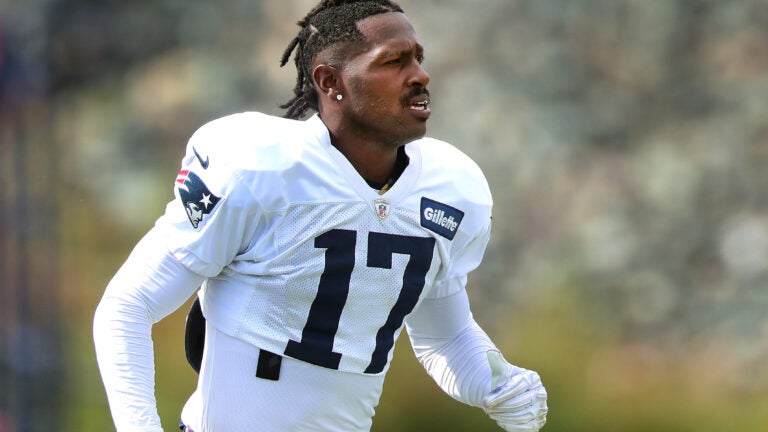 A second woman, who accused Antonio Brown of sexual misconduct in a Sports Illustrated story published Monday, claims the Patriots wide receiver has sent her intimidating text messages since her allegations were made public, the author of Monday's SI story, Robert Klemko, reported late Thursday night.
In Monday's story, the woman, who wished not to be identified, told Sports Illustrated that in 2017 she was in Brown's Pittsburgh home kneeling while working on a mural he had commissioned when she turned to find him standing naked before her with a small towel over his genitals.
She later told Sports Illustrated that on Wednesday night she received a group text message that appeared to come from the same phone number Brown gave to her in 2017, when she was hired to paint the mural. The Patriots and Brown's agent, Drew Rosenhaus, did not respond to Sports Illustrated's requests for comment.
The woman's attorney, Lisa J. Banks, sent a letter to the NFL that included screen shots of the alleged messages. In the letter, Banks sought an end to what she called conduct by Brown that she deemed as "intimidating and threatening to our client, in violation of the NFL Personal Conduct Policy,'' according to the Sports Illustrated report.
The NFL responded quickly, setting up a phone call between league investigators and the woman's attorneys. There was no word as to what transpired in that call.
Brown has previously been accused of rape by Britney Taylor, a gymnast he met while they were attending Central Michigan University together who he later hired as his trainer. Taylor made the accusations in a civil complaint filed in US District Court in Miami on Sept. 10, alleging that Brown sexually assaulted her twice in June 2017 and raped her on May 20, 2018 at his home in Miami.
Brown's legal team released a statement after the lawsuit was made public denying the allegations.
Since Taylor made her allegations Brown lost his shoe deal with Nike but remains on the Patriots. He made his debut with the team last Sunday, catching four passes for 56 yards and a touchdown from Brady.