Patriots
What NFL experts are predicting for Sunday's Patriots-Jets game
Without quarterback Sam Darnold, the outlook for the Jets is bleak.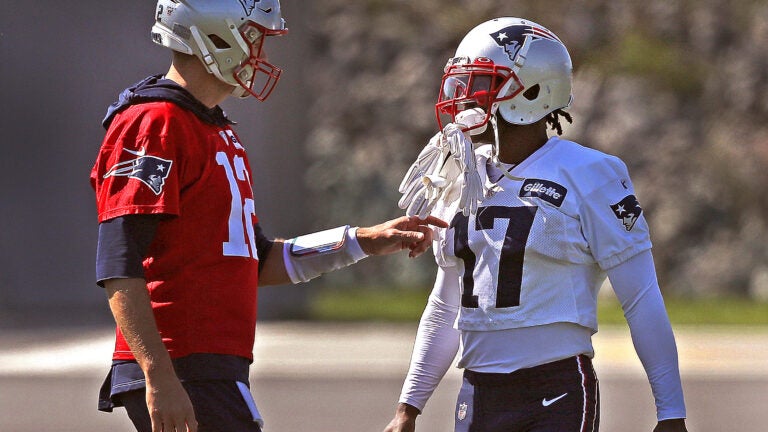 COMMENTARY
Through their first two games of the 1985 NFL season, the Chicago Bears, widely regarded to have hosted one of the best defenses in league history, allowed a total of 35 points; 28 in their season-opening win over the Tampa Bay Buccaneers, 7 in a Week 2 Super Bowl preview against the Patriots.
The 1976 edition of the Steel Curtain in Pittsburgh allowed 45 points over its first two games of the season. The 2000 Baltimore Ravens followed up their Week 1 shutout of the Steelers with a 39-36 loss to the Jacksonville Jaguars in Week 2.
The 2015 Denver Broncos? Thirty-seven points.
The 2013 Seattle Seahawks? Ten points.
The 1986 New York Giants surrendered 38 points over their first two games.
Heck, the 2003 Patriots began their year allowing a total of 41 points, 31 in that season-opening loss to the Buffalo Bills.
Not even some of the best defenses of all time have had a start like the 2019 Patriots, giving up only a measly field goal over their first two games of the season.
So, if you'll excuse the watered-down competition this edition has to face, this could indeed end up being the greatest defense of all time.*
(*Dolphins and Jets are on the schedule.)
This week's picks
Joe Giglio, NJ.com: Jets (-22.5). "The Patriots look good enough to run the table. The Jets are a complete mess. The only question is how early Bill Belichick takes the foot off the gas. Take the points, but this game will never actually be in doubt for New England."
Greg Cote, Miami Herald: Patriots 41, Jets 6. "The poster child for NFL quarterback upheaval, Adam Gase's Jets are down to third-stringer Luke Falk vs. Tom Brady. Did I mention New England has won 17 in a row at home?"
ESPN staff: All Pats.
Pete Prisco, CBS Sports: Patriots 35, Jets 10. "Luke Falk vs. Tom Brady. Are you serious? This one will be ugly. The Jets have all kinds of injury issues, and they lack the talent of the Pats anyway. The Patriots are banged up on the offensive line, but it won't matter."
CBS Sports staff: Seven of eight pick the Patriots (New England -22.5). Pats across the board straight-up.
MMQB staff: All Pats.
Jimmy Kempski, Philly Voice: Patriots (-22.5). "Next."
Todd Haislop, Sporting News: Patriots 28, Jets 10. "Thanks in part to the aforementioned Dolphins, the Patriots train is rolling strong enough for some to be calling for a perfect season. We typically would give an AFC East opponent like the Jets a decent chance of upsetting their rivals, but New York's injuries, including quarterback Sam Darnold's illness, are too much to overcome. New England should roll."
Vinnie Iyer, Sporting News: Patriots 38, Jets 14. "Without Sam Darnold and coming off a second consecutive bad home loss, the last team the Jets want to visit on a short week is the Patriots. Look for New England to take away Le'Veon Bell and force New York into uncomfortable throwing situations against its revamped pass rush. Tom Brady will do whatever he wants with Antonio Brown stretching the field, and Sony Michel will do his best impression of his former Georgia backfield mate, Nick Chubb."
Michael Hurley, CBS Boston: Jets (+23). "I like the Patriots to win big, but I think the Jets/Gregg Williams' style of, shall we say, aggressive tackle football will prevent the Patriots from putting up another 40-burger. It might actually be 28-6, and then everyone will be like, "ZOMG, isn't scary and crazy how good they are at making those lines?" while ignoring the dozen or so games where the line wasn't even close."
Mike Florio, Pro Football Talk: Patriots 42, Jets 17. "Whatever happened to parity?"
Michael David Smith, Pro Football Talk: Patriots 42, Jets 0. "Luke Falk against Bill Belichick's defense is going to get ugly. Very ugly."
USA Today staff: Patriots across the board.
FiveThirtyEight: Patriots at 91 percent (-16).
Gregg Rosenthal, NFL.com: Patriots 29, Jets 6. "espite the presence of Tom Brady, Josh Gordon and Antonio Brown, the Patriots' secondary is the strength of this roster. Through two weeks, according to NFL Media Research, the Patriots' top four cornerbacks (Stephon Gilmore, Jason McCourty, Jonathan Jones and J.C. Jackson) have given up 25 catches on 54 targets. They've broken up 10 of those passes and intercepted another. That's preposterous, and the figures should only improve with Jets third-stringer Luke Falk coming to town. While Jets coach Adam Gase has enjoyed success against Bill Belichick defenses, he's never coached an offense this one-dimensional. The Patriots will sell out to stop revived running back Le'Veon Bell, leaving little hope for Gase to even register one of those moral victories in Foxborough that former Jets coach Todd Bowles specialized in."
It says here: Patriots 47-0. The 19-0 talk is boring. Instead, give me odds on how many games the Patriots last without allowing a touchdown. Because it isn't happening this week.