Patriots
What experts are saying about Antonio Brown's release
"The spineless, silent Bob Kraft and the Patriots get no points for this move."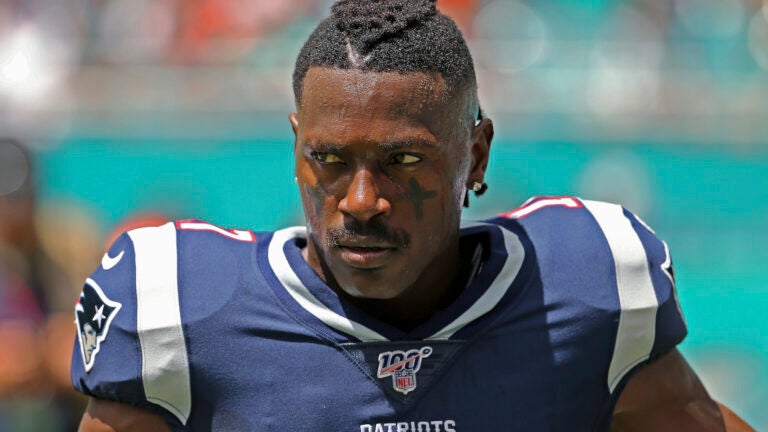 When the Patriots released Antonio Brown on Friday, columnists and reporters offered reactions to the news.
One bashed the Patriots, one scolded NFL teams as a whole, and two gave a comprehensive recap of the situation.
Here's a closer look:
Dan Shaughnessy, The Boston Globe
Boston Globe columnist Dan Shaughnessy criticized the Patriots for the way they handled the entire situation, firmly stating that "the Patriot brand took a hit on this one."
"The spineless, silent Bob Kraft and the Patriots get no points for this move," Shaughnessy wrote. "No social justice medal."
Shaughnessy bashed Brown, noting that the wide receiver "deserves a financial hit for abject stupidity." He then scolded the Patriots for not acting until they learned that Brown sent intimidating, shaming group texts to a second female accuser.
"In this instance, the Patriots failed to do anything when it mattered," he wrote. "They ceded the moral high ground. The record will show that the holy trinity of Kraft, Bill Belichick, and Tom Brady was all in on this guy."
He said Kraft "tried to have it both ways," noting that he stayed quiet when the Patriots agreed to terms with Brown, when the allegations surfaced and when it became clear Brown would play against the Miami Dolphins. Kraft, Shaughnessy wrote, "used his media cartel to float the notion that he wouldn't have brought Brown to Foxborough if he had known about the impending lawsuit."
Shaughnessy then focused on how the Patriots' statement when they released Brown didn't include anything about the seriousness of the allegations and featured nothing about respect for women.
He also noted that Brady told Kraft he was "a million percent in" on Brown and welcomed him into his home. Once the allegations surfaced, Brady chose to stay out of it and said it didn't involve him. Belichick, was consistent, if nothing else, Shaughnessy wrote.
"The diabolical coach has never talked about 'the Patriot Way,'" Shaughnessy wrote. "He has hired a rogues gallery of talent, many of whom straightened out when they got to Foxborough. But one of the great Patriot myths is that all the troublemakers turn things around when they come to Gillette Stadium. Albert Haynesworth did not. Chad Ochocinco did not. Aaron Hernandez did not.
And Antonio Brown did not."
Shaughnessy said Brown will always be a shameful part of the Patriots' history.
Mike Reiss, ESPN
ESPN reporter Mike Reiss, speaking to Kevin Negandhi on SportsCenter on Friday, said it was the text messages Brown reportedly sent to a woman who accused him of making unwanted sexual advances toward her in 2017 that elicited his release.
The text messages, Reiss said, "were deemed by some in the organization to have crossed the line." A Sports Illustrated article by Robert Klemko detailed Brown's reported group text exchange with the accuser, and Reiss believes this was the incident that made the Patriots decide that Brown's alleged transgressions were too wrongful to stay with the team.
Live report on @SportsCenter on Antonio Brown's release. pic.twitter.com/nBKLhaGzrQ

— Mike Reiss (@MikeReiss) September 20, 2019
"Everything the Patriots had dealt with up to that point had been things that happened with Brown prior to him being employed by the Patriots," Reiss said. "This was the first thing that happened while he was a member of the Patriots."
Reiss noted that Julian Edelman and other Patriots raved about Brown's diligence as a football player, noting he was zeroed in on beating the New York Jets despite the circus of outside distractions. If it was just about football, Reiss told Negandhi, the Patriots really seemed to enjoy having him around.
"It's a reminder to us that this is bigger than football," Reiss said. "If it was just about football, he would be here."
Christine Brennan, USA Today
In a tweet Saturday morning, USA Today columnist Christine Brennan expressed her disappointment with NFL teams.
"The warning about Antonio Brown that the NFL put in writing last night is wonderful," Brennan wrote. "But it's also terrible that it had to say it. NFL teams must know they are more than football franchises. They are pillars of communities in a #MeToo world."
She then linked to her latest column, in which she said Brown "received the lifetime achievement award that was coming to him" when the Patriots released him.
"Hallelujah. He's gone," Brennan wrote. "Finally, someone is listening to women, and with Brown, there's a lot to hear."
Brennan called the allegations "awful," and she sarcastically mocked Brown's agent Drew Rosenhaus for his uplifting message that Brown is looking forward to playing again.
She was, however, slightly more encouraged by the way the NFL handled the situation, referencing a statement from the league that acknowledged the gravity of the situation.
"The investigation is ongoing and will be pursued vigorously and expeditiously," the league said. " … Upon the conclusion of the investigation, he may also be subject to discipline if the investigation finds that he has violated the law or league policies."
In response to questions re: Antonio Brown's status: pic.twitter.com/dxjdYptzso

— Brian McCarthy (@NFLprguy) September 21, 2019
"It means that the league is not entirely certain that a team won't try to sign Brown in the next few days," Brennan wrote. "And if that's a possibility, what does that say about that team, its so-called leadership and the way it views its role in a city where 50% of the population and 45 % of its fan base is women and girls?
I think this is the right answer: Not much."
She said it's on NFL teams to spark concrete and fundamental change in the way these situations are handled.
Ian Rapoport, NFL Network
NFL Network's Ian Rapoport, speaking on NFL Total Access, broke down a chaotic stretch for Brown, the Patriots and the NFL.
"So much has actually happened just in the last 24 hours," he said in a video.
Rapoport addressed Klemko's report, noting that after Belichick's impromptu press conference, he suspected something was up.
"At that point, it was pretty clear that all was not well," Rapoport said.
Rapoport noted that the NFL is continuing to investigate the saga, and he said one important factor in all of this is the money. He said Brown got $10 million guaranteed from the Patriots but has only made about $150,000 as of Saturday morning. He said it should become clear Monday whether the Patriots cut the check for his signing bonus or try to withhold it.
In another video, Rapoport said it's clear the Patriots didn't know about the civil suit, and he's curious whether a legal fight will ensue.
"They might be the last team, right now, to take a chance on him, at least until his status gets cleared up," Rapoport said.
https://twitter.com/RapSheet/status/1175162152921026560