Patriots
Meet the Bridgewater resident who got Bill Belichick's face tattooed on her leg
"Bill Belichick is the one that really brings it all together and sees things that other people can't."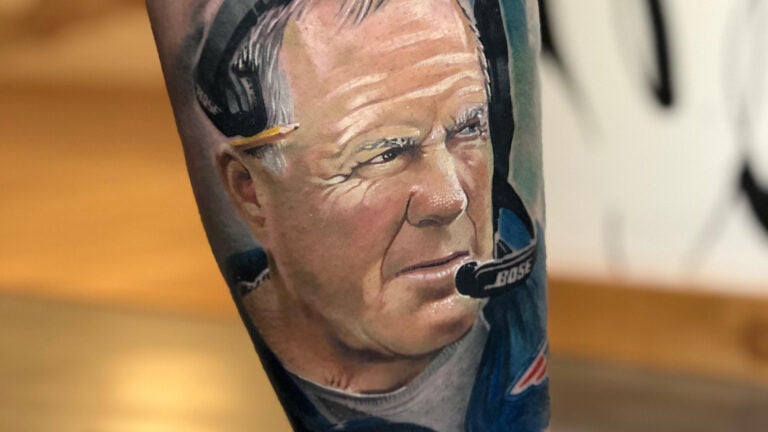 For many Patriots fans, it's a loaded and complicated question with hundreds of variables to consider – between coach Bill Belichick and quarterback Tom Brady, who's more responsible for the Patriots dynasty?
"I think you can't have one without the other," said Nicole Gavin. "Like peanut butter and jelly."
Gavin, of Bridgewater, understands the debate, and she loves Brady as much as the next person, but Belichick is the clear choice in her eyes. It's also the clear choice on her leg.
The day the Patriots unveiled their sixth Super Bowl banner this season, Gavin, 32, got a tattoo of Belichick inked on her leg. Belichick has a serious look on his face and is sporting a Bose headset, a pencil in his right ear, and his signature hoodie.
Gavin's friend, Ryan Jones of Real Art Studios in Taunton, spent six and a half hours on the creation. They could have broken it up into two sessions, but they wanted to do it all in one day before the banner dropped.
Jones and Gavin took a few very short breaks, but Gavin ended up perched under the needle the longest she ever has. She doesn't plan on sitting for that many hours again, but she has zero regrets about this decision.
"Whenever I have an idea, he's willing to get me in there," Gavin told Boston.com. "I just tell him what I want, and he does the rest. I don't need to look at 1,000 pictures. I trust him to do size, I trust him for colors. I don't even look at it until he's done."
The tattoo was the second in what Gavin hopes is a series of geniuses, joining an Albert Einstein tattoo also on her left leg. Belichick and Einstein bleed into each other to form a mega-genius conglomerate, and Gavin wouldn't have it any other way.
She also has tattoos on her right leg, her back, her chest, and all around her body. "It's like one giant tattoo," she said. When asked how many in total, she said she's honestly not sure.
"I have a ton of tattoos," Gavin said. "Everybody's asked that, and I have no idea. I still haven't had time to count. I'm on my way to being covered."
Now it's about filling in the empty spots, which aren't too plentiful but do exist. She's not sure who the next genius will be, and she opts not to offer a guess in that realm either.
Gavin, who grew up in Canton and moved to the Bridgewater-Raynham area before high school, likes tattoos that she connects with, that look good, and that start up conversations.
She and Jones had floated around the idea of Belichick for a year, and she knew Jones would do a great job because he does particularly strong work with realism. Jones is a genius in his own right, Gavin said, and she trusts him to execute anything she requests. This was simply the latest example in a long string of what she considers masterpieces.
Gavin has marveled at Belichick's intelligence ever since she started going to games as a kid. Her first game came against the Miami Dolphins, and she attended the "Snow Bowl" in 2001 when Adam Vinatieri's kick stunned the Oakland Raiders. Gavin goes to at least the home game against the Dolphins every year and any others whenever she can.
She's admired many Patriots over the years, but the one who brings them all together has always been her favorite piece of the equation. Gavin praised Belichick for his ability to adjust mid-game and outwit the other team.
"I think there's a lot of talent on the Patriots, but Bill Belichick is the one that really brings it all together and sees things that other people can't," Gavin said.
She said people recognize her face and ask her to show them the tattoo. Anyone who's seen it has loved it, she said, and she said multiple news stations are trying to figure out how to get Belichick to see the tattoo himself.
That would be cool with her, but it's not why she got it. She got it because it felt right, and it's now part of her identity like the others that came before it.
Like Belichick has his Super Bowls, Gavin has her tattoos, and her focus is on the next one.