Patriots
5 takeaways from the Patriots' 30-14 win over the Jets
With notes on a dominant Patriots defense and the struggles of both Sony Michel and Stephen Gostkowski.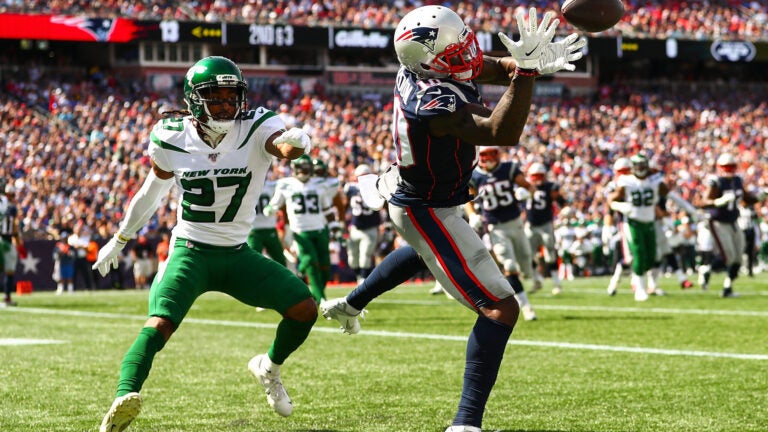 COMMENTARY
Five takeaways from the Patriots' 30-14 triumph, in which the defense didn't allow a touchdown (again), and Tom Brady became the first NFL quarterback to post 210 wins.
THE PATS NEVER LET THE JETS BELIEVE
On the first play from scrimmage Sunday, LeVeon Bell scooted through the line for seven yards. On the next snap, Luke Falk found Jamison Crowder for 15 more. The Jets were near midfield, with a fresh set of downs.
And that was the end of any hope the Patriots allowed them to harbor.
Two stuffed runs came next, then an incompletion precipitated a punt, and even though that kick forced Tom Brady to take his first snap at his own 12-yard line, within nine plays Sony Michel was in the end zone. By the second minute of the second quarter it was 20-0. And the Patriots once again had successfully squashed the aspirations of an inferior foe before allowing them anything beyond a glimmer of belief that they belonged on the field with the mighty Patriots.
Across the NFL every week, and even with great teams of Patriots past, there are plenty of examples of teams allowing lesser squads to stick around early — with the lingering leading to contests that at least become far more difficult than they need to be, even if it doesn't result in a disastrous defeat. These Pats haven't yet appeared prone to that human vulnerability, once again Sunday demonstrating dominance from the start on both sides of scrimmages.
Offensively, New England scored touchdowns on each of its first three possessions. And defensively Bill Belichick's club shut out its opponent through the first half for the fifth straight game, and so by the time Gunner Olszewski muffed a punt that the Jets recovered in the end zone, the Patriots were already leading 30-0. And with that they'd outscored their opponents by a count of 106-3 through 2 3/4 games.
Yes, 106-3.
Jamie Collins had another couple of big plays invading the offensive backfield. Devin McCourty had an interception for the third straight week. Michael Bennett and Adam Butler each furthered productive starts with two of the Pats' four sacks. The Jets didn't convert on their first 10 chances at third down. And in the meantime, Brady eclipsed 300 passing yards as his group converted six of 12 third downs, and cashed in on three of four red-zone chances before Brady gave way to rookie Jarrett Stidham.
It's not a controversial stance to say the Patriots are the best team in football. They're certainly playing like it so far. And they're preparing, planning, executing, and stomping on throats like are, too.
SANS AB AND SWEET FEET, THE OFFENSE ADJUSTS
During Sunday's broadcast, CBS's Kevin Harlan said he saw Antonio Brown working with the Patriots' first-team offense throughout Friday's practice. Earlier Sunday morning it leaked out that James White would miss the game to be with his wife as she gave birth to their child. That meant New England took the field against the Jets without two pieces who had to be projected as major pieces of the attack when the gameplay was installed mid-week.
No problem.
The Patriots scored on each of their first three possessions — not missing a beat despite their missing pieces, and managing to do so by flexing their depth early. With White not an option out of the backfield, Brady's first two passes were thrown to Brandon Bolden. With tight end Matt LaCosse down injured, Brady went to Ryan Izzo for a 41-yard completion on the opening series. With no Brown, that drive finished with a 25-yard touchdown strike to Phillip Dorsett.
By the end of the first half, Brady had completed 19 passes to seven different recipients, and amassed 199 yards. He'd also reintroduced rookie Jakobi Meyers to the onslaught, and returned Julian Edelman to his place at the top of the pecking order. Edelman was targeted 11 times in the season-opener. Then Brown came in, and Brady threw to Edelman only four times at Miami. Two days after Brown was cut, Edelman was targeted on Sunday 10 times before the first half was finished.
On the last of those Edelman fell hard, and didn't return with what the team classified as a chest injury, but Sunday's start underscored the idea that the Patriots didn't need Brown to be an elite offensive team. One of the game's best receivers would obviously help any team, and there is bound to be a game (or games) at some point this season when depth doesn't seem to quite recover the entirety of the value elite skills like Brown's can bring. The Jets aren't a big enough test to truly evaluate the capabilities of New England's attack against the best.
But especially considering Josh McDaniels's group had only hours to adjust, and it's still operating with a makeshift offensive line, Sunday's effort was assuring.
GORDON NEEDS TO BE MORE CONSISTENT
In addition to losing Edelman just before halftime, the Patriots saw Josh Gordon leave the field temporarily with an injury at the start of the third quarter. He looked to get his finger caught up in a defender's equipment while blocking, causing what appeared to be dislocation.
Before that, Gordon made two catches for 24 yards, but those contributions came on six targets. Combined with two catches on five targets last week, he and Brady have connected on only four of 11 throws since hitting on three of four attempts against the Steelers.
Last season, the receiver caught 40 of 72 targets, so roughly halfway through his 14th game as a Patriot he had hauled in only 54 percent of the passes thrown to him. That's roughly in line with  his success rate in Cleveland — but that was, of course, with inferior quarterbacks. And when Brady has targeted others over the past two seasons, his completion percentage is right around 70 percent.
When his status was uncertain because of a suspension at the start of training camp, then when the team signed Brown, Gordon was something of a luxury item for the Patriots. Now, though, they're counting on him — and, as such, they need to be able to count on him when they throw his way, particularly if Edelman misses time. He's too skilled, too physically gifted, to not give him chances to make plays. Sometimes they are rewarded for giving him those chances, as they were a couple times against Pittsburgh, and when he made a couple of terrific leaping catches to after getting back onto the field in the second half Sunday. In the end, he wound up with 83 receiving yards on six grabs.
But in some ways, those only further the tease, because after almost a full year it's still fair to say he and Brady still don't appear to be completely in sync.
KICKING CONCERNS CONTINUE
A week after missing three kicks in Miami, Stephen Gostkowski only amplified concerns regarding the Patriots' kicking game on his first scoring opportunity Sunday, failing to convert New England's initial extra point. With three missed PATs on the season he's already matched his career high for any campaign.
The rules were different then, but Gostkowksi didn't miss a single extra point from 2007-2015, and even after the point-after was bumped back to a 33-yard boot he made 49 of 50 last regular season. He's the leading scorer in Patriots history, and a long track record of success has earned him a long leash. Accordingly, it appears that the Pats haven't yet brought in another kicker to try out, and thus haven't officially taken steps toward replacing him. Even if they had considered it, at this stage of the year it's hard to envision them finding an alternative who engenders any greater sense of confidence for the coaching staff.
But it's at least time to address the issue in some way. In a best-case scenario that means the problems are physical, and could potentially be fixed by identifying a mechanical flaw. More concerning, though, is the possibility that it's a mental block, and as Gostkowski lines things up he's so uncomfortable or unconfident it's impeding his ability to execute.
That's particularly tough because self-doubt can be a career crippler for an athlete — or it could force the Patriots to take a hard look at their personnel. For the past six seasons, Ryan Allen has been the Patriots' holder on field goals and extra points, but he was cut during the preseason as the club replaced him with a new punter, rookie Jake Bailey. Bailey has a booming leg, was a fifth-round pick, and was in fact excellent with both distance and placement on Sunday.
The Patriots wouldn't just let him walk, and they shouldn't. But it's worth asking the question: What's more valuable to a team with Super Bowl aspirations — a slight upgrade on punts, or a confident, reliable kicking game? If the answer is the latter, and they can find a way to stash Bailey somewhere (such as injured reserve), bringing back the as-yet-unsigned Allen needs to be considered.
SONY STRUGGLES
Sony Michel scored his second touchdown of the season, scampering in from five yards out in the first quarter. However, he netted only six rushing yards the rest of the day — and it wasn't until a short gain inside the final two minutes that he avoided finishing with more rushing attempts (nine) than yards gained (11). For the season, he's now picked up just 109 yards on 46 carries. That's an average of 2.3 per touch.
Burkhead also scored on a run, and he produced 47 yards on his 11 rushing attempts. That brings him to 112 yards on the season — three more than Michel, in 22 fewer carries. That comparison not only crystalizes the disappointment the 2018 first-round pick has been to this point, but it also suggests that Michel's difficulties can't be dismissed as the result of poor play from the offensive line.
What may be more attributable to Michel's struggles versus the success of Burkhead is the Pats' tendency to use Michel as strictly a runner, while Burkhead can both run and receive. Brady tried to hit Michel on a throw along the goal line in the third quarter Sunday, but it was just the 12th regular-season target of his career. Until opponents feel the need to respect Michel as a receiver, they'll continue to ready themselves for the run whenever he's on the field. That's not to excuse Michel, who doesn't appear to be making any yards on his own, and doesn't seem to be bursting through holes with a real sense of vision or purpose. But a few receptions by Michel could go a long way toward unlocking a Patriots' rushing attack that was supposed to be a strength.