Patriots
Josh Gordon is easy to root for in every way Antonio Brown was not
Gordon caught six passes for 83 yards Sunday against the Jets.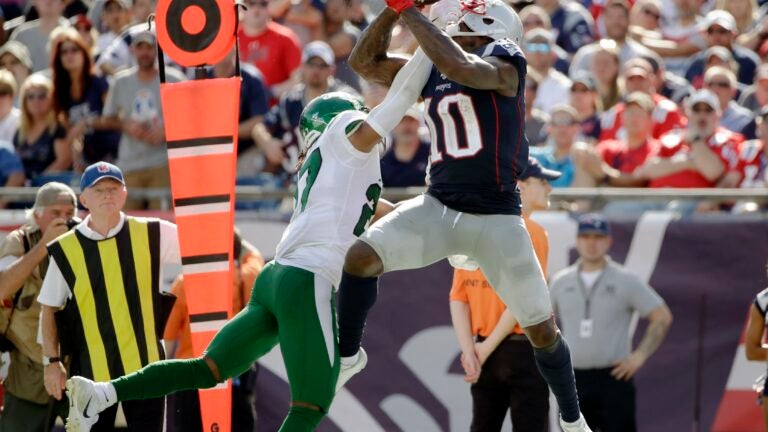 COMMENTARY
That was better.
At least in terms of the sort of destruction the New England Patriots were able to dole out to a fellow AFC East patsy, last week's 43-0 dismantling of the Miami Dolphins was a more complete effort than Sunday's 30-14 win over the New York Jets.
But Sunday was easier to watch.
Even with the sort of special teams hiccup that Gunner Olszewski provided in coughing up his team's first allowed touchdown of the 2019 season. Backup quarterback Jarrett Stidham threw a pick-six on one of three of the only passes he'll probably throw all year, one more than Tom Brady has managed to throw over 103 more attempts. Julian Edelman suffered an injury to his ribs, leaving his status for Sunday's game in Buffalo in some level of doubt.
Sony Michel can't seem to find any running room, Stephen Gostkowski is dangerously close to becoming the next Billy Cundiff rather than the next Adam Vinatieri, and Bill Belichick didn't even ask Dana Jacobson where she was registered.
Granted, there were a lot more concerns — or as many as you can realistically muster for the 3-0 Patriots — that arose from the Jets game. But it was a heck of a lot more fun.
That's not only because of the absence of Antonio Brown, released by the team on Friday after the wide receiver continued to light the short fuse that dangled from his relevancy. If it felt somewhat cleaner to cheer for the Patriots in the hours after Brown burned whatever bridge remained for him in his Sunday morning Twitter meltdown, allowing the fans at Gillette Stadium to avoid a duplicitous reaction upon seeing him in a New England uniform for the first time.
But you could argue one of the reasons why this game was just downright more enjoyable, it was partly because of another wide receiver who happens to have the "troubled" adjective following his references in print, albeit for entirely different reasons.
For a few moments, it looked like Josh Gordon's season might have come to an early standstill much like his former teammate Brown. The Patriots wide receiver sat on the sideline in pain after wrenching his finger on an opponent's helmet, an injury the team could ill-afford with the uncertainty revolving around Edelman. But there was Gordon fighting through it in the end, producing a day that gave him six catches for 83 yards, including a pair of eye-opening hauls that suggest Gordon has indeed received a chair at Tom Brady's Circle of Trust.
Josh Gordon is easy to root for.
"I don't think anybody likes to get banged up or have to come out of the game, but it's just the reality of it," Gordon said. "I think the more important part is just like how many times can you get knocked down and come back?"
"CAUGHT BY GORDON, WHAT A GRAB!"@JOSH_GORDONXII | #GoPats pic.twitter.com/hvv9PhQseD

— New England Patriots (@Patriots) September 22, 2019
That's always the question with Gordon, as far as his long-term availability is concerned. While the Patriots may have had to sit around and waited for Brown's week-to-week status depending on how the NFL wanted to hand out discipline for the sexual assault charges against him, it's sort of the same way with Gordon and his sobriety.
How many times can he get knocked down and come back?
There's a certain sense of that question in every way the Patriots seemingly handle Gordon. For all his talent, Gordon is like a vision in the clouds, an apparition that might linger for just enough time for you to grab a snapshot. Or, the wind might come. It's unpredictable, just as is Gordon's ability to keep himself sober.
But whatever he's doing with the Patriots is working so far. The team appears to hold him — get this, Antonio — accountable when asked about him during press briefings. There is no suggestion that Gordon is the golden goose for Tom Brady, who has already proven he can win with Reche Caldwell as his main man, for God's sake.
He's now played in 14 games for the Patriots, 11 before being handed yet another season-ending suspension last year, and three this season. Consider that the 28-year-old had managed to play a total of 10 games from 2014-17, and that alone speaks to the difference in discipline in Banner-Heavy Foxborough versus Yahoo Cleveland.
Yet he's a ticking time bomb with no predictability, likely saddled with a disease (from everything that we know, given his history) that's as confounding for those with it as it is for those trying to understand it. The Patriots aren't cradling him, which makes him fit into the supposed Patriot Way in every way that Brown didn't. I mean, if the Antonio Brown signing was confusing in the first place, compare it to the sort of effort that Gordon gave on Sunday. Fighting to be here. Fighting to remain here.
Gordon is a physical presence. He proved that much against the Jets.
It's his mental presence that causes concern. But it's also that battle that makes him so easy to cheer for, a man battling to re-take his position of being one of the most feared wide receivers in the game.
That conflict is taking place, all while keeping mental focus a priority.
Josh Gordon should make it easy to be a Patriot fan.
Something that Antonio Brown made damned near impossible.