Patriots
4 things to know about Patriots rookie fullback Jakob Johnson
Johnson had a long and unconventional road to the Patriots 53-man roster.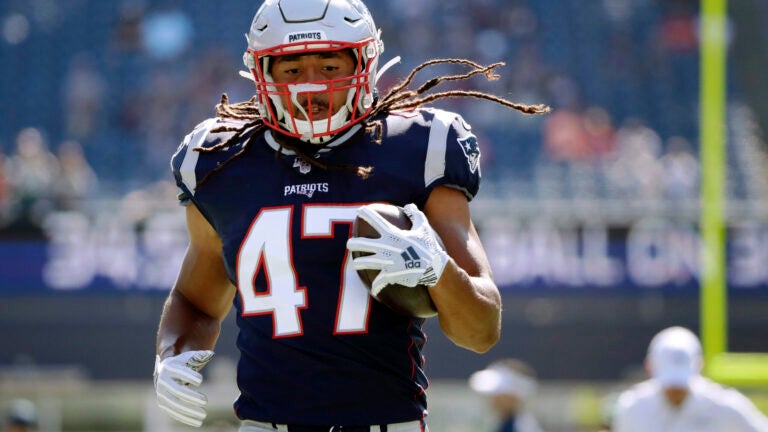 Patriots rookie Jakob Johnson took a path almost entirely untraveled just to end up on the team's training camp roster. Now, in Week 4 of the 2019 NFL season, Johnson will be on the 53-man roster against the Buffalo Bills. Here are four things to know about the rookie fullback. 
His path to the NFL was an unconventional one. 
Johnson was born in Stuttgart, Germany, which is where he began his football career as a member of the Stuttgart Scorpions' U19 team. Johnson proved to be both too skilled and too physically overpowering for U19 German football, so he moved to Jacksonville, Florida's Jean Ribault High School for his senior year of high school to chase an opportunity playing football in the United States. 
There Johnson impressed enough to earn Division 1 scholarship offers from schools like the University of Wisconsin and the University of Central Florida, but he eventually accepted a scholarship from the University of Tennessee. Johnson graduated from Tennessee in 2018 with three career receptions for 23 yards as well as 24 career tackles, and after failing to be drafted, made his way back to Stuttgart to continue playing for his hometown team, now at the professional level.  
With an NFL future seeming nearly impossible for Johnson, he was given one last opportunity via the NFL's International Player Pathway Program, an initiative created by the NFL in 2017 to give international players a more viable path to making NFL rosters. Johnson was one of seven players selected to participate in the initial three-month training camp at IMG Academy in Bradenton, Florida. He was then selected to be one of the four players chosen to be added to a roster via the International Player Pathway Program. 
He made a position change.
If you watched Johnson's highlights from his time with the U19 Scorpions team, you'd notice that they weren't at fullback, but rather at linebacker. Johnson was originally recruited to the University of Tennessee to play linebacker, but after his freshman season, the Volunteers coaching staff decided to move Johnson to tight end. After the position change, Johnson was used primarily on special teams and as a blocking tight end.
Once he moved back to Stuttgart in 2018, Johnson had a prolific season in the German Football League, recording 43 catches for 474 yards and four touchdowns. He then made one last position change to fullback for the International Player Pathway Program. 
The move seems to have paid off as Johnson has carved out a spot on the 53-man roster, only the second player from the program to do so, the first being 2018's Efe Obada, who currently plays defensive end for the Carolina Panthers. 
Bill Belichick didn't want him.
Johnson ended up on the Patriots not because head coach Belichick thought that Johnson was a dynamic prospect, but because the AFC East won a random draw to be the division awarded the International Pathway players. Belichick even admitted in a media conference call that he didn't particularly want Johnson.
"He was not on our radar," Belichick said of Johnson. "I don't think we ever would have ever signed him. When the [international] players were listed, there were a group of players that fell into this category, and we looked at that group. It was kind of like, 'Is there anybody here you want?'
Belichick had his choice of a four-person group that included two former rugby players, Australian Valentine Holmes and Englishman Christian Wade, Brazilian defensive tackle Durval Queiroz Neto, and Johnson. 
Belichick decided he wanted Johnson in part because of a phone call he had with his old coach from the University of Tennessee, Butch Jones.
"Based on some research and follow-up at Tennessee, Butch [Jones] recommended him to me. We didn't really know much about the other guys, and I can't say that we were excited to have him. But based on what Butch said, it felt like he was a good player to work with, would work hard, would really try to get better, was a good teammate and all those things that he had showed at Tennessee."
It was Johnson's continued progress over training camp that moved him from as Belichick put it "the 91st player on the roster," to a practice squad player, and now to a member of the full 53-man roster. 
"I don't think anybody ever envisioned him being on the roster at that point, or even being on the practice squad, to tell you the truth. But he continued to get better and certainly his physicality and his toughness showed up in the preseason games and the preseason practices."
He's an accomplished student.
A gifted athlete, Johnson is also extremely gifted off the football field as well. While at Tennessee, Johnson was studying to go to med school. He graduated with a degree in kinesiology, and was a member of the SEC Academic Honor Roll for three consecutive seasons. 
"When I was at UT,  I had a lot of plans," Johnson said to the Boston Herald. "I wanted to go to med school after football was over. I was in a bunch of really hard classes and now that I don't have classes to worry about I take all that energy and try to focus it toward really being prepared and studying the plays."
When asked if he had any interest in med school now that he's a member of the Patriots, Johnson said, "For me right now it's football, a hundred percent. I told myself that if I was going to get this opportunity that I would come away just knowing football inside and out, knowing everything there is to know about it, so that's just what I'm trying to do."