Patriots
Morning sports update: A longtime NFL draft analyst shared scouting reports on Tom Brady from 2000
"I don't like him. Smart guy. That's it."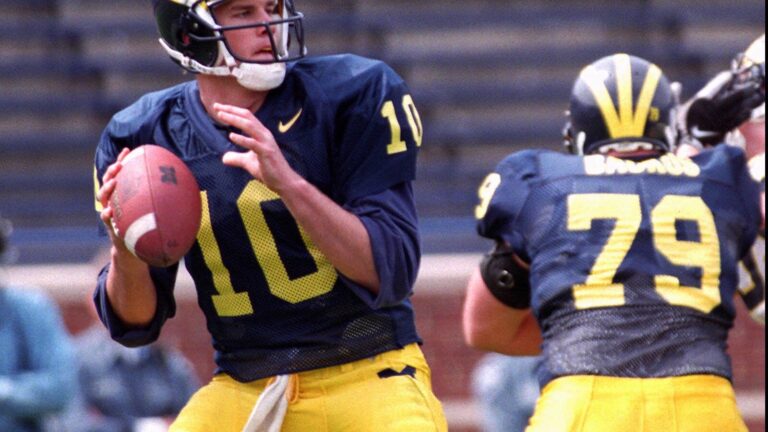 The Revolution staged a late comeback on the road in Portland against the Timbers on Wednesday night. Down 2-0 with less than 10 minutes to go, New England scored twice to get a 2-2 draw (and a point). It puts the Revolution one step closer to a playoff bid.
And the Red Sox routed the Rangers 10-3. Rick Porcello tallied a season-high eight strikeouts, collecting his 14th win of the year.
What scouts said about Tom Brady in 2000: In a recent article for The Athletic, longtime NFL draft reporter Bob McGinn broke out all of his old notes and interview transcripts for a treasure trove of fascinating analysis about Tom Brady's potential before the Patriots picked him in the sixth round in 2000.
Brady, as history has prominently chronicled, was not highly thought of coming out of Michigan. He was identified as a quarterback who would not be a top pick. Yet looking through the opinions that McGinn recorded, the picture of Brady then is more interesting due to its nuance.
"Very accurate, good toughness, good leadership," was what then-Chicago Bears directors of college scouting Bill Rees wrote. "Has a chance to be a good player in the league in time. I think he'd be a real solid backup initially and end up growing into a starter."
A Detroit Lions executive, Ron Hughes, appears to have at least sensed some of the intangibles that would one day catapult Brady to becoming a star in the NFL while simultaneously offering a humorous analysis of his size.
"Interesting, interesting guy," McGinn cited Hughes as saying. "He looks like one of them poles you hang coats on. He's got big knobs on his shoulders. But this guy is a very good deep passer. He's highly competitive. He can't run worth a lick but he has enough where he can step out of the way of people."
Other scouting reports were more mixed, with the familiar critiques.
"He had that great bowl game but I think he's just very common," a scout of NFC team said, according to McGinn. "He's a bony, very thin kind of guy. God, you can see his ribs on his build. His arm is just adequate."
Another NFC scout was more blunt.
"I don't like him," said the scout. "Smart guy. That's it."
McGinn's look back at one of the greatest collective NFL draft scouting failures is worth a complete read. But given Brady's unique story, it's possible that some of the scouting was correct, and that New England's six-time Super Bowl winner simply grew as a player far beyond what he originally was.
"I would submit the scouts were right about what Brady was 20 years ago and that Brady is right about what he envisioned himself becoming today," concluded McGinn.
Trivia: Who is the last player to rush for at least 100 yards in a game against the Patriots?
(Answer at the bottom).
Hint: He was a teammate of Jakobi Meyers at North Carolina State.
More from Boston.com:
Shannon Sharpe was not happy Tom Brady was No. 1 (or that Patrick Mahomes was No. 6):
.@ShannonSharpe on Mahomes at 6th in QB ranking, Brady No. 1:

"Hell no… This is some bulljive. No one, not even Patriots fans, would say Tom Brady is playing better football than Patrick Mahomes." pic.twitter.com/N8kCIexMip

— UNDISPUTED (@undisputed) September 25, 2019
James White is back after his wife gave birth to their son: Though he noted it was "weird" to watch the Patriots play while he wasn't there, White was happy for his teammates.
James White shares what it was like to watch his team win after his son was born pic.twitter.com/6CaYFSXXMG

— NBC Sports Boston's Patriots Coverage (@NBCSPatriots) September 25, 2019
Patriots coaches had high praise for Bills quarterback Josh Allen:
What will it take for Josh Allen to take the next step? #Bills pic.twitter.com/GD9tZmE431

— Mike Giardi (@MikeGiardi) September 25, 2019
On this day: In 1948, the Boston Braves clinched the National League pennant for the first time since 1914. The team was led by its pitching staff, particularly aces Johnny Sain and Warren Spahn.
Earlier that September, a poem first published in the Boston Post would go on to become a famous summarization of the team's strategy of trying to constantly pitch its All-Star duo:
"Spahn and Sain and pray for rain."
An interesting historical "what if?" developed that season, as the Red Sox were also in a pennant race against Cleveland. Unfortunately, the Red Sox lost a one-game playoff, preventing the all-Boston World Series from ever happening (as the Braves left for Milwaukee in 1953).
The Indians beat the Braves in six games, and haven't won the World Series since.
Also on this day, in 2009, Fernando Torres scored a silky smooth hat trick for Liverpool:
🔟 years ago today… It was another Anfield hat-trick for @Torres 🔥 pic.twitter.com/sRilNZJReE

— Liverpool FC (@LFC) September 26, 2019
Daily highlight: Zlatan Ibrahimovic wanted to make sure it was "in the line." It was.
Yes it was in the line, Zlatan. Having a great morning in LA. 🦁👑 @Ibra_official pic.twitter.com/W2nPUIuURz

— Juan P (@juanpcaffa) September 24, 2019
Trivia answer: Jaylen Samuels