Patriots
Jonathan Jones reportedly won't be suspended for his hit on Josh Allen
After the hit, Allen reportedly entered concussion protocol.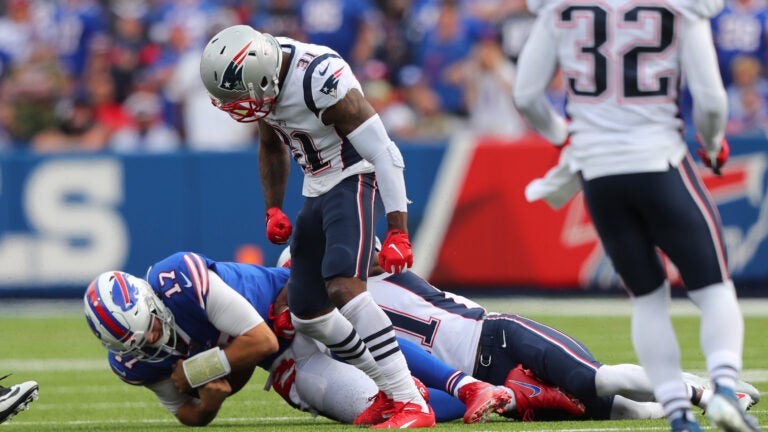 During Sunday's 16-10 win over the Buffalo Bills, Patriots defensive back Jonathan Jones delivered a helmet-to-helmet hit on Bills quarterback Josh Allen. 
Jones was not ejected from the game, which was controversial to some, including Bills head coach Sean McDermott, and it was reported Monday morning by the NFL Network's Ian Rapoport that Jones will not be suspended by the league for the hit. He could still face a fine for the play.
From @gmfb: #Bills QB Josh Allen is in the concussion protocol and #Patriots CB Jonathan Jones won't be suspended… but #Raiders LB Vontaze Burfict is expected to be suspended for his hit. pic.twitter.com/pqkqa5lv2Y

— Ian Rapoport (@RapSheet) September 30, 2019
Rapaport also reported that Allen has entered the NFL's concussion protocol after leaving the game following the hit from Jones. His status for the Bills' Week 5 matchup against the Tennessee Titans isn't currently clear. 
The NFL's VP of Officiating, Al Riveron, was asked about the decision not to eject Jones following the game Sunday.
"We didn't feel that that contact rose to the level of an ejection," said Riveron. "Obviously, there is helmet contact, but we have standards for an ejection, and this did not rise to that standard."
The Patriots will head to Washington D.C this Sunday to take on the 0-4 Redskins.