Patriots
Josh McDaniels isn't worried about Josh Gordon's slow start to 2019
"Honestly, I need to do a better job of finding ways to get him the ball."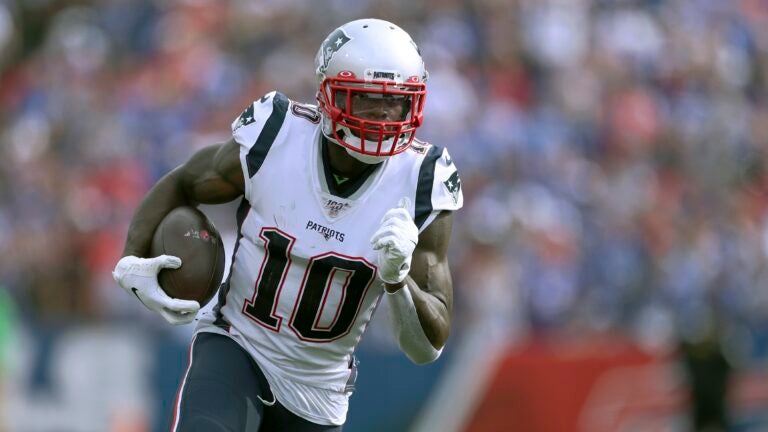 Josh Gordon has gotten off to a slow start for the Patriots in 2019, as his receiving numbers have been mediocre to start the season. However, offensive coordinator Josh McDaniels, in a media conference call Tuesday, said that he's not worried about Gordon.
"Josh is doing well. He's ready to go, he practices well, he practices hard, he really studies the game plan," McDaniels said. "I'm very happy with what he's doing, and we're going to continue to work with him and all our skill guys, hopefully as we go through the season, to improve and reach our best performances. Whatever the peak is for us this year, we're certainly not there yet and we have a lot of work, a lot of practice to put in to reach that. But I'm very happy with what Josh is doing."
McDaniels also explained how it's his own fault for the decline in Gordon's numbers.
"He's moved into multiple positions this year, whereas last year he was more in one spot most of the time," McDaniels said. "Honestly, I need to do a better job of finding ways to get him the ball throughout the course of the game in whatever role or position that we're asking him to play."
Gordon has started this season with somewhat pedestrian receiving numbers: he's 47th in the NFL in receiving yards (221), 69th in receptions as well as touchdowns (14 receptions, one touchdown), and 46th in targets (27). 
Gordon doesn't even lead the Patriots in any of the previously mentioned receiving stats, ranking fifth in receptions and second in targets, yards, and touchdowns. 
While Gordon hasn't made a major impact on the field this season, the Patriots offense hasn't struggled much without him. The team ranks ninth in total passing yards (1,084) and 12th in touchdowns (7), strong numbers despite a shaky performance in Buffalo this past Sunday that saw the team gain only 224 yards of total offense. 
The Patriots take their perfect record to Washington D.C to take on the winless Redskins this Sunday at FedEx Field.