Patriots
Morning sports update: Kyle Van Noy responded to Pro Football Talk's criticism of his Rodney Harrison comments
Van Noy later added clarification regarding what he meant dismissing comparisons to Harrison.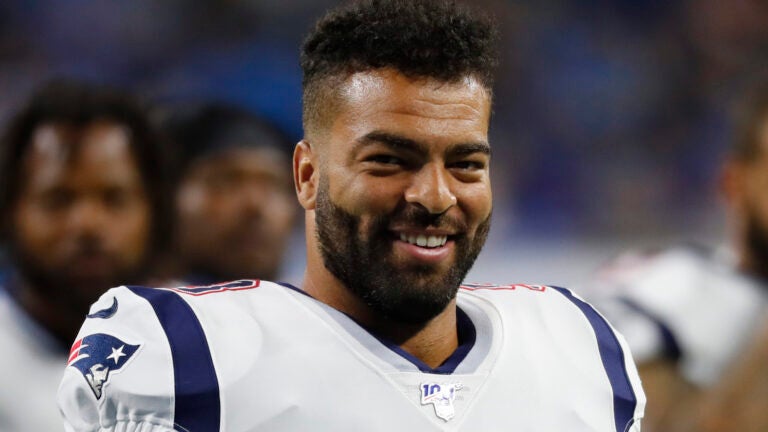 The Rays traveled to Oakland and defeated the Athletics 5-1 on Wednesday night to win the American League wild card game.
And the NHL season got going, including an overtime loss by the defending champion St. Louis Blues. The puck drops on the Bruins' season tonight in Dallas against the Stars at 8:30 p.m.
Kyle Van Noy fired back at Pro Football Talk on Twitter: During a Wednesday interview on 98.5 The Sports Hub's "Zolak & Bertrand," Patriots linebacker Kyle Van Noy gave what appeared to be a strange response when compared to former New England safety Rodney Harrison.
"I don't want to be compared to that guy," Van Noy responded. When asked if he had a problem with Harrison, Van Noy said, "I have nothing against him, I just don't want to be compared, definitely not to him."
Kyle Van Noy's response after being compared to Rodney Harrison regarding his role on the team was surprising on @ZoandBertrand…"don't compare me to him man…I have nothing against him, I just don't want to be compared, definitely not to him." ?? pic.twitter.com/cJ41Qa8xCb

— Patriots on NBCSB (@NBCSPatriots) October 2, 2019
Later, Van Noy was asked about it by Patriots reporter Henry McKenna
Kyle Van Noy told me "y'all are reaching" about his comments about Rodney Harrison on @985TheSportsHub.

"He's Rodney Harrison. I'm my own person. I don't want to be compared to anybody."

Said there's no comparing a safety and a linebacker. He didn't mean any disrespect.

— Henry McKenna (@McKennAnalysis) October 2, 2019
Yet the clarification apparently didn't reach Pro Football Talk's Mike Florio, who tweeted, "Hey Kyle you should get on your knees every night and pray that you will become half the man Rodney Harrison is."
Van Noy responded:
Dear Mike, Im pretty happy with the man I am and tonight I'll pray for you instead! ? #blessed

— Kyle Van Noy (@KVN_03) October 2, 2019
And Van Noy added a further tweet to clarify what he meant regarding Harrison:
I play linebacker so compare me to Bru, Vrabes, Ninko, Willy Mac, or Mayo…. why compare me to a safety?? Or why compare anyone to anyone?? All love! Nothing but respect for Rodney…

— Kyle Van Noy (@KVN_03) October 2, 2019
Van Noy has been a prominent member of the league-leading Patriots defense so far in 2019. In three games — he missed the season-opener due to the birth of his son — Van Noy has two forced fumbles and 2.5 sacks.
Trivia: In Stephen Gostkowski's first NFL game — a 19-17 win over the Bills in 2006 — he made two field goals, including a 32-yard fourth-quarter kick that tied the score at 17-17. The Patriots won the game because of a safety recorded on the ensuing Bills possession. Who was the Buffalo quarterback in that game?
(Answer at the bottom).
Hint: He played college football for Tulane University.
More from Boston.com:
Is the Patriots' solution at kicker already working at Gillette Stadium?
Hey @Patriots, I work across the hallway, can be there in the morning, and I can kick a football pretty well…ask SG3, whatcha think? ?

— Brad Knighton (@bbknighton) October 2, 2019
Jamie Collins has been phenomenal for the Patriots this season: The Patriots defense has been the best in the NFL so far in 2019. A big part of that has been the all-around dominance of linebacker Jamie Collins. The Boston Globe's Ben Volin broke down exactly how New England has used the talented 29-year-old.
Devin McCourty was named the AFC Defensive Player of the Month:
4⃣ games
4⃣ interceptions

Congrats, @McCourtyTwins (Dmac): https://t.co/80kEqWjKdt

— New England Patriots (@Patriots) October 3, 2019
Drew Bledsoe and Ray Bourque were in the North End on Wednesday:
On this day: In 1951, Bobby Thomson hit the "shot heard round the world" walk-off home run to win the National League pennant for the Giants over the rival Dodgers.
Daily highlight: Auston Matthews scored twice in an NHL opening-night win for the Maple Leafs over the Senators, 5-3. His second goal came after a no-look pass from Mitch Marner.
Trivia answer: J.P. Losman