NFL
13 thoughts on an in-flux Patriots roster
Notes on Stephen Gostkowski, Jamie Collins, Sony Michel, and more.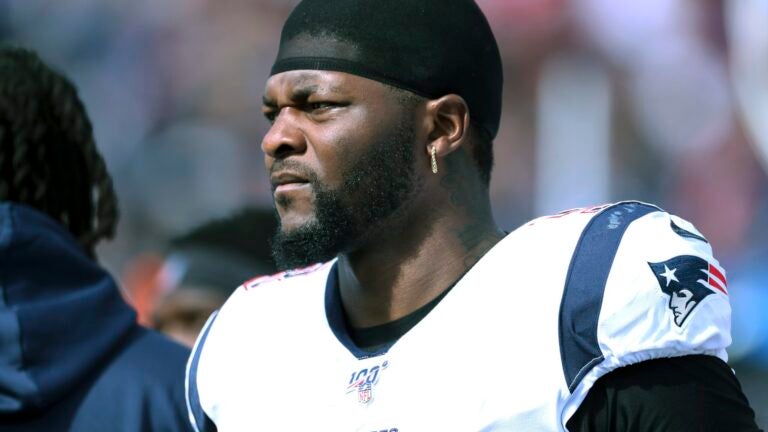 COMMENTARY
Thirteen thoughts on 13 Patriots — one for each point New England's defense has surrendered through the first quarter of the season…
Stephen Gostkowski has taken more than his share of grief, particularly while apparently trying to kick through a hip injury this season, though Pats fans shouldn't underestimate how difficult it could be to replace him. Confidence may have waned this season because he missed five kicks over his four games, although even as extra points became problematic he remained as reliable on field goals from within 38 yards. The last time he missed from that range in the regular season was Oct. 12, 2014 — a week after the team was "on to Cincinnati" — which sends him to the operating table having made 99 in a row. Those kicks allow teams to cash in on trips to the red zone, and should be automatic, but there's great value in having a kicker who makes sure that they actually are.
Kai Forbath is a potential Patriot, having tried out to replace Gostkowski. And, at least statistically, his credentials fill the cleats respectably. Forbath is the only kicker other than Gostkowski who's been perfect on at least 30 attempts from 38 yards and in over the past five years. And while Gostkowski is fourth all-time in field goal accuracy (at 87.4 percent), Forbath is 12th in that category (85.7 percent). That said, he struggled in both Washington and New Orleans in 2015, and has struggled to hold a job since then, in part because he missed eight extra-point bids in 23 games between 2016-17. There's a reason he's available.
Jake Bailey's holding skills are off the hook with the revelation of the real root cause behind Gostkowski's troubles. Now New England can fully embrace the rookie punter whose right leg launched two punts of 60-plus on Sunday.
Jamie Collins didn't do damage to Stephen Hauschka's career success rate, though only because Hauschka hooked a try himself near the end of Sunday's first half. Had he hit it straight, the kick would've likely careened right into the hands of Collins, who'd leapt over the center and was in the backfield before pigskin met foot. A blocked field goal would've been nice for the linebacker's 2019 resume — but he'll have to settle for a team-leading 23 tackles (six for loss), 3.5 sacks, three interceptions and a touchdown through four games.
Kyle Van Noy may not have the portfolio of quantifiable production Collins does, but he is the newly minted AFC defensive player of the week, and he is the defender whose contract the Pats should seek to extend if acquiring another receiver requires them to create salary cap space by maneuvering other pieces. At 28 he has become a central piece of what the Patriots do, with the versatility to fulfill every expectation of a linebacker and the instincts to consistently find the football. He's slated for unrestricted free agency at the end of the season, and even more than Collins, or Dont'a Hightower, retaining him long-term should be a high priority.
Lawrence Guy was officially credited with combining on four tackles at Buffalo, but he deserved credit for bulldozing two blockers and pushing Josh Allen into Van Noy's arms for a sack near the end of the second quarter. He continues to quietly play like a beast on the interior of the line.
John Simon is another who may not be among the first — or first dozen — players who come to mind in conversations about the Patriots' defense, but he's another who has come to Foxborough and fit in nicely after being cast off elsewhere. He's had his hands on the ball in three of the Pats' four games, has a couple of sacks, and with Hightower down he played more than 50 percent of the defensive snaps at Buffalo. Even in a front-seven rotation dripping with depth, he's emerged as a valuable contributor.
J.C. Jackson's two interceptions Sunday came despite him playing fewer than 50 percent of his team's defensive snaps. Duron Harmon and Jonathan Jones also saw their participation dip slightly in Buffalo, yet the Patriots still have a whopping seven defensive backs who've played more than half the plays the club has defended. In theory, if New England was to try addressing a need via trade, their surplus in the secondary would be a logical spot from which to trade. But they're all used so often, and it's working so well, messing with the mix wouldn't make sense.
Jakobi Meyers was the receiver Micah Hyde was covering when the Bills' cornerback quickly reversed course and leapt up to intercept Tom Brady's throw toward Julian Edelman in the end zone. But it didn't appear as though Brady really considered going to Meyers as the rookie broke across the goal line, with Hyde caught by Boston 25 telling Belichick afterward, "He was staring (Edelman) down." Given the current roster construction at receiver, Meyers could be an important piece for the Patriots. First, though, he needs to convince the quarterback to look his way.
Sony Michel's most encouraging sequence of the season came in the final six minutes Sunday, when the Pats took over at their own 15 and he surged for eight, then nine yards on successive plays. The Bills were out of timeouts and trailing by six, so Buffalo had to know New England would run the ball on those early downs, yet after scratching out barely three yards per carry to that point Michel was still able to execute those carries. It's worth noting that both came with him running over the left side of the line, as was his 15-yard haul on the first play of the game.
Josh McDaniels got too cute after Michel's two strong runs chopped almost two minutes off the clock. After a three-yard, first-down run there was 3:28 to go. The Pats tried a pair of passes, but when both went incomplete New England consumed all of nine ticks between second and third downs. Based on the flow of the game, it would've been far wiser to burn another 75 seconds and entrust the outcome to Bailey and the defense.
Josh Gordon had three catches for 46 yards against the Bills, with the ball traveling a total of nine yards in the air on those three connections. The other 37 yards came after the catch, which signaled a shift in Gordon's usage for this game. Heading into Buffalo, only 53 of his 175 receiving yards had come running after the grab.
Tom Brady has posted a quarterback rating below 60 on five prior occasions this decade. In those subsequent games, he has tossed nine touchdowns to just three picks — and after the Bills limited him last December, he came back and posted a 133.8 rating the next week. There's no need to worry about him. Facing the Redskins' 31st-ranked defense won't hurt, either.