Patriots
What NFL experts are predicting for Sunday's Patriots-Redskins game
Much of the angst from last weekend's offensive frustrations will be taken out on a team every bit as bad as the Dolphins.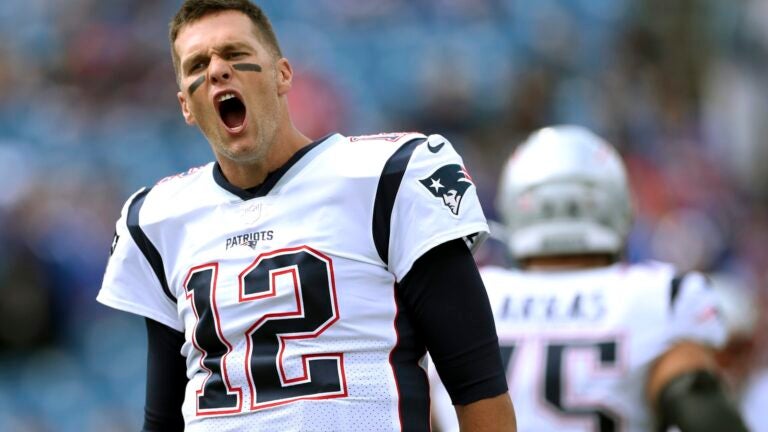 COMMENTARY
Forgive Redskins head coach Jay Gruden if he's feeling a little like Milton and Dante Hicks all rolled into one.
He's probably not even supposed to be there on the sidelines, so he might as well burn the place down.
Gruden has led the Redskins' march to mediocrity for an astounding six seasons, perhaps only outlasting team owner Daniel Snyder's reasoning for not firing another head coach mainly because, well, he's tired of doing it. Gruden is 35-48 in Washington, made the playoffs once, back in 2015, and is off to a dreadful 0-4 mark with the Patriots due in town this week.
"Their record is what it is," New England's Bill Belichick said on Wednesday, "but I think when you watch them on film you see a good football team that has a lot of good players, that is well-coached, that knows what they're doing."
Of course, a few hours later, Gruden hopped on a conference call with Patriots reporters, and admitted that he doesn't have a plan at quarterback this weekend. Maybe it will be Case Keenum, maybe it will be rookie Dwayne Haskins, the first-round pick who's only on the roster because of Snyder's influence anyway.
Gruden is on a sinking ship. It's a wonder he's still there. He's not even supposed to be there Sunday.
Enter the Patriots, and hit ignition. They're about to light the building on fire.
This week's predictions
Neil Greenberg, Washington Post: Patriots – 15.5.
Benjamin Hoffman, New York Times: Redskins (+15.5). "Tom Brady should be very happy the Patriots (4-0) are not playing Buffalo again this week. In last week's win, he completed just 18 of 39 passes for 150 yards and he threw his first interception of the season. No one is going to confuse the Redskins (0-4) for the Bills, but it's hard to imagine New England putting in enough effort against such a lowly opponent to win by as many points as Las Vegas is demanding."
Joe Giglio, NJ.com: Patriots. "It doesn't matter who plays quarterback for Washington. This franchise is a disaster right now."
ESPN staff: All Pats.
Pete Prisco, CBS Sports: Patriots 31, Redskins 13. "Who starts at quarterback for the Ravens? Does it matter? The Patriots are playing great defense and it will show up again here. This will be ugly as the Pats offense gets rolling again after a bad game against the Bills."
CBS Sports staff: Seven of eight pick the Patriots (Washington +15.5). Everybody likes New England straight up.
Jimmy Kempski, Philly Voice: Patriots (-15). "Ah, the Reprehensible Bowl, between an organization of cheaters vs. an organization with a slur for a nickname. Cheaters always win."
Todd Haislop, Sporting News: Patriots 26, Redskins 6. "In a development that surprises nobody, the Redskins are lost. They apparently have no idea how to handle their quarterback situation, particularly with the development of rookie Dwayne Haskins, and Jay Gruden is coaching for his job even though the effort at this stage seems pointless. Given that background, New England is the last team Washington wanted to see on its schedule at this point (or any point) of the season. It's the NFL's all-time greatest dynasty against the league's most dysfunctional franchise."
Vinnie Iyer, Sporting News: Patriots 33, Redskins 13. "The Patriots have the NFL's best QB stability with Tom Brady. The Redskins are about to play their third QB this season; inserting career backup Colt McCoy in the lineup is a desperate 0-4 ploy for embattled coach Jay Gruden. Whatever McCoy can do against a nasty Patriots defense, it won't be nearly enough with zero help from the running game. Brady will pick apart an awful back seven in coverage all over the field."
Michael Hurley, CBS Boston: Patriots (-15). "The only question in this game is whether the Patriots' offense or defense will put more points on the board. I'd put it at even money."
MassLive staff: Patriots across the board.
Mike Florio, Pro Football Talk: Patriots 38, Redskins 17. "It may be Jay Gruden's last stand. Either way, he'll fall."
Michael David Smith, Pro Football Talk: Patriots 35, Redskins 10. "New England opened as a 13-point favorite and that quickly moved to 15.5. I think it should be even higher."
USA Today staff: All New England.
Five Thirty Eight: Patriots with an 85 percent chance (-12).
Gregg Rosenthal, NFL.com: Patriots 30, Redskins 10. "To compare pass rushes, the Patriots have 21 sacks and 83 total disruptions, according to PFF, with role players like Lawrence Guy and John Simon providing great value. The Redskins have four sacks and 51 total disruptions with first-round pick Montez Sweat and even perennial Pro Bowler Ryan Kerrigan struggling to make an impact."
It says here: Patriots 43, Redskins 0. Much of the angst from last weekend's offensive frustrations will be taken out on a team every bit as bad as the Dolphins squad the Patriots manhandled last month.