Patriots
What we learned from Vanity Fair's Robert Kraft expose
Palm Beach residents dismissed Kraft as "nothing but a seasonal resident" and more takeaways from the magazine's piece.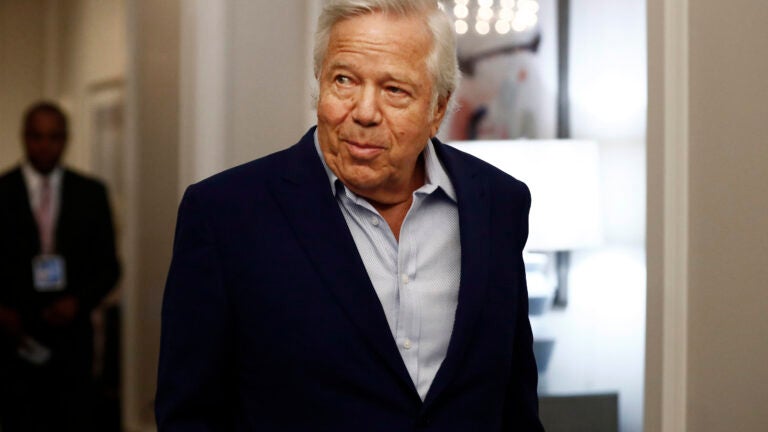 Vanity Fair reporter May Jeong took an in-depth look at the massage parlor saga involving Patriots owner Robert Kraft.
Kraft, 78, who authorities allege visited Orchids of Asia Day Spa twice in January 2019, was charged with two counts of solicitation of prostitution. He pleaded not guilty to the charges and issued a public apology.
The magazine's account, headlined "'You won't believe what happened': The wild, disturbing saga of Robert Kraft's visit to a strip mall sex spa," includes new details about the spa, the investigation, and the alleged incidents involving Kraft.
Here's what we learned while reading Jeong's piece.
A Florida health inspector reportedly grew suspicious of the spa.
Jeong's dive begins with a chronological synopsis leading to the alleged incidents at the spa, where a massage cost $59 for a half hour and $79 per hour.
When Florida health inspector Karen Herzog grew suspicious, detective Mike Fenton proceeded to launch an investigation into what he believed was a large-scale prostitution ring engaged in human trafficking, according to Jeong's report.
Fenton's office reportedly notified detective Andrew Sharp of the Jupiter Police Department, and he began his own investigation in October 2018. In early November 2018, Jeong wrote that Sharp and his team saw many people enter — the vast majority of whom were men.
"One day, a group of eight men who arrived in a golf cart made touchdown gestures before entering, their arms flung up to indicate that they were about to score," she wrote.
At that point, Sharp reportedly said he understood this was not just a regular massage parlor but one that was an illicit massage business.
Kraft reportedly flashed his Super Bowl ring to a police officer.
On the afternoon of Jan. 19, 2019, just a day before the Patriots were set to face the Kansas City Chiefs in the AFC Championship Game in Kansas City, Kraft allegedly visited Orchids, where he paid cash and allegedly received a sex act.
Officers pulled people over for what they called minor traffic violations in order to identify those involved, according to the piece. When they approached his car, Kraft reportedly flashed his Super Bowl ring and explained he was the owner of the Patriots.
Jeong wrote: "Later that day, Kraft called his friend. 'You won't believe what happened to me,' his friend recalls him bragging. Kraft explained how he had gone for what he thought was a regular massage, but that the masseuse had given him a hand job instead."
Kraft reportedly believed he developed a 'personal connection' with one of the women.
Orchids reportedly called that evening and asked him to visit again, and Jeong wrote that Kraft was "thrilled." A friend told Jeong that Kraft thought he developed a "personal connection with the employees," and he didn't believe they simply wanted his money.
He allegedly returned the next day, received a sex act, then flew to Kansas City to watch some playoff football.
Many Palm Beach residents tried to distance themselves from him.
It became clear this was a widespread issue, and on Feb. 19, 2019, Sheriff William Snyder announced that local officers, Immigration and Customs Enforcement, and the Department of Homeland Security has busted a $20 million sex trafficking ring "with tentacular reach to New York and China."
This came after a series of raids on nearly a dozen massage parlors, and Snyder said many of the women were tricked into coming to the United States and had been working to pay off debts to traffickers before being rescued.
On Feb. 22, Palm Beach County State Attorney Dave Aronberg announced that Kraft would be charged with two misdemeanor counts of soliciting prostitution. Aronberg equated the situation to modern-day slavery and called human trafficking "evil in our midst."
Jeong wrote that many year-round residents of Palm Beach attempted to distance themselves from the "nasty Krafty" scandal, noting that he was "nothing but a seasonal resident."