Patriots
What Colt McCoy had to say after losing to the Patriots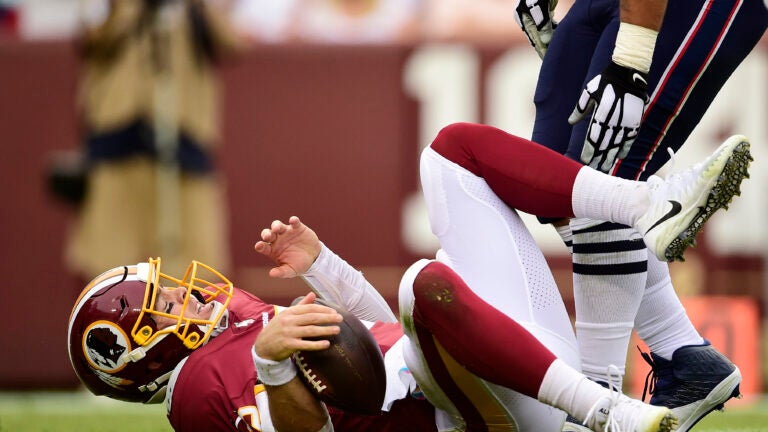 Making his first NFL start since in almost a year, Washington Redskins quarterback Colt McCoy didn't sugarcoat his performance. 
"Tough day," McCoy said after the 33-7 defeat. "We want to score more than seven points." 
The Redskins hung around in the first half, heading into the intermission trailing 12-7. But the Patriots scored three touchdowns to pull ahead in the second half, while McCoy seemed helpless. Each of Washington's five drives in the second half resulted in a punt, with none totaling more than 25 yards of offense. 
McCoy completed 18 of his 27 pass attempts, throwing one interception and no touchdowns, and finished with 119 passing yards. He admitted New England's formidable pass rush made it difficult to find an offensive rhythm — he was sacked six times for a loss of 44 yards — but didn't shirk any of the blame. 
"I don't want to make any excuses for me," he said. "We're playing in the National Football League. I know my job and responsibility." 
The 33-year-old said he felt fine physically, despite practicing only four times before his start. He said he moved out of the pocket a few times in the first quarter when he shouldn't have, but thought he settled in shortly thereafter. The main challenge was locating open receivers and, when they did, not shooting themselves in the foot. The team's penalties — six for 72 yards — hurt.
"We can't do that as an offense, just the false starts and the little stuff," McCoy said. "I think that's where we've got to clean things up. I think we can move the ball, I do think we can score points, but we're not good enough to beat the New England Patriots when we're in 2nd-and-20 and 3rd-and-20 all the time. I don't think you can beat anybody that way."
With the loss, the Redskins fell to 0-5. Even though injuries — tight ends Vernon Davis and Jordan Reed were both out — are certainly impacting the team's offensive weapons, McCoy expressed confidence in Washington's ability to get a win moving forward. 
"We have a good offense," McCoy said. "We're missing some guys and we're doing our best. There's no excuse for what we put out there today." 
Up next for the Redskins are the Miami Dolphins, who also have yet to earn a win this season.
"Look, 0-5 is not fun," McCoy said. "It's a place that's no fun."