Patriots
Mike Nugent said he felt 'a little stiff' during his first kick
"To see my teammates go down and expect 7 points and I only give them 6 is something I find unacceptable."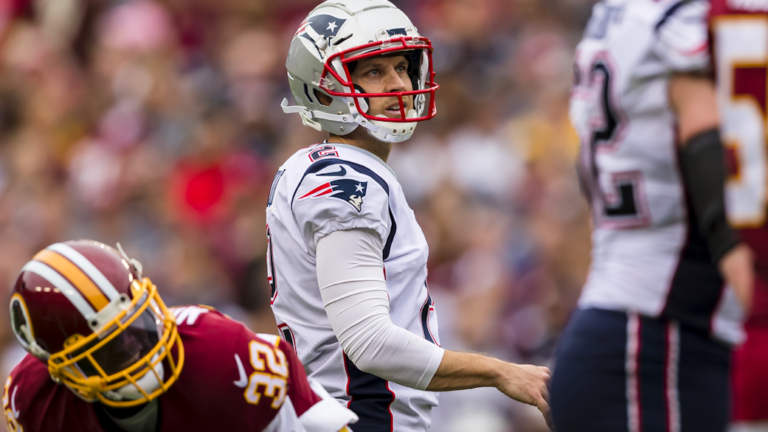 What happened to Mike Nugent during his first kick in Sunday's 33-7 win against the Redskins?
The Patriots kicker, who missed the extra point — his first attempt of any kind as a member of the Patriots — in the first quarter after wide receiver Julian Edelman's touchdown, said he felt a "little stiff."
"I think it was a little robotic, kind of like a golf swing," Nugent said afterward. "If you're a little stiff and not fluid through the ball, it's not going to go where you want it to go. Kicking is the same exact way…I think just a little stiffness. I just needed to loosen up a little bit, just get a little bit of the rust out."
Nugent signed with New England last Thursday to replace longtime kicker Stephen Gostkowski, who will miss the season for hip surgery. While competing in three games with the Raiders last season, Nugent made all six field goals and was 4-for-5 in extra points.  He was not happy about missing in his debut with the new team.
"Going in there on that first one, when you think about it, it was just one of those things like I can't stand," he explained. "I think I can speak for every kicker, to see my teammates go down and expect 7 points and I only give them 6 is something I find unacceptable.''
His performance did improve throughout the game, as he made his next three point-after attempts and both field goals: a 37-yard field goal in the second quarter and a 23-yarder before halftime.
Despite the mishap, Nugent said he feels motivated to do better next game.
"If you can just have a very short-term memory and just think, 'OK, here's what I did wrong on that one.' I don't expect to miss kicks like that, and I never want to ever again. It just takes a lot of work to make sure you get out there and just hit the same ball, and I think I did that consistently the rest of the game.''
When asked about the Patriots' kicker situation after the game, head coach Bill Belichick said that he thinks, "We just need to do things better." Nugent shared the same sentiments.
"It gives me something to work on definitely this week," he said. "It's definitely good to bounce back and hit some short ones and the rest of them but it's just like a golfer, you're thinking about the shot you want back. I'm going to work at it this week and make sure it doesn't happen again.''
Nugent also said if the opportunity presents itself, he's looking forward to potentially learning from  Gostkowski. He knows there's a lot he can gain from working with the veteran.
"I'm just gonna try to work with him as much as I can, talk to him about certain things," he said. "We're teammates now so it'll be fun to have another guy to bounce stuff off of. I'd love to have him out on the field. If there's something he sees that may be kind of funky, I don't mind having a coach that knows what he's talking about, has his kind of experience."