Patriots
Morning sports update: Bill Belichick talked N'Keal Harry, Brandon Bolden, and pass interference reviews
"If and when he gets back on the field, then we'll move from there and evaluate those areas."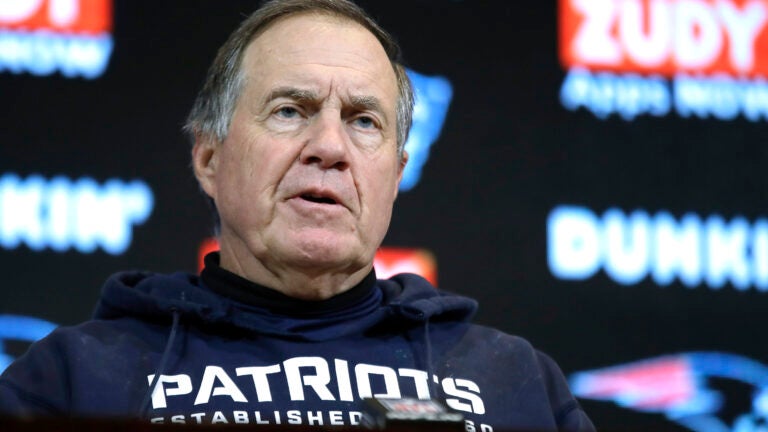 The Bruins continued their strong start to the new season with a 4-2 win over the Anaheim Ducks on Monday. David Pastrnak had an extraordinary game, scoring all four goals.
We'll save you some time.

Here are all four of @pastrnak96's goals in one place.#NHLBruins pic.twitter.com/NV2AuBjjBh

— Boston Bruins (@NHLBruins) October 14, 2019
Both the American League and National League Championship Series continue today. The Astros are in New York for Game 3 against the Yankees at 4:08 p.m. (series is tied 1-1), while the Nationals are at home for Game 4 against the Cardinals to potentially clinch a trip to the World Series with a 3-0 series lead.
The Celtics play a final preseason game against the Cavaliers tonight at 7 p.m. The regular season tips off for Boston on Oct. 23 in Philadelphia against the 76ers.
Bill Belichick wouldn't criticize the NFL's pass interference review policy: During his weekly appearance on WEEI's "Ordway, Merloni & Fauria," Patriots coach Bill Belichick shared his thoughts on a few topics.
On the expected return of rookie receiver N'Keal Harry from injured reserve, Belichick says the 2019 first round pick has a "long way to go."
"We only saw him for two weeks in camp," said Belichick. "He was injured in the Detroit game. He's making progress, but he had a long way to go. Some times passed and he was able to do some things, other things he hasn't been able to do. If and when he gets back on the field, then we'll move from there and evaluate those areas."
Belichick also said that despite not being on the field, Harry has been in team meetings.
On another topic — challenging pass interference calls — Belichick sidestepped the controversy. He was asked about how despite apparently straightforward examples of pass interference, league officials have largely rejected coaches' challenges on the subject. The rule allowing coaches to challenge pass interference is new in 2019.
"I think it's been pretty clear that the league's come out and said it has to be 'clear and obvious,'" said Belichick. "What the definition of that is I'm not sure, but I don't think there can be much grey area or it's not clear and obvious. I haven't studied all of them, but a lot of the ones that I've observed or been in our games I can see why they were called the way they were. Look, there are a lot of close calls in this league, so many calls go either way. It's so competitive, athletes are spectacular and its such a fine line. But when it's not clear and obvious, they're clearly not going to overturn it. They've said that."
On the subject of goal-line carries, the Patriots' coach praised Brandon Bolden's versatility.
"Brandon is a big back," Belichick explained. "Brandon can play on all downs, so can Sony. I mean whoever is in there, I don't think it is that big of a deal."
"He's a good one because he can play on all four downs," Belichick added later. "First, second, third and of course fourth down. He is a very valuable player for us."
Belichick also gave an interesting quote about Tom Brady earlier in the day during a media conference call:
Bill Belichick: "Tom breaks a record every week, so we could really probably give him a game ball after every game. But I think this one for what he's accomplished in terms of total career passing yards is pretty noteworthy."

— Mike Reiss (@MikeReiss) October 14, 2019
Trivia: What is the only NFL franchise that has existed for the entirety of the Super Bowl era but has never actually played in a Super Bowl?
(Answer at the bottom)
Hint: The organization currently has several Patriots ties.
More from Boston.com:
What former Patriot Trey Flowers had to say after he was controversially called for a penalty that led to a Lions loss on Monday Night Football:
Here's Trey Flowers talking postgame about the two penalties against him in the Lions loss: pic.twitter.com/TwiuzBYcmP

— Brad Galli (@BradGalli) October 15, 2019
David Ortiz is living the dream:
.@AROD: This is a non smoking building.@DavidOrtiz: I'm not planning on coming back… Smoke'em when you got'em! pic.twitter.com/RHEQ9pLnug

— FOX Sports: MLB (@MLBONFOX) October 14, 2019
If you missed it: Pope Francis's tweet included a Saint hashtag, which automatically produced a New Orleans Saints logo on Twitter. The Saints went on to win Sunday, and credited their Papal endorsement.
Couldn't lose after this.#Blessed and highly favored ?⚜️ https://t.co/2BoE2oYGqF

— New Orleans Saints (@Saints) October 13, 2019
On this day: In 1988, Dennis Eckerlsey (then pitching for the Oakland Athletics) surrendered Kirk Gibson's iconic World Series walk-off home run. Eckersley has spoken poignantly about the moment from his perspective.
"Here we are 30 years later," Eckersley said in an interview in 2018, "and they talk about 'oh, they turned the page.' Nobody turns the page. You give it up, it hurts."
Daily highlight: Leftover from the weekend, another look at Astros shorstop Carlos Correa's potentially series-altering play to end a Yankees rally during Game 2 of the ALCS. After the ball deflected off of Jose Altuve's glove, Correa fielded it before firing an 87-mph strike to home.
Exhale @Astros fans. @TeamCJCorrea with the heads up play and this game stays tied! #ALCS pic.twitter.com/eBvrQx9qG3

— MLB (@MLB) October 14, 2019
Correa then smashed a walk-off home run in the 11th inning to give Houston a 3-2 win and tie the series 1-1.
11th inning. 1st pitch. No. 1. Series tied 1-1. ?

(MLB x @Supercuts) pic.twitter.com/Y9DNumrQyA

— MLB (@MLB) October 14, 2019
Trivia answer: The Detroit Lions