Patriots
Morning sports update: Demaryius Thomas said Patriots' treatment of him was 'insulting' and 'a waste of time'
"It was disrespectful to me."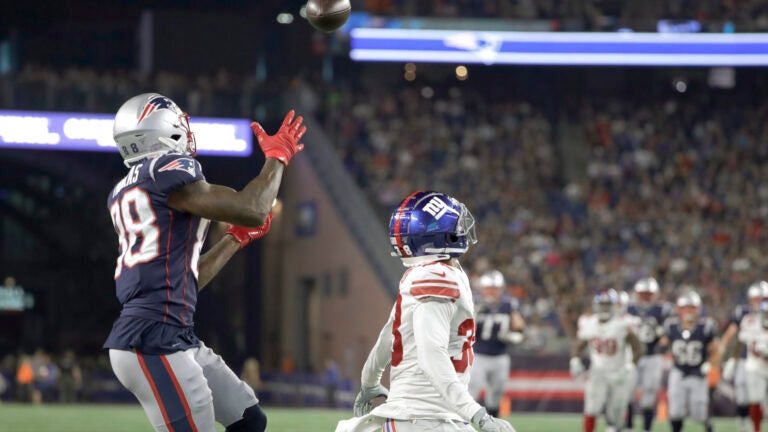 The Bruins look to continue a strong start tonight at 7 p.m. at home against the Tampa Bay Lightning. Boston is 2-0 at TD Garden so far this season.
The New York Yankees host Game 4 of the American League Championship Series against the Houston Astros at 8:08 p.m. after yesterday's postponement due to rain. Houston leads the series 2-1.
Looking ahead to the weekend, the Revolution will play a first-round playoff game against Atlanta United at Mercedes-Benz Stadium on Saturday. Kickoff is set for 1 p.m. New England recently fulfilled a quip made earlier this season by head coach Bruce Arena after midfielder Carles Gil won a Major League Soccer award:
STATUS UPDATE:

? ?
? ?
✅ ?

That's it. That's the tweet.#NERevs pic.twitter.com/pzcKpF1VDj

— X- New England Revolution (@NERevolution) October 17, 2019
Demaryius Thomas described being in New England as a "waste": Antonio Brown hasn't been the only notable wide receiver to come and go from the 2019 Patriots. Demaryius Thomas, a four-time Pro Bowler, was signed by New England during the offseason to bolster depth at the wide receiver position.
And Thomas appeared to be making a positive impact with the team after recovering from a 2018 ruptured Achilles when he caught two touchdowns in the final 2019 preseason game.
He was cut before the start of the regular season, only to be brought back days later when rookie receiver N'Keal Harry was placed on injured reserve.
Yet New England again parted with Thomas to make room for Brown when the latter was cut by the Raiders in September. The Patriots sent Thomas to the Jets for a draft pick.
The result, more than a month later, is that neither Thomas nor Brown are in New England, as the Patriots released Brown 10 days after signing him. Thomas, after missing several games due to injury, is now back as one of the Jets' starting receivers.
Ahead of the upcoming Patriots-Jets clash on Monday night, Thomas spoke about how he felt regarding his time in New England.
"It was insulting, for sure," Thomas told Manish Mehta of The New York Daily News on Wednesday. "Once I got cut [on August 31], I could have just come here [to the Jets] and not stayed there and [re-signed]. When they re-signed me, I was thinking that I was good. Two weeks later, I was gone. So, it's like, 'Why did I waste my time?' Because at the end of the day, it was kind of a waste of time for me."
Thomas described what he thinks was a lack of good faith on the part of the Patriots after the team initially cut him from the roster after preseason.
"It was disrespectful to me," said Thomas. "Like, you know, you could trust me and I could trust you. You told me when you cut me at the [final] cut, sit around you'll bring me back. And I stayed. I could have easily become a Jet once I got cut…I could have been here the next day after I got released. But I chose to stay."
The 31-year-old said that even his preexisting relationship with Patriots offensive coordinator Josh McDaniels wasn't enough to get the level of transparency he desired.
"Josh McDaniels drafted me," Thomas explained. "So, I felt like I was cool. But even having conversations with him and couple other people, it was like, 'You're going to be okay.' Two weeks later, [Antonio Brown] gets cut… and then they kicked me [to the curb] and shipped me out like I'm just a rookie."
Thomas added that the Patriots are "doing a hell of a job," and that he was "only trying to be a part of something that was going to be good when I was there." Still, he's satisfied with his current situation with New England's AFC East opponent under head coach Adam Gase.
"Once I got traded here, I was happy to be back with Adam."
Asked on Thursday about Thomas's comments, Patriots coach Bill Belichick explained that he thought he had been transparent, but that the "circumstances changed."
"Look, Demaryius is a great kid," Belichick told reporters. "I have a ton of respect for him. He's very professional, and he did everything we asked him to do. Our circumstances changed a couple of times in that period leading up to when he was traded. I felt like I was always truthful with him, but things changed and therefore, what I said was not the same as what I had said previously. So it is what it is."
The Patriots travel to MetLife Stadium to play the Jets on Monday. Kickoff is set for 8:15 p.m.
Trivia: The Jaguars added two first-round draft picks in exchange for sending cornerback Jalen Ramsey to the Rams. What New England player was traded the last time the Patriots acquired another team's first round pick during the regular season?
(Answer at the bottom).
Hint: He later returned to the Patriots.
More from Boston.com:
Carles Gil won MLS Newcomer of the Year: The Revolution captain thanked his teammates at the humorous expense of Wilfried Zahibo.
Be a fly on the wall in the #NERevs locker room and see the exact moment when Carles Gil found out he won the 2019 @MLS Newcomer of the Year Award. #RaiseYourColors pic.twitter.com/KZAVWi5WpE

— X- New England Revolution (@NERevolution) October 16, 2019
Brock Osweiler retired from the NFL: The 28-year-old quarterback has a history that's intertwined with the Patriots in several notable ways. As a second-round pick of the Broncos in 2012, Osweiler rose to prominence in 2015 when he replaced a struggling Peyton Manning.
Arguably his finest moment came in an overtime victory against New England that season. He also had stints with the Texans (who signed him to a $72 million contract in 2016) and the Dolphins.
Another look at Stephon Gilmore's impressive pass breakup from last week:
On this day: In 2004, hope for the Red Sox in the American League Championship Series was rekindled when pinch runner Dave Roberts stole second and Bill Mueller hit a single off Mariano Rivera to tie Game 4 in the ninth inning.
Boston would go on to complete a miraculous 3-0 series comeback, the first time a team achieved such a feat in Major League Baseball history. And it all started with Roberts stealing second.
Daily highlight: LeBron James found Danny Green for a wide-open three-pointer in a Wednesday night preseason game with a fantastic pass.
This LeBron assist to Danny Green ? pic.twitter.com/c1xCLBn6Wi

— ESPN (@espn) October 17, 2019
Trivia answer: Deion Branch