Patriots
Jamie Collins showed off his acrobatic skills during practice
The linebacker did an impressive handstand during practice on Friday.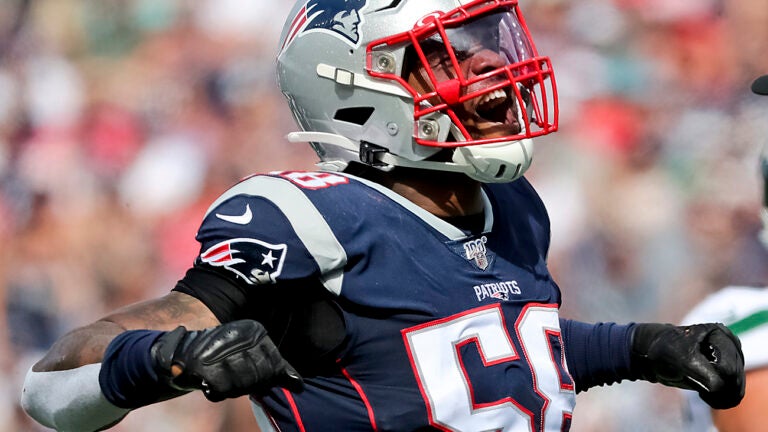 Jamie Collins has been praised for his athleticism and his ability to power through offenses like a force of nature. In six games, the Patriots' linebacker has made 30 tackles and leads the team in quarterback sacks (4.5), ranks second in interceptions (3) and is tied for most fumbles (2). He and the rest of the team's linebackers have nicknamed themselves "the Boogeymen" for the havoc they're causing as a defensive unit.
Collins has other talents, too, that show he's a force of nature at 260 pounds: backflips and handstands. Collins showed off his athleticism during practice on Friday, nailing a handstand and walking on his hands while teammates warmed up around him.
.@j_collins91: a known acrobat. pic.twitter.com/RxtGJ0lJEX

— New England Patriots (@Patriots) October 18, 2019
According to teammates, Collins' acrobatic skills astonish them, too.
"You see it before practice. He'll be walking on his hands," linebacker Elandon Roberts told The Athletic in September. "He's like 260 (pounds) and walking on his hands. He can do some stuff. It's great to have him back. Jamie is Jamie. He's a freak athlete."
Backflips are also a part of his specialty.
"I remember one time, he did a backflip and then another one and then another one," safety Duron Harmon added. "I was like, "Stop, man. You're too athletic. Don't do that to us. You're making us little guys look bad."
Linebacker Dont'a Hightower even saw him do a backflip down a hill while wearing full pads.
"There was a backflip down the hill," he recounted. "I think the first time was in 2013 or 2014, we just finished practice and he did a backflip going down the hill in full gear leaving practice. Just talking nonchalant like, "I'll do a backflip right now," and then turned around and did it going down the hill."
Still, what his teammates are impressed by every day is his approach to the game, from one-handed grabs to catching a blocked field goal.
"When we used to have him jump over the top, Steve (Gostkowski) kicked it, and this dude caught the ball," safety Devin McCourty said. "Even when he did it, we were like, that's just Jamie being Jamie. Nobody else could do that."