Patriots
Morning sports update: Julian Edelman still isn't sure Rob Gronkowski will stay retired from football in 2019
"We need it."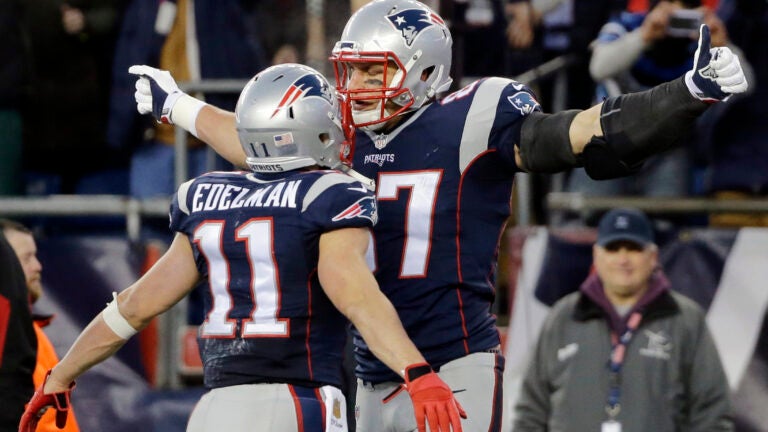 The Bruins fell to the Lightning on Thursday night 4-3. Tampa Bay's Steven Stamkos scored the only goal in the decisive shootout.
The Astros took a 3-1 series lead over the Yankees with an 8-3 win in Game 4 of the American League Championship Series. Justin Verlander tries to close it out for Houston today at 7:08 p.m. against New York's James Paxton.
Looking ahead to the weekend, the Revolution will be at Mercedes-Benz Stadium to face Atlanta United in the team's first Major League Soccer playoff game since 2015. The game starts at 1 p.m., a culmination of the team's season turnaround from being in last place back in May.
It's been a long road. But here we are, ready to do battle in the #MLSCupPlayoffs.

You ready to #RaiseYourColors? ??

SOUND UP ⬆️?#NERevs pic.twitter.com/rKOHlqn4ex

— X- New England Revolution (@NERevolution) October 17, 2019
Julian Edelman talked about Rob Gronkowski, but is "on to the Jets": During his weekly interview on WEEI's "The Greg Hill Show," Patriots wide receiver Julian Edelman talked about now-retired tight end Rob Gronkowski.
Asked if he believes Gronkowski when the former Patriot says he's definitely not coming back to football this season, Edelman gave an interesting response.
"You know, I don't know," Edelman admitted. "If he does, hey, that's awesome. We need it. But you know you're not really worried about that. You're worried about the Jets, and who you're playing, your opponent this week. and that's just how it goes."
The Patriots are currently thin at the tight end position, and could pursue a trade. Gronkowski's return would solve that issue easily, though the 30-year-old is now an employee of Fox Sports, where he made his TV debut a week ago.
"Pretty standard Gronk," Edelman said of Gronkowski's first segment. "Thought it was awesome. I think he's great for TV. But on to the Jets."
The Patriots play the Jets on Monday night, with kickoff at MetLife Stadium set for 8:15 p.m.
Trivia: Jamie Collins has been a playmaker in the Patriots defense so far this season, with three interceptions and 4.5 sacks. No player in team history has ever compiled at least five interceptions and five sacks in a season, though one famous Patriots player did so in 2000 before joining the team. Name the legendary Patriot who had a season like this, in which he actually totaled six picks and six sacks.
(Answer at the bottom).
Hint: As a rookie, he lost to the 49ers in Super Bowl XXIX.
More from Boston.com:
Lions fans have taken to mocking NFL referees on billboards:
Anonymous Lions fans buy billboards featuring referee with cheesehead. https://t.co/CGvh1lBnqy pic.twitter.com/IbEaAa2GF2

— WXYZ Detroit (@wxyzdetroit) October 17, 2019
The New York Daily News's back page headline after the Yankees Game 4 loss:
Here's our @nydnsports back page. @yankees @astros @mlb @mlbnetwork #alcs #PatrickMahomes @Chiefs @apse_sportmedia @HoustonChron https://t.co/E6shuNaZE8 pic.twitter.com/ct2kgKFOF6

— Back Page Guy NYDN (@BackPageGuyNYDN) October 18, 2019
Before the Revolution playoff game on Saturday, Bruce Arena sat down for an interview on the state of the team:
Good morning! Grab your ☕️ and sit down with Bruce Arena and @Pehota for some Coffee with the Coach, fueled by @DunkinBoston#NERevs // #RaiseYourColors pic.twitter.com/YWTcqBQ5vr

— X- New England Revolution (@NERevolution) October 18, 2019
After Patrick Mahomes got hurt in Thursday night's game, Broncos players made sure to check in:
Broncos players took a moment to check-in on Mahomes ? pic.twitter.com/AC2NmLP5r0

— The Checkdown (@thecheckdown) October 18, 2019
On this day: In 2004, Red Sox designated hitter David Ortiz began Oct. 18 with a two-run walk-off home run to stave off a Yankees sweep in the American League Championship Series. Boston won, 4-2, in Game 4.
"We'll see you later tonight," quipped Joe Buck as Ortiz triumphantly rounded the bases.
Pedro Martinez, in his final start for the Sox at Fenway Park, tried to "send the series back to the Bronx," as a Fox pregame montage noted prior to Game 5.
Despite pitching well for five innings, Martinez succumbed to an old nemesis in the sixth as Boston led 2-1. With two outs and the bases loaded, Derek Jeter sent a soft liner down the right field line, scoring three runs and advancing to third on a throwing error.
Now trailing 4-2, it was up to Red Sox hitters to once again mount a comeback. Yet again, Ortiz struck, this time with a solo home run off Tom Gordon in the eighth. After Mariano Rivera was called out from the Yankee bullpen, Jason Varitek's sacrifice fly plated Dave Roberts to tie the score.
After a perilous run into extra innings (and stretching well into Oct. 19), Ortiz willed a base hit into centerfield in the bottom of the 14th, allowing Johnny Damon to sprint home with the winning run.
"And he can keep on running to New York," Buck said as the series shifted back to Yankee Stadium for Game 6. The comeback was well on and truly on.
Daily highlight: We'll take a break from the highlight for a day. Here's a nice lowlight of a classic failed fake punt.
Broncos fake punt did not go according to plan…

(via @NFL) pic.twitter.com/4fD1i5IyxR

— B/R Gridiron (@brgridiron) October 18, 2019
Trivia answer: Rodney Harrison