Patriots
How the New York media covered Sam Darnold's Monday night performance vs. the Patriots
Darnold won't be forgetting about this game anytime soon.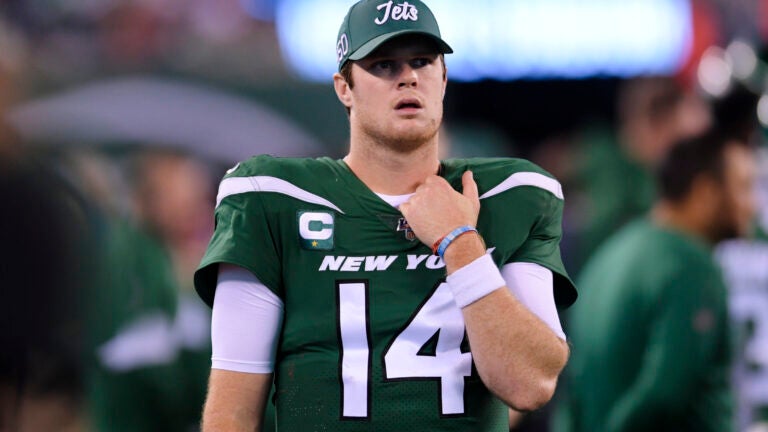 Sam Darnold played one of the worst games at quarterback from anyone this season in the Jets' 33-0 blowout loss to the Patriots Monday night. The Patriots defense gave Darnold problems all night as he went 11-for-32 passing, throwing for 86 yards and four interceptions. 
The New York media was unsurprisingly less-than-kind to Darnold following the game.
NJ.com
Matt Stypulkoski gave criticism that was common in the New York press Monday night
"He was clearly shaken and let the Patriots' pass rush get in his head, which led to sloppy fundamentals and footwork. It all snowballed from there – and didn't stop until Darnold's passer rating plummeted to a brutal 3.6 by the end of the night."
One major talking point following the game was Darnold's now-infamous line, "I'm seeing ghosts." 
New York media was quick to pounce on that, coming up with headlines at the expense of the Jets' ghost-seeing quarterback. 
The New York Post
Steve Serby wrote the article, "Sam Darnold's amateur Jets hour is scarier than any 'ghost'," on Monday night, and did not mince words when it came to Darnold's performance.  
"Darnold (four INTs, one fumble, one safety) played as if he had contracted gangrene in his second game back from mononucleosis," wrote Serby.  "This [the game] was vintage cruelty from Bill Belichick, undressing Sad Sam Darnold and leaving him naked to the football world as an anxiety-riddled, shell-shocked, panic-stricken mess."
The New York Times
Bill Penningtons did his part as well, writing the article "Patriot Ghosts Haunt the Jets Again."
"Darnold's collapse was beyond thorough… Darnold, who talked in the week before Monday's game about finding the Patriots' defensive weaknesses, repeatedly threw passes not only into coverage but to spots on the field where there were no Jets receivers within 15 yards," Pennington wrote. "Was he seeing ghosts?" 
The New York Daily News
Manish Mehta compared Darnold's in-game comment to some of the more laughable moments in team history. 
"Sam Darnold's sideline admission that he was 'seeing ghosts' (via ESPN's mics) was a microcosm of a forgettable night that conjured up images of the 2012 Butt Fumble disaster that will live in infamy."
The Jets will have to wait until Sunday to make up for their performance against the Patriots, as they head to Jacksonville to take on the 3-4 Jaguars.