Patriots
Patriots place wide receiver Josh Gordon on injured reserve
Gordon did not participate in Wednesday's practice.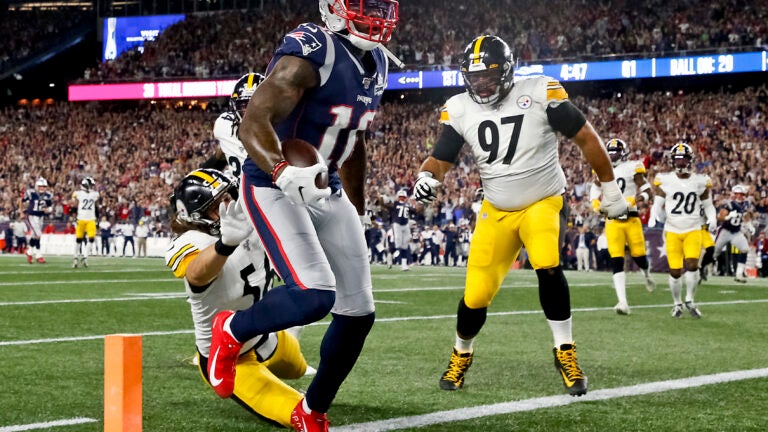 FOXBOROUGH — The Patriots placed wide receiver Josh Gordon on injured reserve Wednesday, potentially foreshadowing the end of his tenure with the team.
Gordon, 28, has been struggling with knee and ankle injuries over the last few weeks and exacerbated the knee issue Oct. 10 against the Giants. He missed Monday night's game against the Jets and didn't practice Wednesday, according to the team injury report, though Gordon was seen on the field at the beginning of practice.
According to the NFL Network, though, Gordon is expecting to be waived off IR once he's healthy and believes he could play again this season for another team. The network's Ian Rapoport reported that Gordon has bone bruises in his knee.
"Interesting,'' Gordon commented on an NFL Instagram post sharing the news he was going on IR.
[fragment number=0]
It's a surprising sequence of events, despite the fact that the Patriots just traded a second-round draft pick on Tuesday for Mohamed Sanu and brought first-round pick N'Keal Harry back to practice last week. Their receiver situation has fluctuated wildly this season and includes two unproven rookies, Jakobi Meyers and Gunner Olszewski.
Even with his health issues, Gordon was a tough player who had earned Tom Brady's trust and respect. The 6-foot-3-inch, 225-pounder has played in six games this season, with 20 receptions (36 targets) for 287 yards and a touchdown. He was not everything he has been in the past from a playmaking standpoint but was still productive.
Gordon was just a few games removed from the Sept. 22 game against the Jets in which he made multiple tough catches after dislocating a finger. That performance drew praise from Matthew Slater ("war daddy deluxe'') and amazed Brady, who told reporters the following week he had repeatedly asked Gordon if he were all right in the huddle and got nothing but enthusiastic affirmatives.
"He just kept answering the bell,'' Brady said that week. "I think that says a lot about him and his mental toughness, his perseverance. Guys were dropping like flies out there and he just kept getting back up. There were a lot of big hits that he took on a very hot day, and just proud of him, what he's accomplished. We're going to need to continue to do it — not just him, but all of us.''
Yet some five weeks later it appears Gordon's Patriots career may be finished with the two sides seemingly at odds over how hurt he really is.
Beginning next Wednesday, all players are subject to waivers if released. So, if Gordon were to become available that way, the Dolphins would have the first opportunity to claim him. Putting Gordon on IR at least until then does reduce the likelihood he goes to a contending team.
In 17 games (all starts) over two seasons, Gordon has made 60 receptions (104 targets) for 1,007 yards with four touchdowns for the Patriots. 1,007 yards and 4 touchdowns from Gordon over two seasons. He was suspended in 2018 after Week 15 for violating the league's substance abuse policy and did not participate in the Patriots' playoff run to their sixth Super Bowl championship.
Gordon was acquired from the Cleveland Browns in September 2018 along with a 2019 seventh-round pick for a 2019 fifth-round pick. He has earned a little over $2.5 million in his time in New England. The Patriots would get some salary cap relief by releasing Gordon, since his $2.02 million salary for this season was not guaranteed.
The team stood by the receiver, who has struggled most of his life with substance abuse issues, through the suspension and welcomed him back afterward. It was a feel-good story, but one that apparently may be coming to an abrupt end.